Luxury villas in Corfu
Corfu is Greece's emerald isle. Effortlessly cool and easily charming, a rich heritage and pretty coastline instantly reels you in. Whether it's the style, sun, or sumptuous food, a villa holiday here is seductively storybook; olive trees tumble towards secret sandy beaches, and tiny villages bring tradition and an ever-endearing local charm.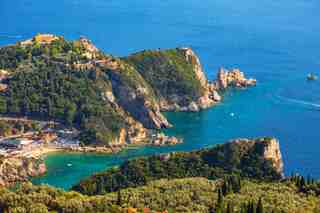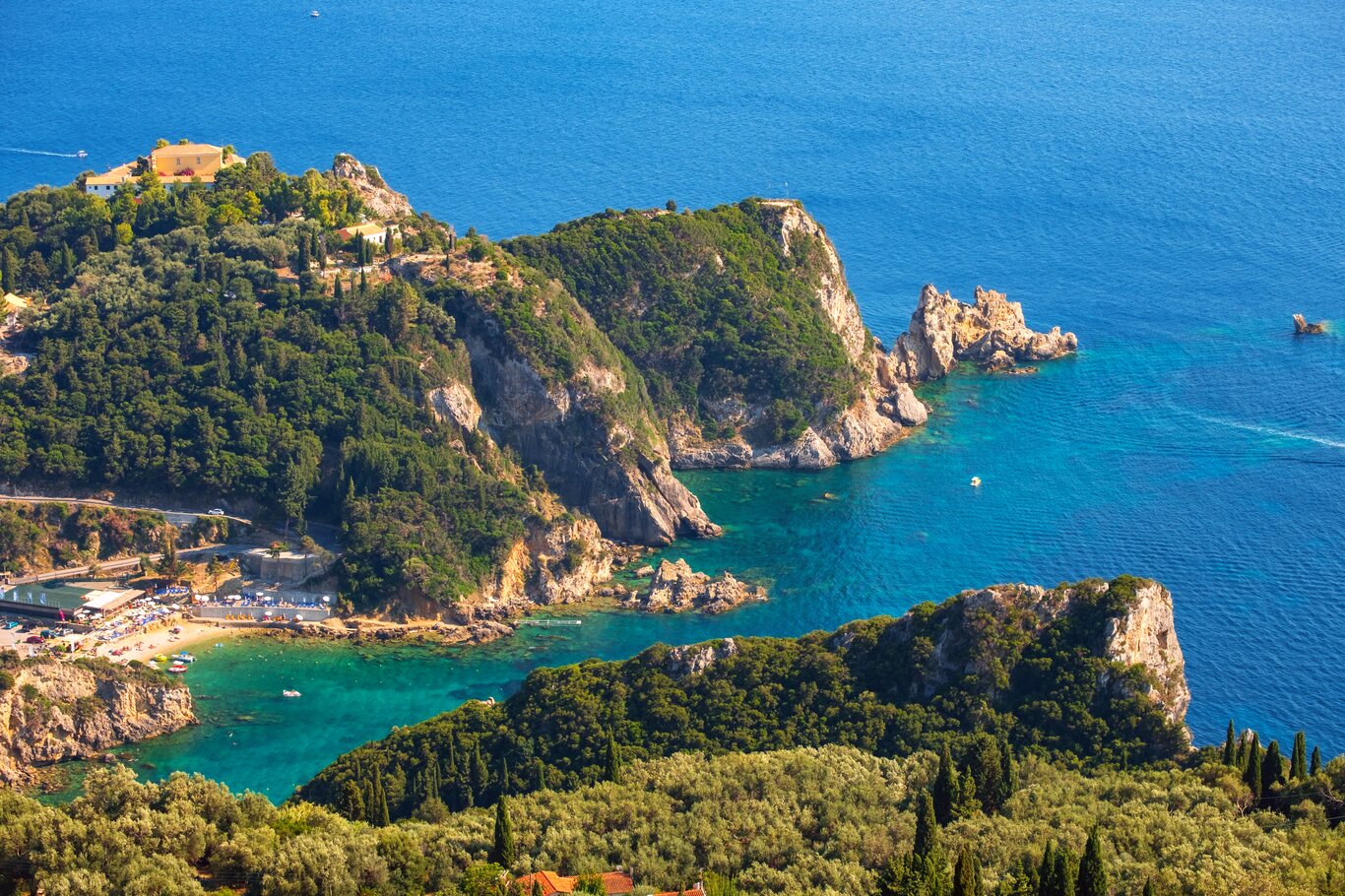 Our destinations
Our villas in Corfu
Cosmopolitan Corfu is our original Greek getaway, and we've hand-picked a collection of villas that take in the very best of the island's pretty north-east. Stay in a waterfront hideaway, chase the best sunset views or opt for a gorgeous private pool in the most lovely of locations.
View villas in Corfu
Learn more about Corfu
Corfu villa holiday Guide
The second largest of the idyllic Ionians, this luxuriantly leafy island sits just off the west coast of mainland Greece. It's gorgeous, green and giddy on sunshine – Corfu is an island that charms quickly and impresses easily with its heady history, quirky culture, pretty nature and deliciously slow pace of life. Spending a week (or two) in a villa in Corfu is simple – just eat, drink and relax. Pamper in a private villa pool, admire UNESCO-listed old towns, set sail for uninhabited islands, and see cypress-studded mountains rising high above the sea.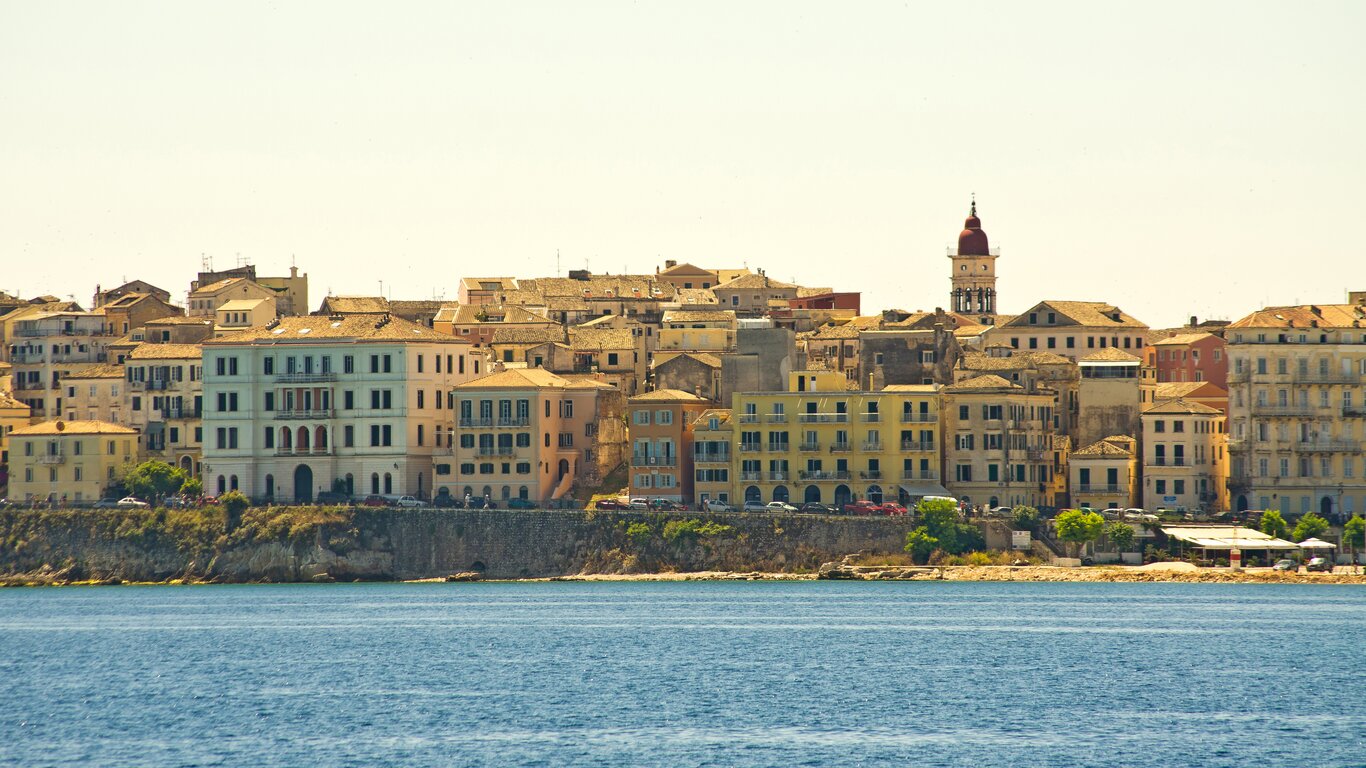 Things to do in Corfu
NATURAL BEAUTY
It's got a gorgeous sea and a generously long, hot summer – Corfu is a dream destination for any self-confessed sun-worshipper. We have plenty of villas that indulge with their own private pools, or there's a pretty cobalt coastline that's hard to beat on any sun-kissed day. The island's lovely north-east coast is a pocket of pine-studded perfection. The beaches here have dramatic backdrops and great views; hidden coves are island highlights, and there's a mixture of pebble settings or sand, depending on your mood. The west coast is where you'll find the island's wider golden beaches, like the sandy stretches at Paleokastritsa. There are tavernas here for full days out, alongside dreamy waters that sparkle in all shades of green and blue. Agios Spiridon beach is an especially gorgeous spot that's great for a swim-and-flop sort of day if you have any children in tow. Just along the headland is the pretty double bay of Porto Timoni. Park up in Afionas village and stroll to the beach on foot – the views of the two beaches, separated by a headland, are well rewarding of the effort. There's plenty of sunbathing room here and beautiful clear waters to cool off in, but with no facilities you'll need to bring provisions with you if you're pitching up for the day.
Beyond the beaches, the famous Corfu Trail is a great leg-stretcher, and well worth the potter to see more of the island's natural beauty. From the north to the south, it's around a 10-day hike in total – but unless you've been planning an incredibly active villa holiday, it's easy to join the trail part-way wherever's most convenient for you. Prepare for beautiful coastal views as you zigzag past vineyards, abandoned churches, and time-forgotten villages. Bring money so that you can stop along the way – there are idyllic tavernas en route serving delicious local food.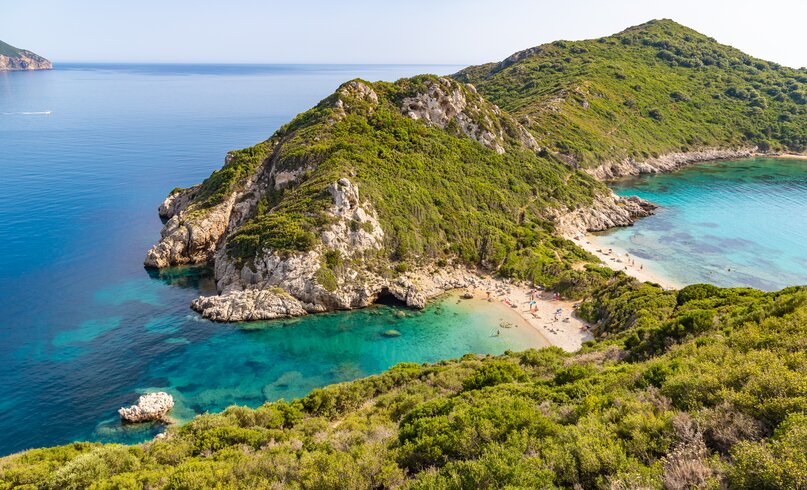 BEAUTIFUL BOAT TRIPS
Corfu is a very 'boaty' kind of island. Fishing boats chug in and out of harbours on a daily basis, and there are plenty of rental options if you want to get out and explore the coastline yourself. This is an island best seen from the water – so swap your villa views for a day out at sea. You can rent on your own or choose a captained boat if you're not really sure where to go. Out on the water though, it's simple – sunbathe on deck, swim in secret secluded bays, and perhaps add on a lunch so you can really relax the day away. There's also the option to go even further out, with boat trips available to other islands, too. The pretty Paxi islands are less than an hour south of Corfu. Paxos is the busier of the two – an island that delights with ancient olive groves and Italianate harbour villages, it's got great hikes and seafront tavernas if you're here for the day. Hop back on the boat to continue to its smaller sibling, Anti Paxos. It's almost uninhabited, and indulges with some of the most eye-catching beaches in Greece. While a bit of an effort to reach, Voutoumi Beach is absolutely worth the visit. Bookended with sun-bleached rocks, the rich green backdrop and gorgeous cyan waters are a paradise of perfection where you can just stop and laze the day away.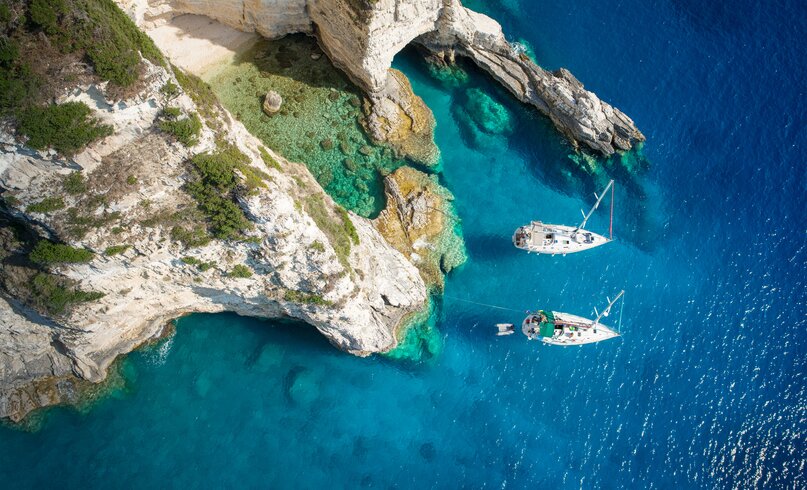 A RICH HISTORY
Corfu is an island with a very heady past. Italy, France and Britain have all been its occupiers at some point, and it's got roots that date back to ancient Greece. Old monasteries, ancient temples, historic fortresses and fantastic architecture are just some of the lasting remnants that you can see on an island road trip. Corfu Town is a cosmopolitan modern hub which has a stunning old centre that's an absolute must-visit. Stroll along UNESCO-protected cobbled streets lined with old Venetian homes, taking in the extraordinary number of churches in the city and visiting the romantic Liston – a 'Rue de Rivoli'-styled arcade beside Spianada Square. Combine a beach morning in Paleokastritsa with a jaunt to the nearby Angelokastro Castle. This Byzantine fortress is the highest on the island. Fringed with cypress trees and rocky paths it's a gorgeous sunset spot – and there's even a tiny church here too, with beautiful frescoes dedicated to St Kyriaki. A road trip on Corfu can't miss a visit to the island's oldest village. Medieval Old Perithia was once one of the wealthiest villages on the island – it's still got a gorgeous setting looking over views of the Ionian islands, but is today a barely inhabited mountain village found just below Mount Pantokrator. Old Perithia looks (and feels) like it's been suspended in time – there are still a handful of locals and tavernas in the village, but its moss-dappled ruins are both enchanting and haunting; derelict reminders of a time-forgotten village gone by.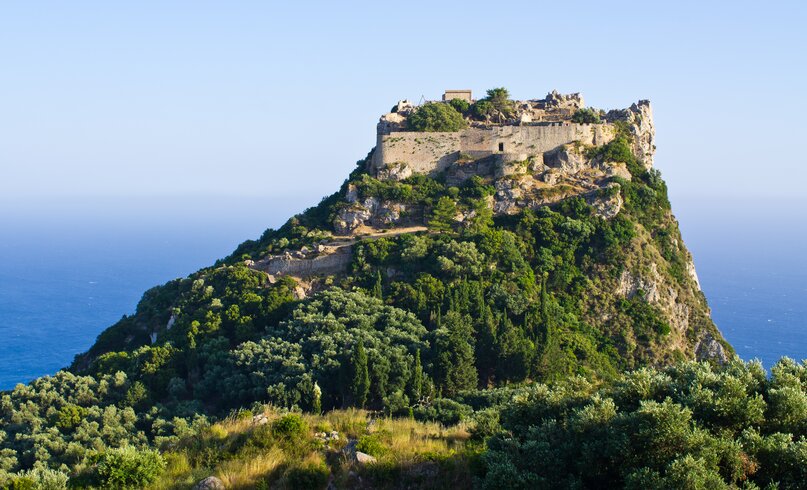 Eating and drinking in Corfu
Corfu's food scene is a bit of a rarity in Greece. It's an island marked by a very rich history, so has a culture that muddles European influences with time-honoured traditions. The feta salads, mezes and souvlaki dishes of the mainland are still popular here – but there's also plenty of Italian flavours on the island, too. Corfiot meals are fresh and home-grown; it's an island with plenty of fresh fish around, and some of Greece's best pressed olive oil. Head inland to find the meaty stews, or to the coast for the best seafood tavernas. There are plenty of restaurants near our villas in Corfu – Agni, St Stephano, Kassiopi and Kerasia are just some of the top island spots for delicious local food. The casual tavernas are usually the best value, and have some of the tastiest home-style cooking  on the island. Agni only has three tavernas, but two are so good they're island famous – or you can head towards Corfu Town for a wider range of the island's higher-end eateries. When perusing the menus, traditional staples to try include sofrito (a slow-cooked veal stew) and pastitisada – a meaty pasta dish, with a paprika-popping tomato sauce. Start or end a meal with a delicate shot of Corfu's local kumquat liqueur. This neon liquid delicacy is an enduring island ritual, and can be a great welcome drink, aperitif or the perfect accompaniment to a dreamy Corfu sunset.
when to go to corfu
Corfu is an island with a Mediterranean climate, so gets hot and very humid during the summer. Spring and autumn are a perfectly pleasant time to visit – the beaches and sea temperatures are lovely between June and October, and it's a not-too-hot time if you're planning a more active kind of holiday. If a spot of sunbathing is more of a priority, Corfu's deliciously long summer is the perfect weather for flopping by the pool.
INSPIRATION FOR YOUR Greece VILLA HOLIDAY