Sardinia Villa Holiday Guide
Italy's second largest island has a very different look and feel to the mainland. It's got a Bronze Age backstory and a prehistory that puzzles, with a stubborn independence that comes into play with its own unique language and cultural feel. A private pool villa here is the ultimate way to relax – but if you fancy a break from your secluded sanctuary, this dreamy destination dazzles with jade-blue waters, creamy white sands and a curiously Catalan-flavoured northwest. The coves and hidden bays of the Sardinian coast are perfect for sunbathers – and, away from the buzz of Cagliari, the seafood restaurants at Alghero and the glam coastal resorts like Porto Cervo, it's a place of tradition, eccentricities, and an easy-going Mediterranean way of life.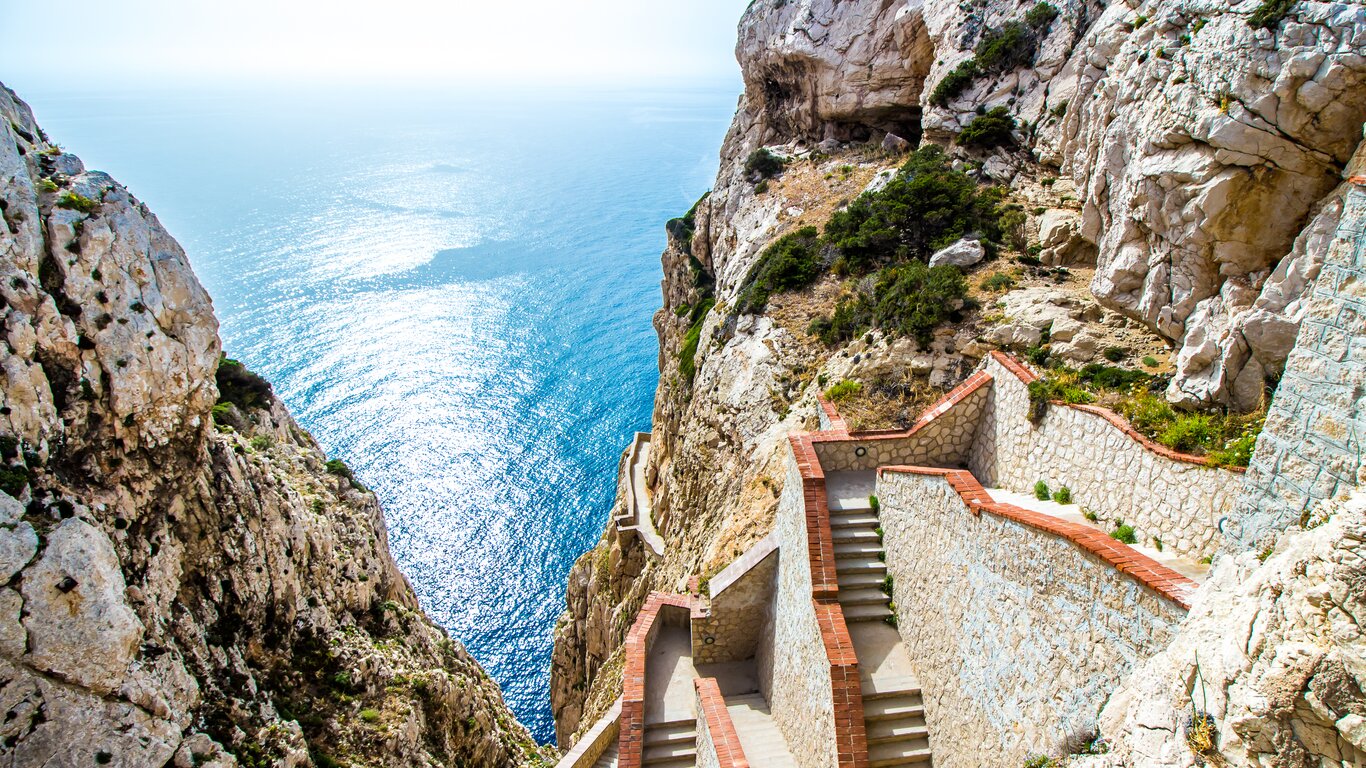 Things to do in Sardinia
BLOCKBUSTER BEACHES
If lounging around your private villa leaves you wanting more, the beaches on the island are among the finest in the world. The sand really is that white (we're talking Maldives equivalent) and yes, the water really is that impossibly blue. Sardinia has a huge coastline, so there's no shortage of paradise spots for you to find on a villa holiday here. There are wild stretches, secret coves and wedges of white framed by ancient ruins, or there are gorgeous offshore islands if you fancy a boat adventure instead. The Costa Smeralda's scalloped bays are a firm fan favourite. This northeastern stretch of coast is romantic and dazzling, and it's also the home of Porto Cervo – the celebrity-studded heart of the island's glitz and rich glamorous elite. Head away from the mega-yachts in the super-rich harbour and the quieter cluster of islands in the Maddalena archipelago are right nearby. These little islands are within easy sailing distance and are ruggedly gorgeous with deserted stretches and unspoiled beaches. Drive right to the island's northern tip to find the calming sugar-white stretch of La Pelosa in Stintino. The waters are super calm and the sand seriously soft, and there's  a charming 17th Century tower to please any history buffs. Head down the east coast to find the beach that islanders liken to 'Little Tahiti'. The curving crescent of Cala Brandinchi is perfectly pale, and it's got a gorgeous backdrop of cool pine forest on one side with shallow jade waters on the other. This beach is great for a swim and a relaxing stroll, or there are private beach clubs with loungers and brollies if you fancy pitching up here for the whole day instead.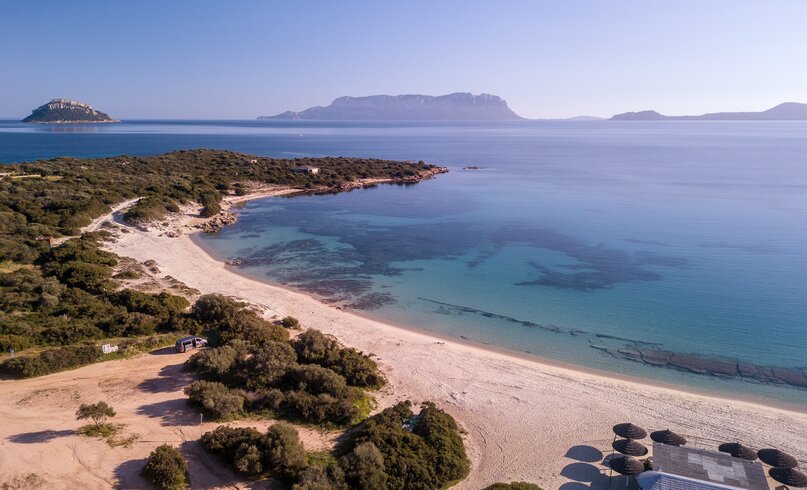 NATURAL TREASURES
This wild island is a treasure trove of natural highlights. It ticks off the blue bays and salt-white sands, but also offers treats like a mountain wilderness, alpine-like forests and thrilling cliff-skimming drives. Splitting the Supramonte mountains in two, Sardinia's Gorropu Gorge is spectacular. It's over a mile wide and is one of the deepest 'Grand Canyons' in Europe, with plenty of hiking trails and river spots to raft or swim in. A day out from your villa should definitely include a visit to the Neptune's Grotto. Sardinia's most photographed natural wonder is close to Alghero and is a huge coastal cave that looks incredibly film-like. Trek the long seaside staircase down (it's 656 steps to reach the cave, but you can always hop on a boat from Alghero's port instead) and head inside – there's a large saltwater lake, with stalactites and stalagamites everywhere, which all merge to create a very eerie and otherworldly feel. Our villas at the top end of the island should add Capo Testa to their explorations. This boulder-strewn coastal area is the northernmost point of Sardinia, and was once an ancient Roman granite quarry. This secluded shoreline is a lovely hiking spot, and is especially gorgeous at sunset thanks to its soft wind-carved rocks and translucent waters.
MYSTERIOUS MEGALITHS
Our villas are located along the coast, but it's easy to explore the island's cultural hotspots, too. Sardinia is an island with a puzzling prehistory – there's Bronze Age towers, mysterious giant graves, submerged ancient cities and huge stone megaliths that pop up all over the island. Some of Europe's oldest civilisations have left their mark here – and there are traces of a polished past almost everywhere. The haunting Roman ruins of Nora and Tharros are especially atmospheric but tend to get very busy during the day – come here early morning or just before sunset for the most spectacular sights of these ancient towns. Sardinia's historic capital is Cagliari, a city home to honey-hued palazzi, tree-fringed boulevards and the best of the island's museums. It's probably the most Italian of the island's cities, and it's rocky centrepiece is its standout star; join a walking tour of this medieval hilltop citadel which preserves a historic jigsaw of narrow passages and steep high-walled arched alleys. Medieval Alghero overlooks the sea and has a huge history that's very Spanish-influenced in style. Ruled from Barcelona for over 400 years, its architecture has an Iberian feel and you'll likely still hear a Catalan dialect spoken on its streets.
The island's most iconic heritage comes from its indigenous Nuragic civilization. It's not well known, with written records all but lost, but some of the best of these stone megaliths can be seen at the Su Nuraxi archaeological site in Barumini. There's more than 7000 of these ancient formations dotted about the island, but this UNESCO site is home to some of the most famous – it's also one of the best preserved examples of the Bronze Age civilisation left in existence.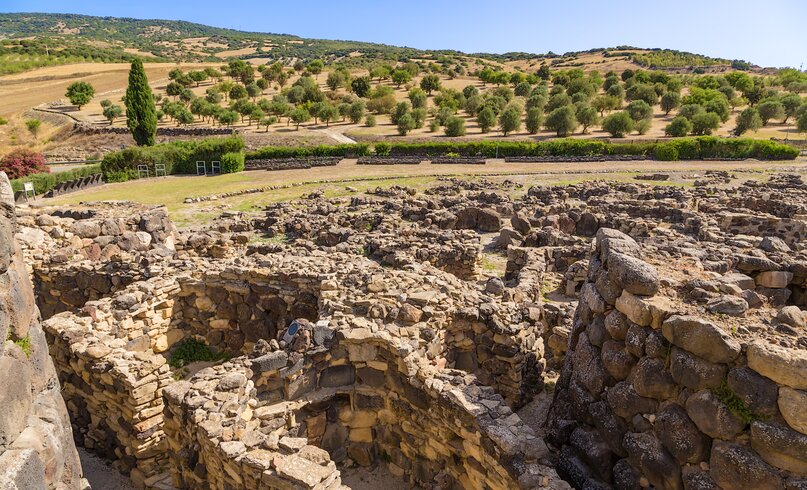 Eating and drinking in Sardinia
Sardinia's cultural independence also affects its food scene, which dares to be different with its unique island twists. It's a food culture that's simple and incredibly fresh – think sun-ripened, farm-reared or as 'boat-to-table' fresh as is possible. Pasta, bread and cheese are all island staples, but don't expect the usual suspects normally seen on Italy's mainland. The popular pasta here has a unique take – dense malloreddus is semolina and saffron born-and-bred, or there's the round fregola couscous-like balls, often seen in the island's hearty soups and broths. Cheese-making has been whittled down to a fine art on the island. It covers all different flavours and textures, but there's still a special pride in its home-reared pecorino. This huge island export is available in all local supermarkets, but the island's open-air markets are a good shout too if you fancy taking some of the freshest varieties back to your villa.
If you fancy rustling up some local fare at the villa, main meals here tend to be meat or fish. Italy's second largest island has a huge carnivorous heart; Sardinia's mountainous east is all about the lamb and suckling pig, but it's also got a penchant for game birds and wild boar in its hearty island stews. Then there's the generous coastline treats. Sardinians have a culture that eats straight from the sea – pretty much every menu will include a lobster, squid or white fish dish. The seafood is especially good in Spanish-sprinkled Alghero or from the age-old recipes used in Cagliari (the most adventurous specialities including dogfish, sea urchins and deep-fried sea anemones). Throw in some lovely fine wine and you have yourself a proper Sardinian feast. The island's best known reds are made from the Cannonau grapes – these are usually produced across the island and are particularly good when pared with meat. The island's Vermentino white is a great match for the local seafood. This grape is at its best on the granite-based soils found in the northeast. Try a crisp Vermentino di Gallura for the best of the bunch – it's a great fish accompaniment but also lovely as a pre-dinner aperitif.
when to go to sardinia
Sardinia's scorching summers may be a sun worshipper's dream, but this is also the busiest time of year on the island. July and August are not only seriously hot, but when school's out, the crowds flock in force to the beaches. The shoulder seasons of spring and autumn are a much more relaxing time to enjoy a villa holiday here. Wildflowers dazzle on the landscapes, and it's a great time of year for a cycle, dive or to head out hiking. May and September are the months when the island is shown at its natural best. The island's much more serene without the summer crowd intensity and the day-to-day temperatures are still hot. Away from your private villa pool, the crystal clear waters are a great shout for a swim, and they also have a good visibility if you fancy a go at snorkelling or diving the famous shipwrecks.  
INSPIRATION FOR YOUR ITALY VILLA HOLIDAY