ibiza Villa holiday guide
Ibiza has so much more to offer than the infamous nightlife. Our range of luxury villas are located away from the lively capital of Ibiza Town, dotted throughout a number of pretty villages in peaceful locations in order to enjoy laid-back living at its best. Expect alluring azure swimming waters and soft sandy beaches, superb restaurants and splendid boutique shopping: the White Isle really has it all.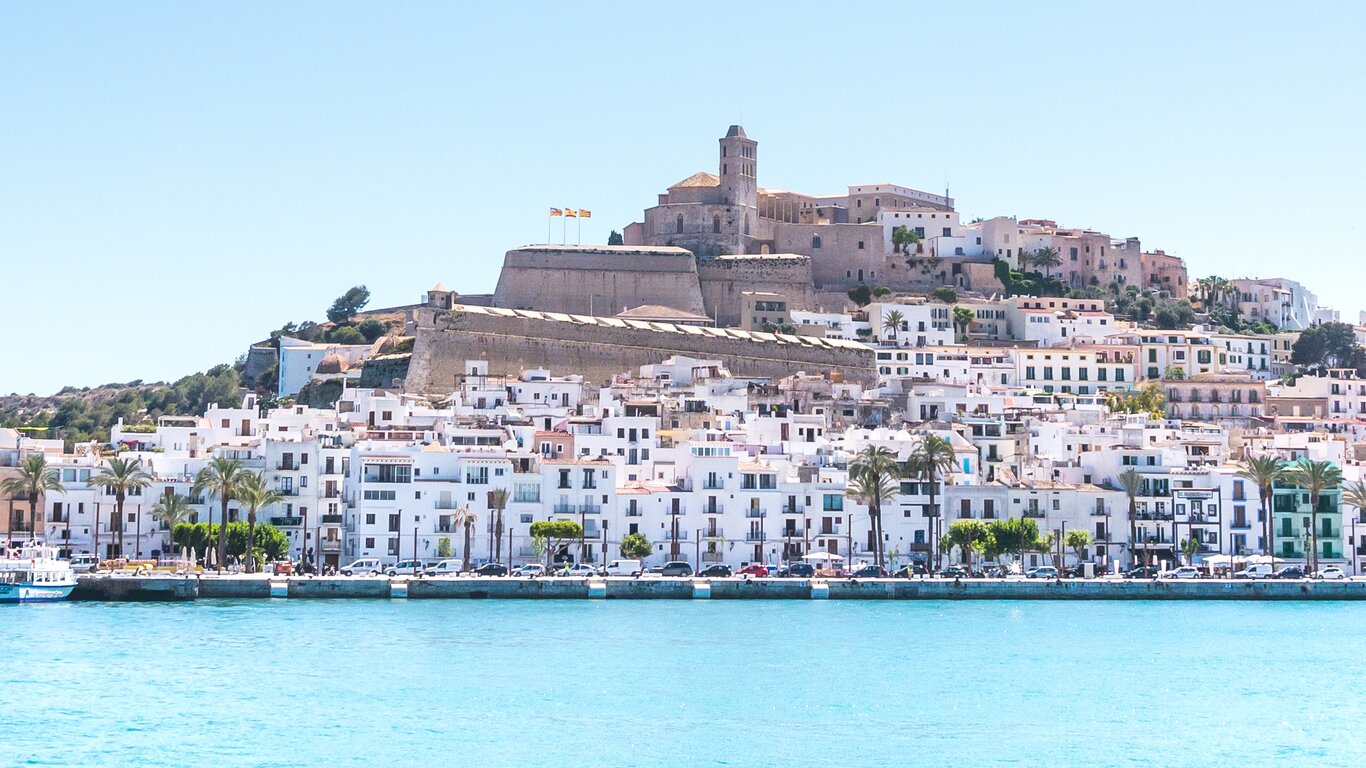 Get inspired for your Ibiza villa holiday
Things to do in Ibiza
Beaches
A sun worshippers paradise, this Balearic beauty has plenty to offer visitors young and old wherever you're staying. Famous for its beaches, those on the west and east coasts are best for families. If you're staying close to Cala Sant Vicent you can visit the wide cliff-protected beach and promenade, while luxury villas close to Cala Llenya can relax on white-sands framed by red cliffs and tall pine trees. San Miguel is home to crystal clear shallow waters, meaning it's great for kids and Cala Comte has a selection of bars on the rocks, perfect for watching the sunset. A great way to visit more than one is to charter a boat for the day, which we can arrange for you, before returning to the comfort or your villa to relax. Needless to say, our villas are perfectly suited to complete relaxation, whether you prefer sipping coffee in the shade of a pergola or soaking up the sun from around the poolside.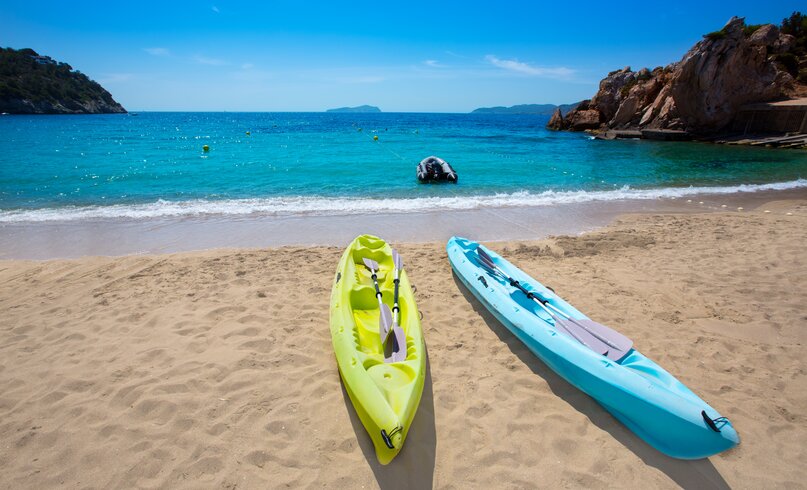 Nature
The beaches get all the attention, but villas in Ibiza provide a great opportunity to explore plenty more natural beauty, too. Ses Salines Natural Park is seventy five percent water and marine life. It includes the sea channel separating Ibiza and Formentera, as well as salt-flat ponds, coastal lagoons, wetlands, sand-dune beaches, and juniper forest; a great spot for hiking and bird-watching.
Activities
If you fancy a break from lounging by your private pool, you'll find plenty to keep you active around the island. Away from the nightclubs and beaches, water-sports are Ibiza's biggest draw—from kayaking and windsurfing to fishing and diving in the clear Mediterranean waters. Paddle-board yoga is the latest trend or if you're looking to join the ever-growing wellness scene in Ibiza there are yoga classes and retreats available across the island. Some of our villas have their own yoga mats, so that you can practice your morning sun salutations on the terrace or by the pool at your leisure.
Shopping
We have a number of properties close to the Hippy markets in Es Cana and Les Dalias, which are the biggest markets on the island offering a cool bohemian shopping experience for all the family to enjoy. Visitors can buy anything from clothes and handmade jewellery to holiday souvenirs, accompanied by lively music and entertainment.
Day Trips
A day trip from your villa to Formentera is highly recommended. Charter a boat or take the ferry to this beautiful island off the coast of Ibiza, where the sparkling waters and breathtaking white sands could easily be mistaken for the Caribbean.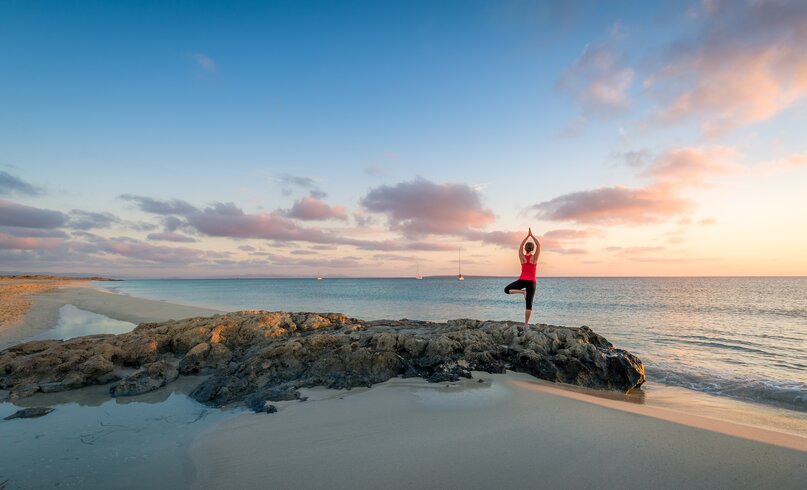 Eating and Drinking in Ibiza
Despite being known as the clubbing capital of Europe, the foodie scene in Ibiza is quietly catching up, with big names popping up all over the island serving everything from supremely sliced sushi, to traditional Spanish cuisine. Paellas de Marisco (seafood paella) is a very popular and traditional dish that we highly recommend. Supermarkets are also easy to find, so you can easily whip up some local delights from your villa's kitchen. 
Drive or take a taxi from your villa to Ibiza town for a huge amount of choice when it comes to bars and restaurants, from relaxed cafes to fine dining. Or let the fine dining come to you and book a private chef to come and cook for you and your guests from the comfort of your villa. Dine al fresco under the stars on the terrace and you decide when it's closing time.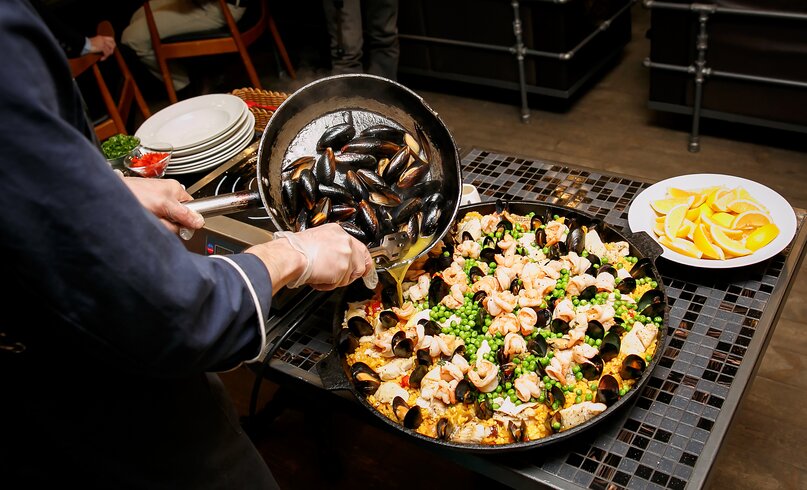 When to go to ibiza
A villa holiday in Ibiza is best enjoyed between May and September with plenty of sunshine and highs of 30 degrees; perfect for beach days and lazy afternoons by the pool. Avoid the crowds in May and October, an ideal time for sightseeing with daytime temperatures in the early twenties.
INSPIRATION FOR YOUR SPAIN & BALEARIC VILLA HOLIDAY