Luxury Villas In Morocco
A feast for the senses, a Morocco retreat means bustling souks, indulgent hammams and colorful cuisine. Add the breathtaking backdrop of the Atlas Mountain glistening under the sizzling Moroccan sunshine and you have yourself a villa holiday to remember.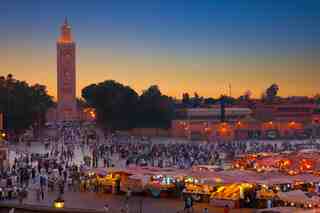 Our destinations
Marrakech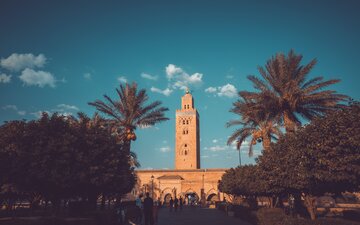 The majority of our villas in Marrakech are peacefully located outside of the city, yet just a short drive away.
Essaouira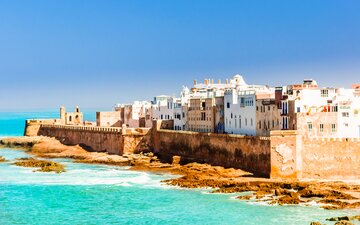 Our luxury villas in Essaouira are all within walking distance of excellent hotel facilities and within easy reach of the beach.
Morocco villa holiday Guide
Prepare for your senses to explode as you step off the plane and into the welcome desert heat; a villa holiday in Morocco is unlike any other. Experience the juxtaposition of city hustle and bustle in the exciting souks of Marrakech, paired with high levels of hospitality and blissful relaxation in a tranquil oasis that is your private villa. Play golf on designer courses, visit luxury boutiques in the historic Medina, enjoy the ancient tradition of a Moroccan hammam - some of our villas have their own. For an adventure with a view, trek in the foothills of the Atlas Mountains where a guide will take you to Berber villages and local markets in between hiking up some impressive waterfalls, before heading back to your villa to relax.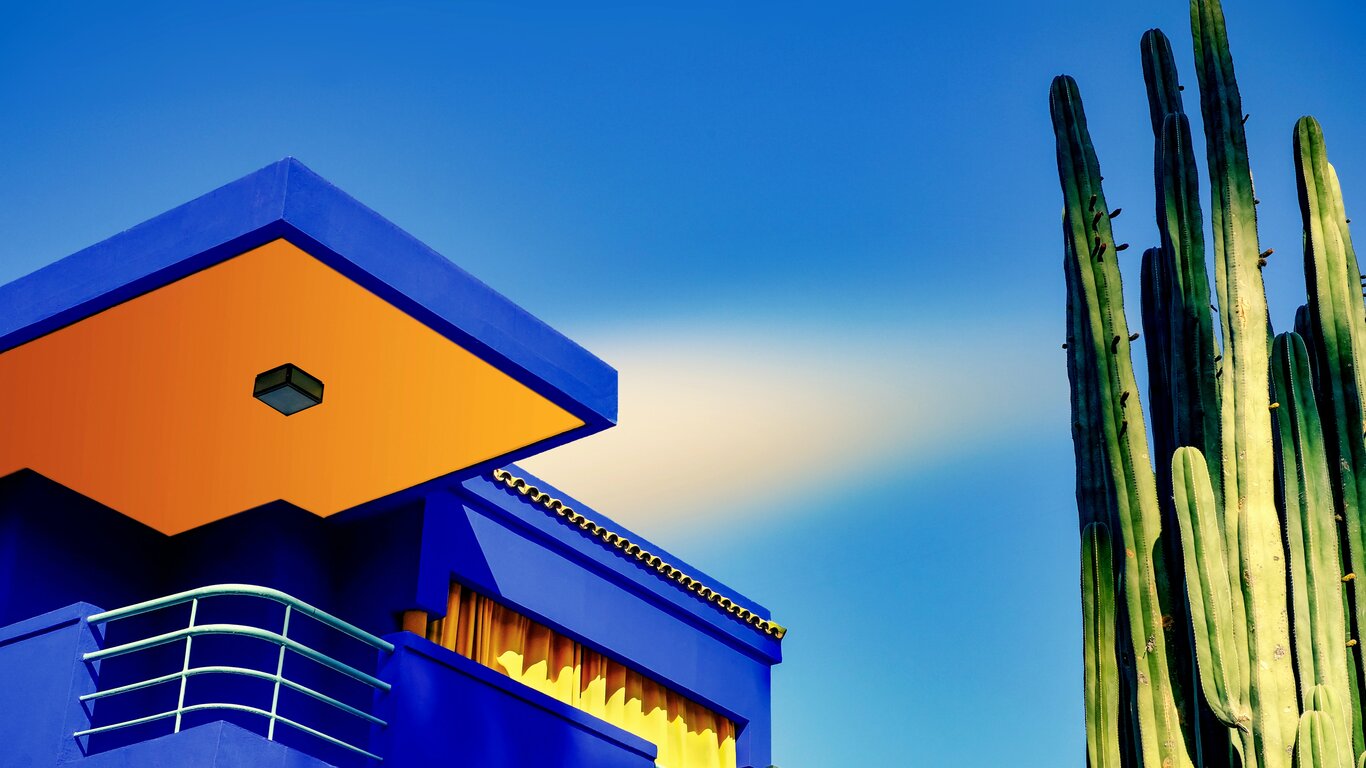 GET INSPIRED FOR YOUR Morocco VILLA HOLIDAY
Things to do in Morocco
Exploring in Morocco
You decide how adventurous your Morocco holiday gets. For a relaxing retreat, we have a superb range of villas with pools; spend your time sitting out on your villa's panoramic terrace sipping fresh mint tea, dipping in and out of your pool to cool off. Decide to explore and you have plenty of options, from the bustling souks in the heart of Marrakech to trekking in the foothills of the Atlas Mountains. In the city, visit fine historic buildings such as the beautiful Bahia Palace, and although Marrakech is the main gateway to the Sahara desert there are some truly stunning gardens worthy of a visit. Le Jardin Segret is in the Medina, while Yves Saint Laurent's Jardin Majorelle is a beautiful two and a half acre garden with an interesting Berber museum. The lively experience of the city can be combined with more outdoor pursuits of trekking in the Atlas Mountains, stopping at Berber villages, visiting local country markets and waterfalls.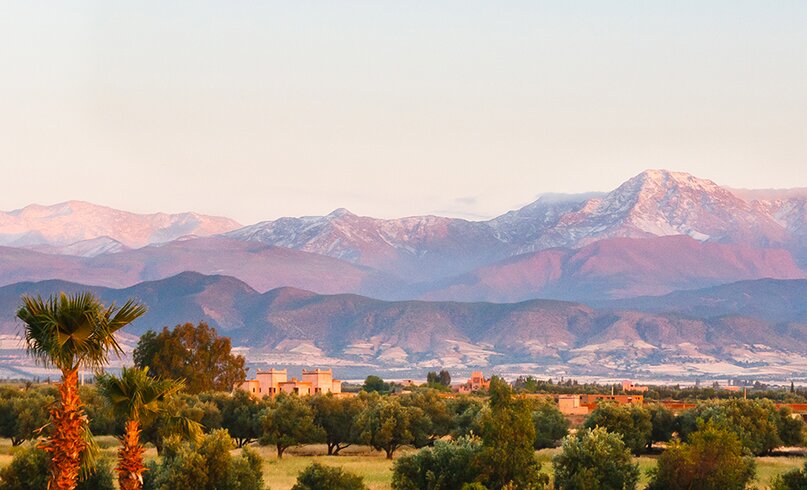 Shopping in Morocco
Shopping in Morocco is excellent, and luckily most of our villas are within easy reach of the city centre (apart from our fabulous houses in Essaouira, where you'll find lovely seaside souks).Though it would be easy to spend the entirety of your trip relaxing at your villa's pool enjoying the gorgeous weather, we recommend at least one visit into the city of Marrakech. An action-packed experience is guaranteed, where bright colours flood your vision and bustling streets are filled with eye-catching excitements; from lively market sellers to snake charmers. Pick up a range of holiday treats including handmade pottery, intricate jewelry and a range of spices, or visit the historic Medina and the French quarter of Gueliz for superb high end boutiques. Essaouira has a similar souk of its own filled with hidden treasures waiting to be discovered.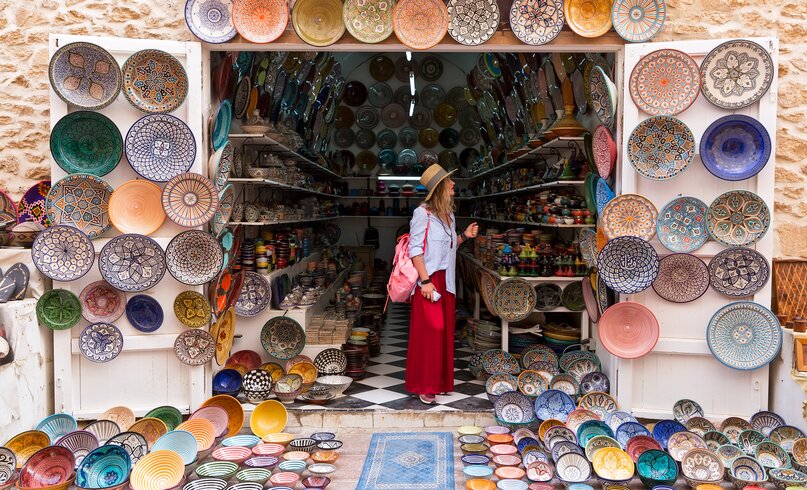 Relaxation in Morocco
We have a range of large villas in Morocco, which seem to have been designed with relaxation in mind. Extensive lawns are gated, so perfectly private and beautifully manicured, while al fresco terraces provide ample space and choice of where to dine and relax. Rooftop terraces provide some of the best views in the whole of Marrakech; decide on your sundowner of choice, relax and watch the sunset against the breathtaking Atlas Mountain vistas. Every villa in our Morocco portfolio has a fantastic private pool, which is often the focal point of the house to cool off from the desert heat. What's more, all our Morocco villas have some form of cook service, whether that's a delicious breakfast prepared by the villa's cook or a fully-catered holiday, adding a level of indulgence to an already luxurious experience.
Those who play golf to relax can enjoy 10 different golf courses in and around the city, designed by Jack Nicklaus, Colin Montgomerie and Robert Trent Jones, among others. For a less active and more indulgent experience, visit a hammam for a body scrub and a massage; better yet book a villa with its own private hammam and inclusive spa treatments.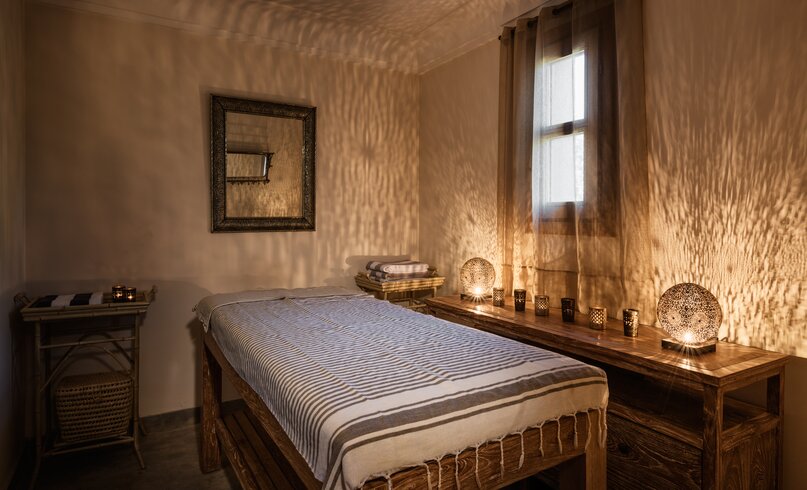 Eating and drinking in Morocco
Expect your Moroccan retreat to be full of flavour, packed with strong spices, tasty tagines and mouth-watering sweet mint tea. Let's talk about ingredients: Morocco produces a large range of Mediterranean fruit, vegetables and even some tropical ones, while common meats include beef, goat and lamb, which serve as a base for the cuisine. Characteristic flavorings include lemon pickle, argan oil, unrefined olive oil and dried fruits. Since the country lies on two coasts, the Atlantic and the Mediterranean, Moroccan cuisine also has an abundance of seafood dishes; other famous Moroccan dishes are Pastilla - a sweet or savoury pie, Tanjia - a rich stew, and Harira, a typical heavy soup. Seasonal fruits rather than cooked desserts are typically served at the close of a meal. A common dessert is kaab el ghzal (gazelle ankles), a pastry stuffed with almond paste and topped with sugar. Another is "Halwa chebakia", pretzel-shaped dough deep-fried, soaked in sweet honey and sprinkled with sesame seeds; it is eaten during the month of Ramadan. Coconut fudge cakes, 'Zucre Coco', are also popular.
Though many restaurants do not service alcohol, the country has some delicious local rose wines, which come from vineyards near the moderating breezes of the Atlantic or the cool foothills of the Atlas Mountains.If you decided to partake in a cooking class, enjoy your lunch accompanied by a glass or perhaps a bottle.
All our Morocco villas have some form of cook service, along with a team of exceptional staff - so there really is no need to leave your luxurious home from home to enjoy traditional Moroccan cuisine. For luxury, fully-staffed villas that are far above the ordinary, take a look at our ABOVE villas in Marrakech.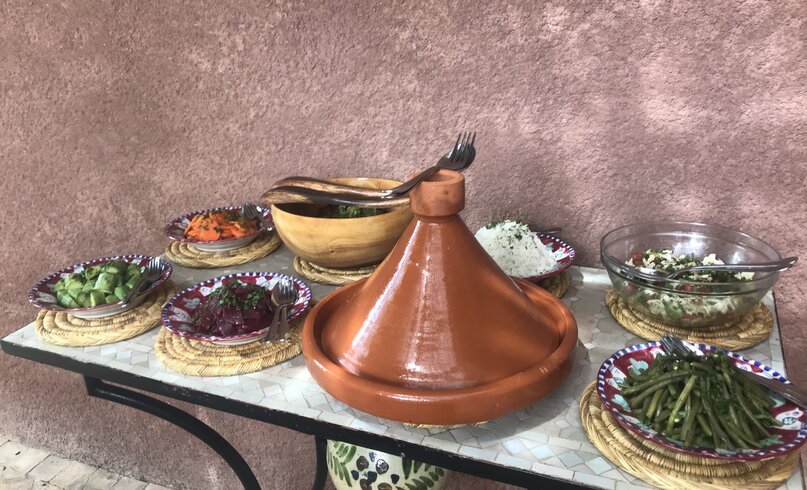 when to go to morocco
Morocco is an enjoyable destination all year round and has a dry continental climate. Ideal months for a villa holiday in Morocco tend to be April - June and September - November when the weather is warm and ideal for exploring, though our family villas can also be enjoyed in the summer holidays, with hotter days and cooler evenings. Look to spring time between March and May for when the countryside is at its most stunning; the ideal backdrop and temperature for exploration and hiking, or autumn for swimmers and beach-goers.