Sri Lanka Villa Holiday guide
Sri Lanka is one of those places that seems to be on everyone's bucket list, and it sure packs a punch for an island that's just over a quarter of the size of the UK. From the splendour of roaming wild elephants across the island's National Parks, to blissful sandy beaches that line the coast, a Sri Lanka holiday has the power to excite a vast range of travellers. Head inland to tiers of lush green tea plantations, trek in the rainforest discovering the rich flora and fauna, or just sit back and enjoy the spectacular view on an epic train journey.
get inspired for your sri lanka holiday
Things to do in Sri Lanka
Nature in Sri Lanka
The wonders of Sri Lanka's natural world are extensive. Away from your luxury villa there are a number of wonderful national parks to explore. Yala National Park is the most beautiful on the island, where game drives offer the potential to see an array of wildlife from elephants and leopards, to sloth bears, monkeys and golden jackals. If your Sri Lanka holiday takes place during the dry season from June/July to September, you are in with a chance of witnessing 'The Gathering'; the largest gathering of elephants in the world, which only occurs in Minneriya and Kaudulla National Parks just once a year.
One early morning, after enjoying breakfast on your villa's terrace, take a trip into the hills to the flourishing tea plantations that cover the magnificent countryside, and you can sample the islands famous Ceylon tea. A cycling tour is another great way to enjoy the breathtaking local countryside, while thrill seekers may opt for further adventure in the form of rainforest trekking. 
The whale watching season in Sri Lanka runs from November to late April/early May, while the sea is most calm. One of the best places to enjoy an excursion is the lovely coastal village of Mirissa, between the Galle and Matara, and within easy reach of our Sri Lanka villas.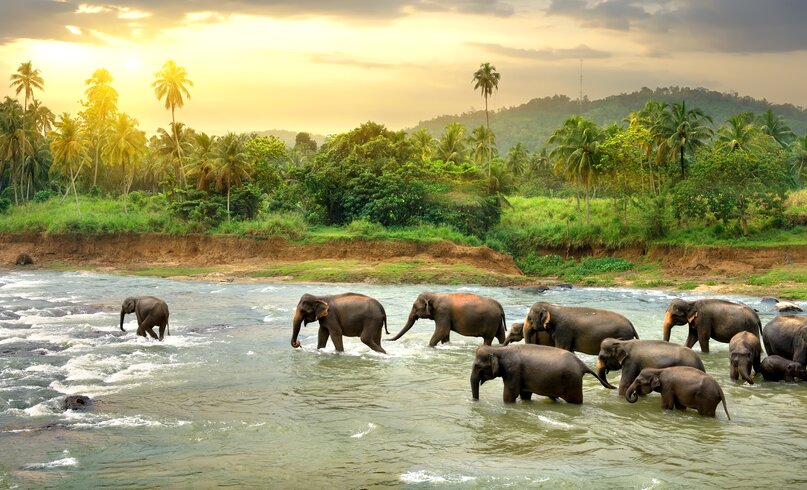 Relaxation in Sri Lanka
Spectacular and often uncrowded beaches encircle the island, so you'll never be too far from chalk white sands. Some of the most beautiful beaches are along the south coast, within easy reach of our properties. Mirissa is a crescent-shaped beach backed by gently swaying palms, where the sand is soft and the water is crystal clear; depending on the time of year, the surf can be huge. Slightly further east Hiriketiya beach is a gorgeous little horseshoe bay, where the jungle meets the sea. This beach is one of the prime spots for surfing in Sri Lanka, with that comes a laidback atmosphere and cool cafes line the golden sands. 
Our Sri Lanka villas themselves have been designed with relaxation in mind and our villas with pools provide an idyllic setting for a truly relaxing holiday. Expansive terraces provide ample space for sun worshippers, holiday reading and al fresco dining.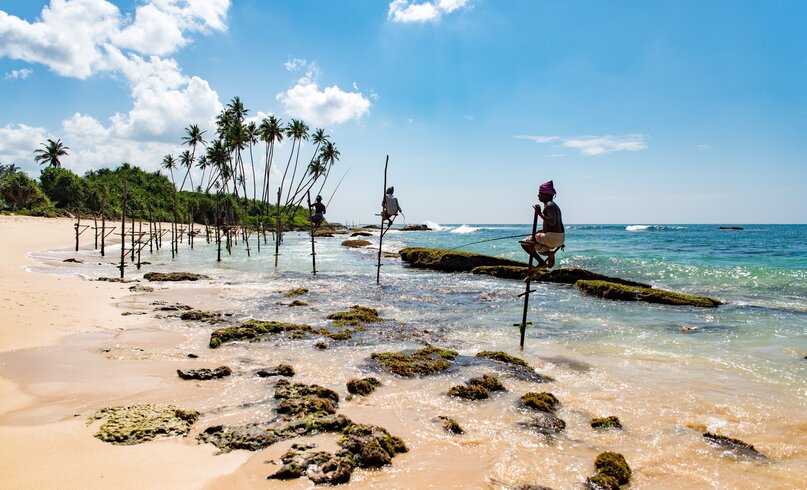 Activities in Sri Lanka 
Though it may be tempting to just relax by the pool, there are many opportunities for exploration away from your villa. Start with a walking tour of UNESCO world heritage site Galle Fort; explore interesting boutiques, cool cafes and ancient mosques and churches, as well as the National Museum of Columbo. Further inland towards Beliatta, Wewrukannala Viharaya draws visitors from all over the country to see the largest Buddha in Sri Lanka, at a whopping 50m high. 
A surfer's paradise, Sri Lanka offers world class surfing yet without the crowds of rival locations. You don't need to be an expert either, as surfing lessons are available around the island. Beneath the waves, there is an underwater world just waiting to be explored; the diving here is excellent and there are a number of quality diving schools along the south coast. For an anti-adrenaline rush, the island is home to lots of different yoga shalas, while our villas are perfect for retreats.
If you're travelling around the country and have the luxury of time, take a train journey such as the one from Kandy to Ella in central Sri Lanka, considered by many to be the world's most scenic train journey.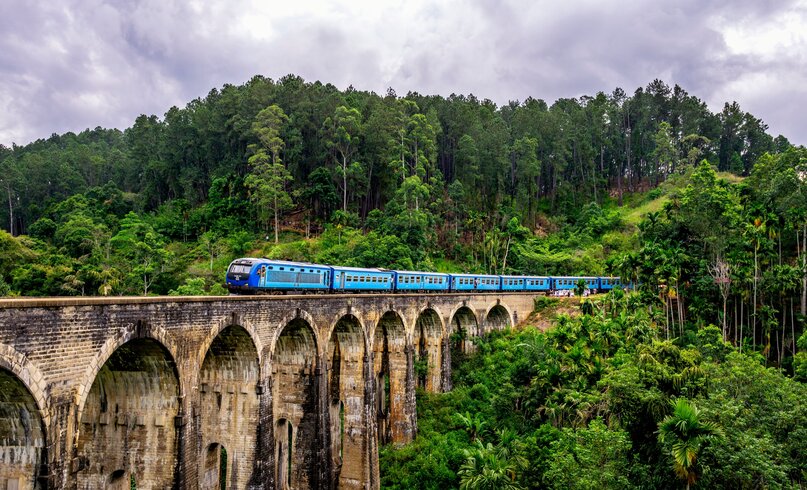 Eating and Drinking in Sri Lanka 
Famous for its colourful cuisine, Sri Lankan food will definitely be one of your holiday highlights; packed with flavour from deliciously sweet to incredibly spicy. Rice and curry is considered the country's national dish; Lamprais is a Sri Lankan speciality with two or three different curries, a twice cooked eggs , rice and sambol served wrapped up in a banana leaf. Our villas close to Galle can enjoy a huge selection of restaurants catering for all; there is some truly spectacular fresh seafood, while vegans and vegetarians are also well looked after. 
Now let's talk about hoppers. A traditional hopper breakfast is an egg on a very thin bowl-shaped pancake, served with lots of lovely little side dishes, such as dahl and sambol. String hoppers are an alternative to the thin pancake hopper made of rice noodles. If you get the opportunity on your trip, you must try some of the island's amazing street food; Kottu roti is a delicious flatbread, chopped up and served with either chicken, beef, seafood, or fresh vegetables. All in all, Sri Lanka is a fabulous choice for a foodies holiday. 
A villa holiday in Sri Lanka offers a whole host of culinary delights. Mango, Papaya, Mangosteen and other delicious fresh fruit is available just about everywhere you go, from stalls on the sides of the road, to a breakfast platter served out on your villa's terrace. Some of our villas have cook service included so all you have to do is decide when you're hungry and the villa's team of staff will do the rest. If you're interested in learning more about the island's cuisine, a cooking lesson can be arranged at your villa. Meanwhile, the best way to hydrate on your Sri Lanka holiday is with a king coconut also known as 'Thambili'; a deliciously refreshing coconut water decorated in its shell.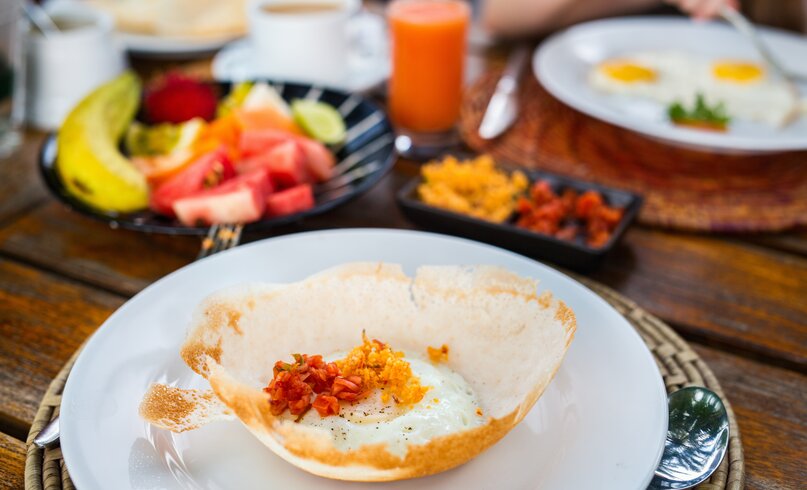 when to go to sri lanka
Due to its close proximity to the equator, Sri Lanka has a tropical climate with an average year round temperature of a balmy 27 degrees. Our villas on the southern coast are best enjoyed between October and March, when the weather is best, while Thalassophiles should visit between January and March when the sea is at its calmest; this is also the best time of year for whale watching. Fly to Colombo direct from London or via London/ Middle East from regional airports.
sri lanka tailor made tours