Unique Villas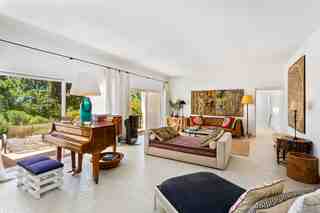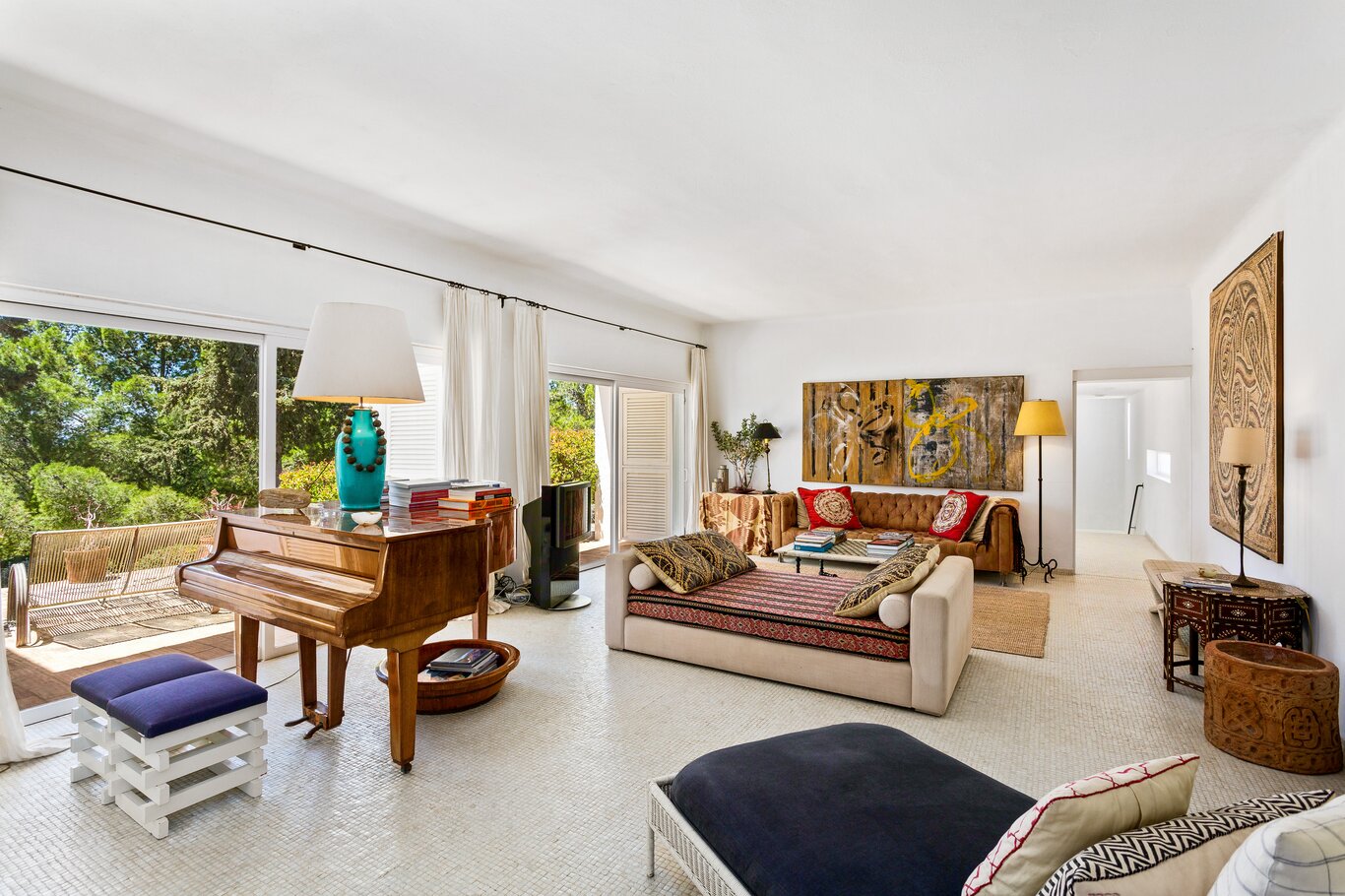 About the Collection
Our selection of the most unique, special and unusual villas from around the world
If you're looking for something special for your next holiday, then our collection of unique villas is a great place to start your search.
What's great about this collection of special villas is that no two properties are the same and each one has an individual feature that makes it stand out from the rest. Whether it is a treatment room with a massage table, a Moroccan fire pit or even a villa with a 40m long pool, we have lots of different options for a unique villa holiday.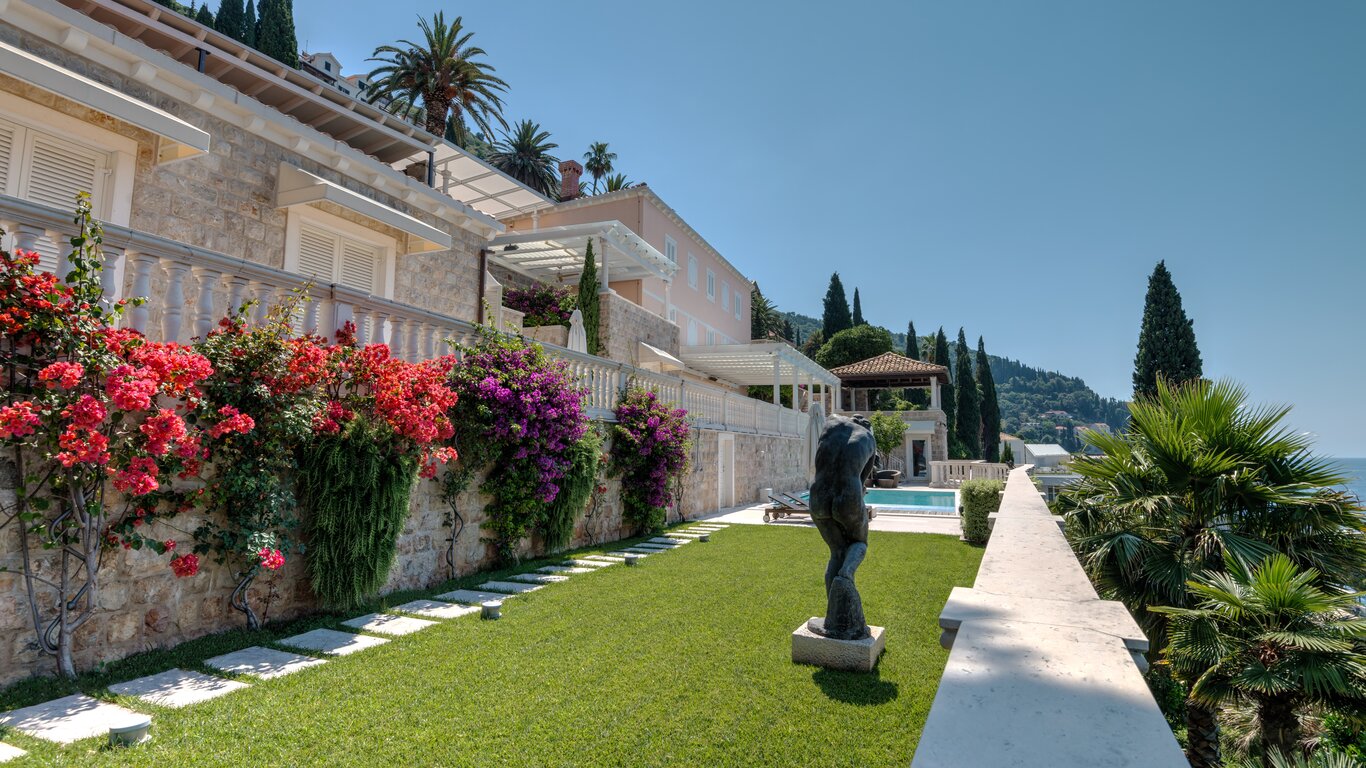 a taste of our unique villas collection
A gym, a fire pit and a private bar...
Villa Balbina is a superb property with a number of excellent features that makes it entirely unique. Luxurious amenities include but are not limited to a fully-equipped gym, a trampoline, a hammock and a fire pit, though one of our favourite parts has to be the beer on tap in the bar! Of course there is also an infinity pool and Jacuzzi and to top it all off, this villa has direct access to a sandy beach; no wonder it's one of our most popular houses in Portugal!
Find out more about Villa Balbina
A spa room with Jacuzzi bath...
Castalia is the perfect property for total relaxation on holiday. Not only is this villa within walking distance of a pretty pebble beach in Corfu, the infinity pool and comfortable outdoor living area provide stunning spots to watch the sunset. Inside, guests can wind down even further and enjoy the tranquil spa room with Jacuzzi bath.
Find out more about Castalia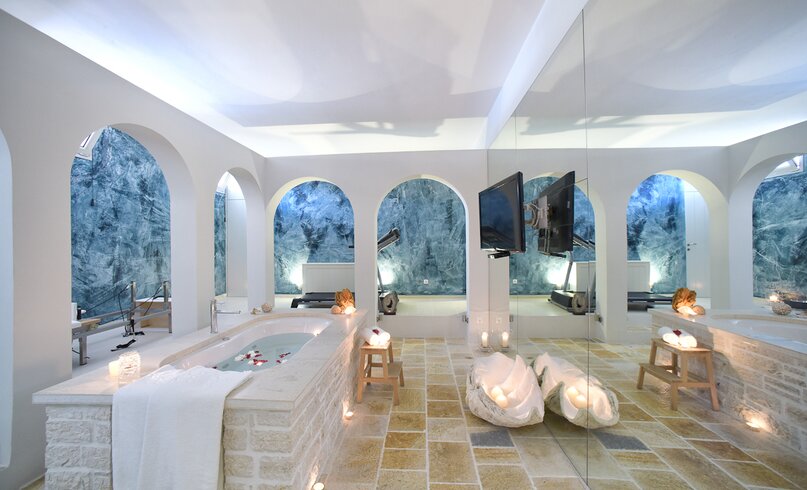 An indoor heated pool, hammam and sauna...
Talk about a Turkish delight! Villa Caria offers a luxury experience inside and out, with an indoor heated pool, hammam, sauna and spa for pampering, as well as a fabulous large outdoor pool with an explorable cave and a waterfall.
Find out more about Villa Caria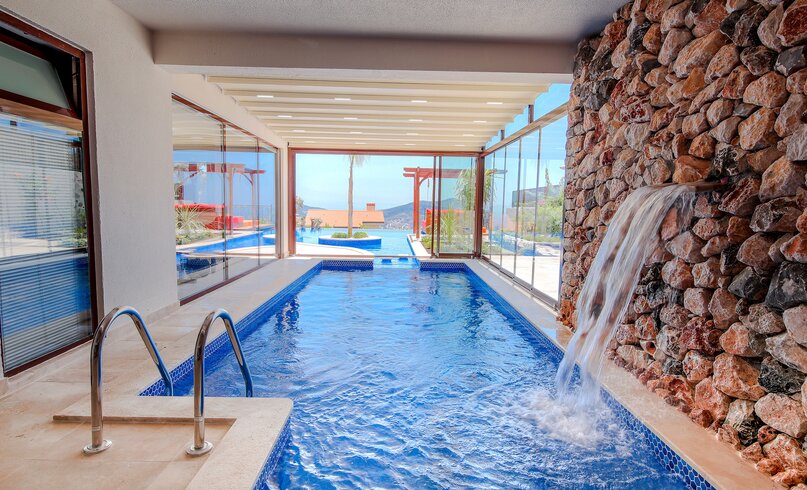 A 40m long pool...
If magnificent views and direct access to the sea are not enough, take a look at the astounding 40 metre long infinity pool at Villa Amarea in Corfu. The house also shares a tennis court and private jetty with its lovely sister villa Ophelia; perfect for large groups holidaying together.
Find out more about Villa Amarea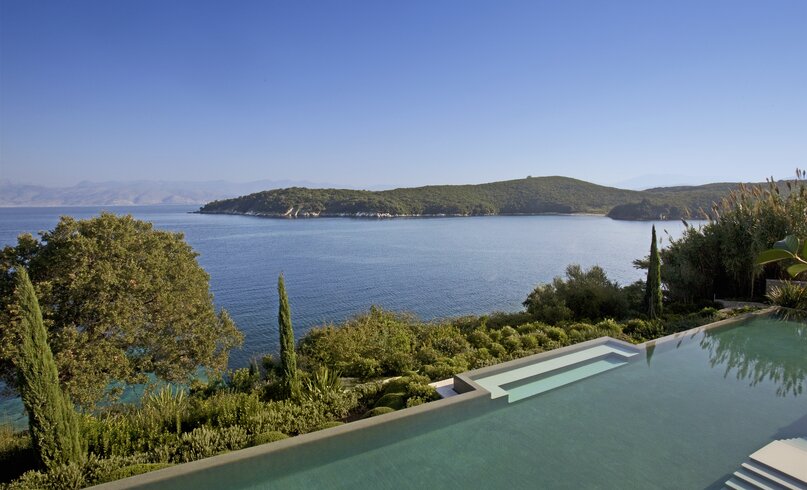 Balinese architecture in The Caribbean...
Java Bay in Barbados brings Balinese architecture to the Caribbean. Perfectly designed for indoor/outdoor living the villa itself is an expansive open space with a stunning infinity pool out on the terrace. There's a nearby beach within walking distance and we just love the outdoor bath tubs and rainfall showers.
Find out more about Java Bay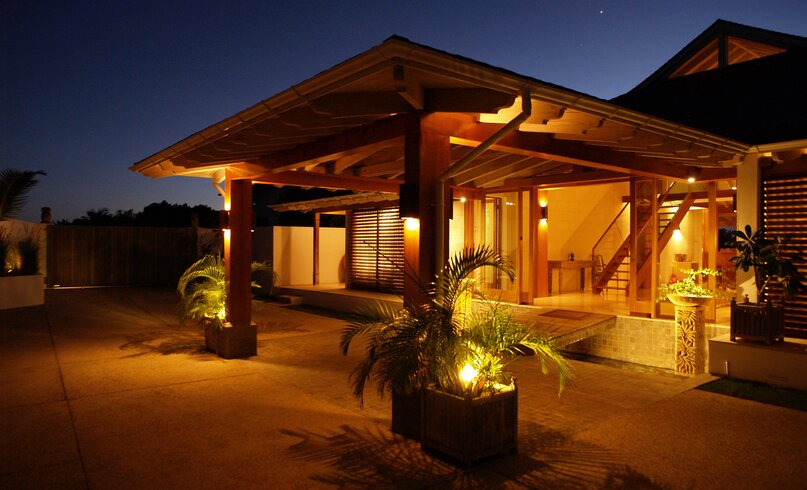 A beach entry pool...
A truly outstanding Trulli! Trulli Fiori ticks all the boxes for a private luxury retreat in Puglia. The unique beach entry pool, designed to resemble the seashore has to be our favourite feature, though we're equally happy about the exceptional outdoor living areas, the built-in barbecue and the gorgeous contemporary interiors.
Find out more about Trulli Fiori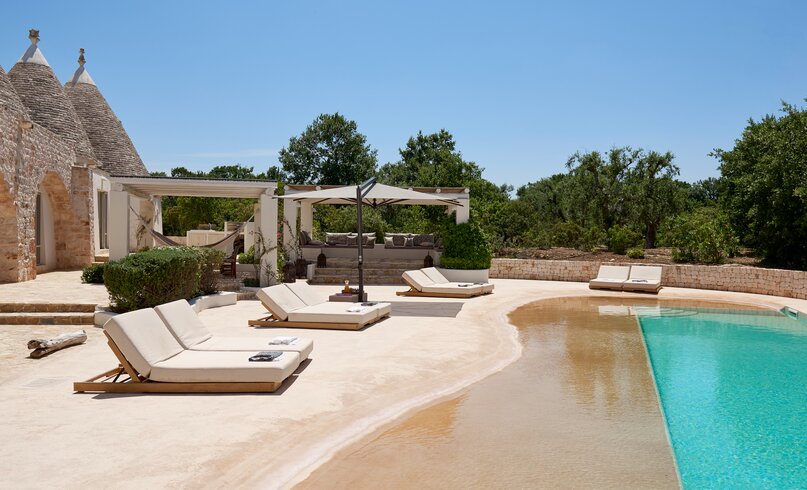 Private beach access with a wooden cabin...
A coastal gem in the heart of Tuscany, Bolgheri Beach House sits within beautiful lawned gardens with a sizeable pool. Pass the pool and head through the pine trees towards a gate at the end of the garden. Follow the path and you'll arrive at a superb sandy beach where guests can enjoy a private cabin with beach furniture.
Find out more about Bolgheri Beach House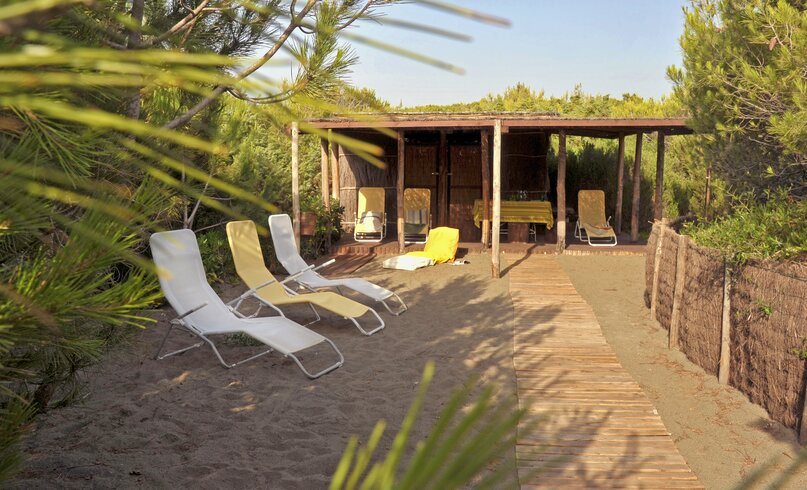 A gym, yoga studio, bar and a pottery workshop...
Montana del Aguila is a magnificent house with sublime panoramic views over the countryside in Menorca. Unique features include a fabulous bar, a gym/yoga studio, a pottery workshop with wheel, a 25 metre long pool with poolside cabanas and some truly exquisite pieces of bespoke and designer furniture. What's more, chef service is included between June and September, ideal for a special celebration.
Find out more about Montana del Aguila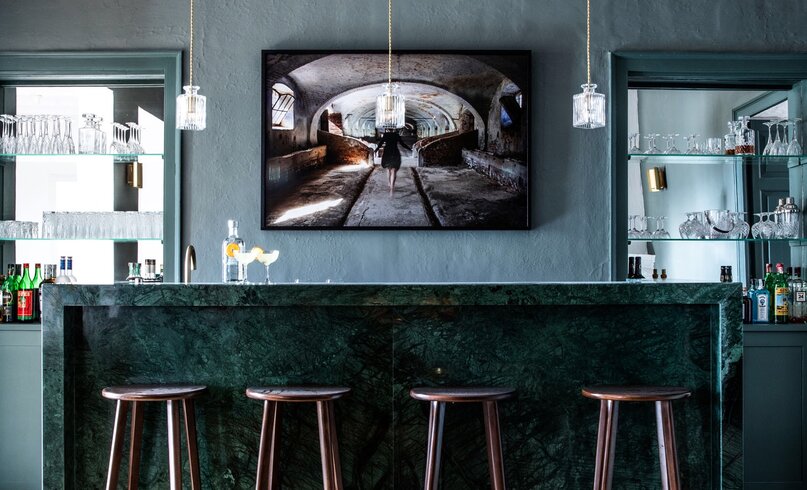 Incredible landscaped gardens 
A superb house in Dubrovnik with serene sea views, The Ragusa Estate is very impressive. The lovely landscaped gardens feature a fantastic pool and a little coffee house, along with plenty of spots for reading and relaxing. Cook service is included, as is a skippered motor yacht and how could we forget the glass-topped baby grand piano!
Find out more about The Ragusa Estate