Paxos villa holiday guide
Paxos is so small—about twelve kilometres long and four kilometres wide—that a practised walker could explore virtually the whole island without the aid of bike, taxi, or bus. Its population—about 2,300 permanent residents living in Gaios, Loggos, Lakka, and a scattering of tiny hamlets—is about that of a small village: you could get to know most of them personally. Still unspoilt and covered in olive and pine trees, its laid-back island atmosphere attracts people who come to unwind, swim and sunbathe, to get away from it all. It is popular with itinerant yachting folk, a magnet for visitors from Corfu and from the mainland resort of Parga, who arrive by ferry or hydrofoil. Villas in Paxos provide a fantastic, self-sufficient base to explore this cool, calm and truly beautiful island.
Things to do in Paxos
The countryside in Paxos
Clustered around a square whose fourth side is the sea, Gaios has restaurants and yachts in equal measure; its only real tourist attraction is a tiny museum of local life. Well-proportioned Venetian houses host a multicultural, polyglot crowd, and restaurants swarm around the statue of local patriot, Giorgos Anemogiannis. The villages of Loggos further up the coast, and Lakka on the island's northern tip in a large, protective bay, both have their own Venetian houses, their toes in the water, and harbours buzzing with boats and tavernas.
Outside its three diminutive villages, Paxos wears a coat of olive trees that, before tourism, were the island's principal source of wealth, alongside fishing. The silver-green groves are broken here and there by cypress trees and the occasional church. A single main road bisects the island, with spurs to eastern villages that hang off it like grapes. The steep west coast is accessible only from footpaths.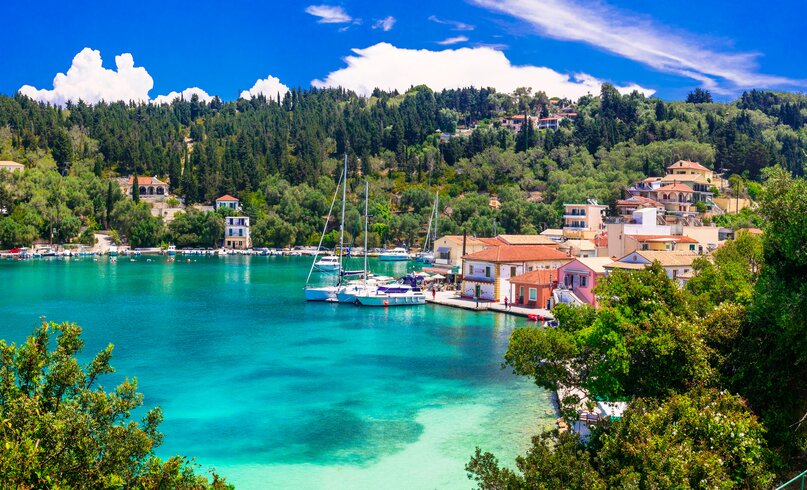 Relaxation in Paxos
The east and west coasts of Paxos could hardly be more different. The former is gently shelved, rocky, and heavily wooded, with headlands and bays perfect for swimming. Each attracts an armada of boats and yachts. The west is spectacular, with white cliffs that plunge straight into a sea that needs no Photoshop enhancement. This coast is dotted with sea caves and grottoes, and liberally-scattered needles and buttresses of offshore rocks. Get your camera out for the Ortholithos Rock, which looks like a great shark's fin, and the much-photographed Tripitos Arch.
Day-trips by sea from your Paxos villa make for scenic relaxation. Hire a boat and sail around the west coast for dramatic cliffs and caves to explore or to the little sister-island of Anti-Paxos, so laid-back that even Paxos seems frenetic in comparison and with such crystal clear blue waters it feels like a trip to the Caribbean. Travel north to Corfu Town for the shopping, museums, or even to watch a game of cricket.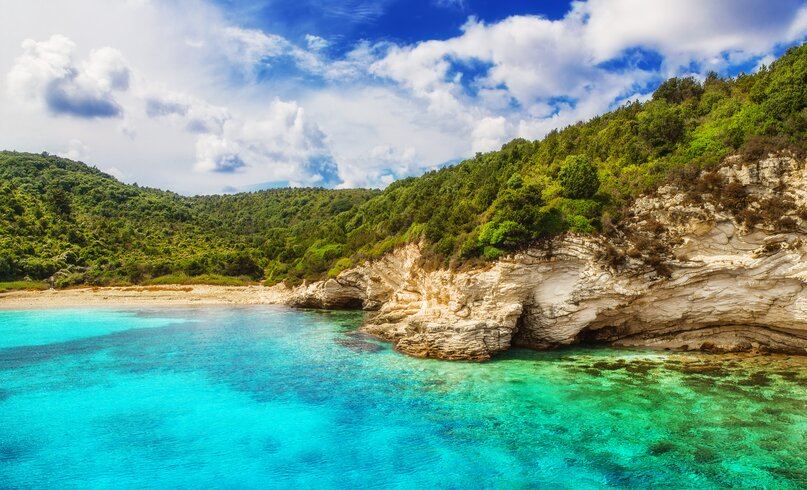 Activities in Paxos
Walking is the Paxos pursuit par excellence. The island is a pedestrian paradise, with marked trails to follow and tree-shaded hollows in which to rest. Head for the wine-press museum in the inland hamlet of Magazia (the word means 'shops'—a bit of an exaggeration) or the spectacular west-coast Erimitis Cliffs—though, if you do not have a head for heights, these are better seen from a boat. Sign up for a guided walk, or meander where you will. Otherwise, to be active on Paxos involves immersing yourself in the sea, with or without your snorkel. 
Thanks to a uniquely relaxed pace of life on Paxos, creative writing, painting, and photography are common pastimes. The island is also a magnet for anyone who wants to meditate or perfect their yoga skills. The highlight of the island's cultural life is its world-famous music festivals—contemporary in the spring, classical in the autumn—which are held in the Loggos school house.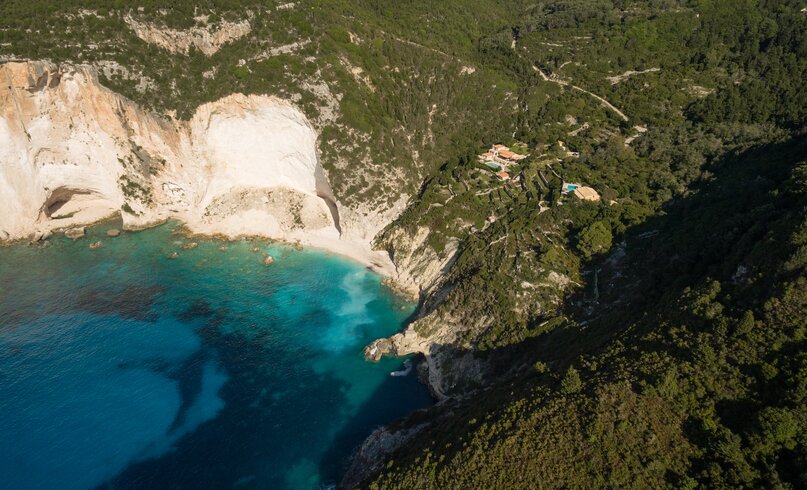 Eating and drinking in Paxos
In each of Paxos's main villages, restaurants swarm around the harbour. Gaios is great for lunch or dinner, with lots of lovely restaurants, cafes and bars and an amazing ice cream shop situated at the water's edge. Loggos is another wonderful village - slightly smaller than Gaios but with several great waterfront restaurants and a fantastic bakery. Loggos is the third village on the island that has a fantastic atmosphere for dining whilst watching the boats bobbing on the water, and with charming little boutiques for holiday shopping. 
As you would expect on an isle of fishermen, many of the restaurants here are psarotavernas (fish restaurants) on whose menus, you might well detect the Italian influence common to many Ionian islands. So, in addition to the Ionian staples of whitebait, grilled mullet, and squid, you will also have a choice of delicious pasta and pizzas.
Al fresco dining out on your villa's terrace is a pleasurable way to spend an evening; pick up fresh produce from the local shop to create your own version of a culinary Greek feast, or pack a meze picnic to take one of many idyllic beaches dotted around the coast.
Ask about nightlife on Paxos and you are likely to be met with a wry smile—it is not what attracts most visitors to the island. The principal evening activities are eating and drinking, or taking a harbour-side stroll. Over on the west coast, The Erimitis bar, which is also known as sunset bar is the place to head to view the sunset for a drink or dinner, with a more Mediterranean menu. If your feet demand to shake their stuff, there is a music bar in Lakka and Greek dancing at a taverna in Mongonissi. But your most likely encounter with bright lights will be the stars—especially when you are away from village illumination—or maybe a firefly or two.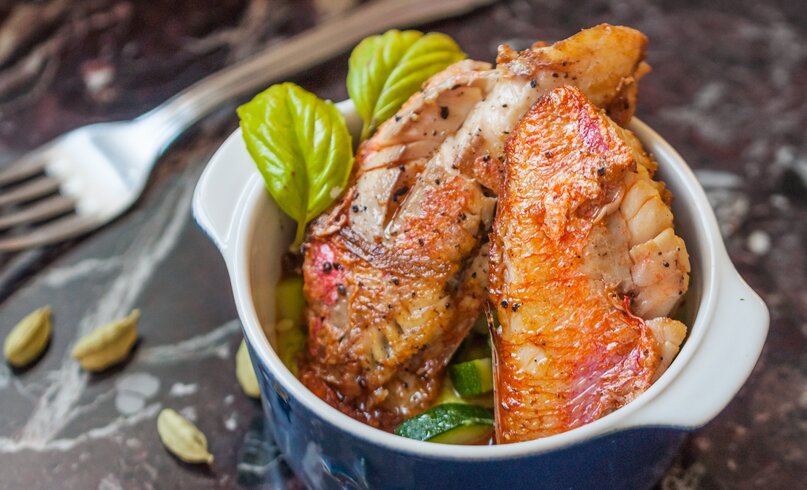 when to go to paxos
Our Paxos villas open towards the end of April for the season, and a villa holiday in the Spring is perfect for walking and wildflowers - the weather is starting to warm up and the island is wonderfully peaceful. June is one of the best months for warmer weather and long days, so sunseekers should visit between June and August for hot sunny days and swimming in the sea. September days are still long and hot with warm evenings, perfect for dining al fresco on your villa's terrace.
INSPIRATION FOR YOUR GREECE VILLA HOLIDAY