Dordogne Villa holiday guide
A honey-coloured pocket of tiny towns and pretty green fields, the Dordogne brings the English Cotswolds to southwest France. It's a region that draws gastronomes, history buffs and nature lovers in their thousands – and constantly catches hearts with its scenery, prehistory and slow French pace of life. Marvel at the many Michelin stars, admire the vine-striped hills, and take the time to wander the pretty cream-coloured river towns. Here, villas are just a gateway. France's Périgord is authentic and historic – medieval châteaux are strung like pearls along the Dordogne and Dronne rivers, and there's a heritage which recalls periods of rivalry and intense years of war.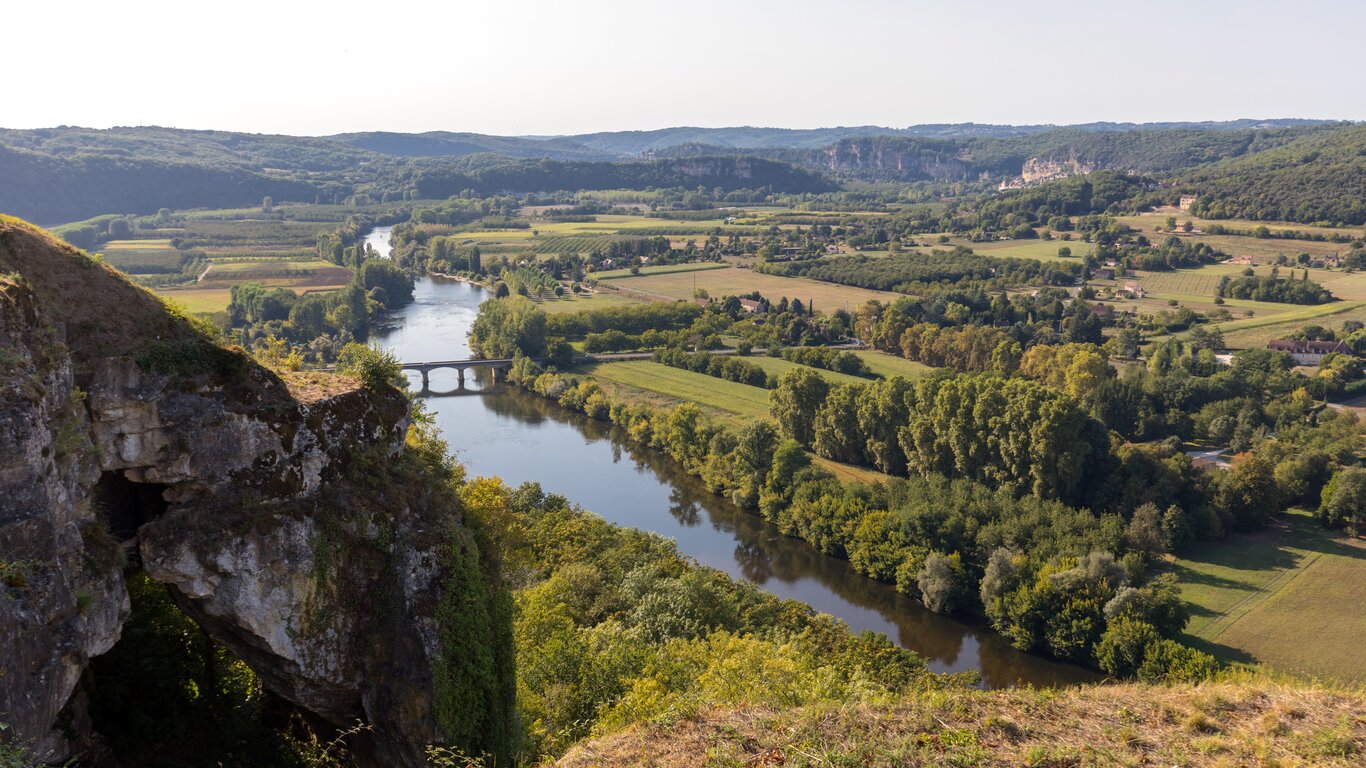 Things to do in the Dordogne
TEMPTING TOWNS
There's an extraordinary prettiness to the old towns in the Dordogne – some are UNESCO sites, others delightfully medieval, but all are a joy to wander if you're feeling like heading out of your villa. The perfectly-preserved streets of Sarlat-la-Canéda are a movie set favourite. It's a tangle of elegant mansions, café terraces and so many secret squares for you to get lost in – but it also has an incredibly lovely medieval and Renaissance centre that showcases some of the region's best heritage architecture. Impossibly quaint La Roque Gageac is a huddle of waterfront houses that straddle the riverside cliff face. It's golden and gorgeous, and is the perfect departure point if you fancy a canoe jaunt along the Dordogne River. One of France's oldest bell towers watches over the small island-town of Brantôme, so enchanting it's been nicknamed the 'Venice of the Périgord'. There are plenty of river cruises here to while away an afternoon, or delightful riverfront houses to stop and take some snaps of. Straight out of the history books is the vertical village of medieval Rocamadour. It's one of France's most fantastic UNESCO sites which teeters on a cliff, and is topped with a castle that's withstood more than a thousand years of attacks. Both a place of legend and history, this town is an important pilgrimage spot thanks to its sanctuary of the Blessed Virgin Mary.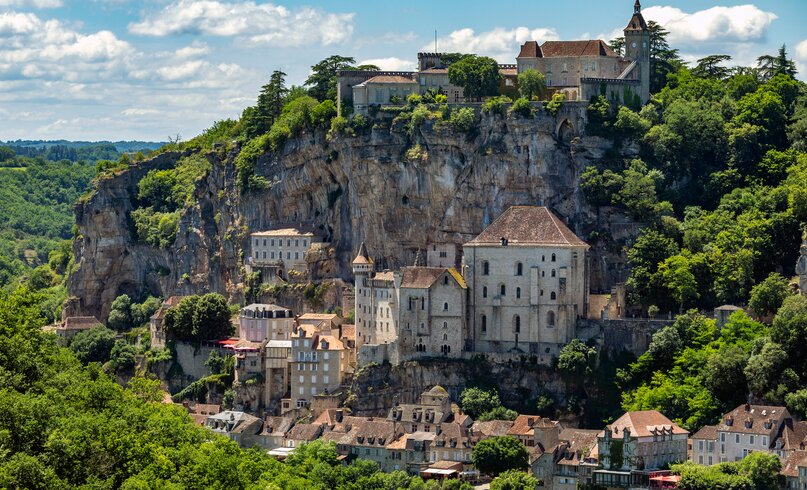 PREHISTORIC ICONS
Swap your villa views for a delve deeper into the history-heavy past of the Dordogne. There are plenty – genuinely more than 1500 – of châteaux decorating the hillsides, or you can make the longer trip to the Vézère Valley to see Europe's most spectacular ancient cave paintings. Pitch up close to the towns of Les Eyzies and Montignac, and stand in awe – there's nothing that can really prepare you for the prehistoric sites here. There are troglodyte settlements, caverns filled with stalagmites and stalactites, and an incredible complex of intricate cave decorations. Lascaux is a complex of caves that boasts the highest concentration of stone age art in Europe. The original paintings are actually protected from the viewing public  – but you can see extraordinary reconstructions at Lascaux II, including the Great Hall of the Bulls and the Painted Gallery's nine friezes.
NATURAL TREASURES
This pretty pocket of southwest France has one of the loveliest natural settings in the country. If your villa is leaving you itching to stretch your legs, a worthy road trip is the brilliant hanging gardens of Jardins de Marqueyssac. Perched on a rocky spur just south of La Roque-Gageac, these 19th Century gardens are spectacular. Stroll along pretty cliff walks and meander the maze of box hedge swirls, taking snaps of the waterfalls and parading peacocks as you pass. On reaching the Belvedere viewpoint, soak up the views that drink in the incredible châteaux-studded valley. Make this a Thursday evening visit if you're coming to the Dordogne between July and August – the views get more magical when the gardens are illuminated by candles at twilight. Make time to visit the winelands, too. The vine-covered hills near beautiful Bergerac have long established themselves as a tour de force in the region's wine-making industry. Going back as far as the 2nd Century, Bergerac's ancient cellars and neat vineyards are great for a day tour. Maisons des Vins is a lovely spot in the old town centre. Located in 17th Century cloisters, there's an extensive library of regional wine which you taste, tour and buy. Or, try out Bergerac's scenic Route des Vins – the neoclassical châteaux and vineyard-studded hills on this scenic drive are almost as nice as the Pécharmant and Côtes-de-Bergerac tasters you can try along the way.
Eating and drinking in the Dordogne
France's duck and truffle capital is one of its gourmet greats. It's hearty, earthy and very meaty, with a rich culinary heritage and an endearing soul – if you haven't moved from the table for a few hours, you're doing it right. Duck is the Dordogne's signature staple, but it's also a region known for its walnuts, cheese and pungent black truffle. A thirty minute drive north of Périgueux will take you to Sorges, the Dordogne's self-proclaimed truffle hub. There's a village museum which explores the truffle's tasty history, and outside is a truffle-rich trail which takes you through the lovely vineyards, wildflower-filled meadows and walnut plantations.
Whether you're dining in or out of your villa, both options are a real treat here. Villa meals in the Dordogne should be as fresh and local as it gets. There are farmers markets almost everywhere – the food markets in Sarlat's quaint streets are piled high with goose products and truffles, while provincial Périgueux has a twice-weekly market, with trestle tables crammed full of the freshest fruit and veg, and the finest regional wines. There's an evening out in the Dordogne to suit every type of mood. Look out for simple bistros or farm-to-table restaurants for the best local fare – or pre-book a more upscale eatery, like the gastronomic goodies of the eight Michelin-starred restaurants that are dotted throughout this food-rich region.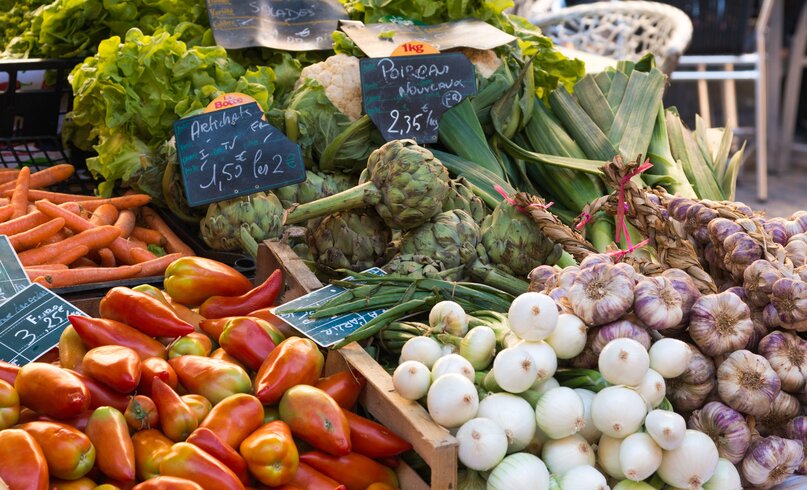 when to go to the dordogne
A villa holiday over winter in France is definitely doable in the Dordogne. The weather can vary from mild to harsh temperatures, but it's that special time of year where you can take things a bit more leisurely. Cosy up in a local bistro with a hearty stew and wooden burner, or head out (with those extra layers) to explore this lovely châteaux-studded region. Winter is also the Dordogne's truffle season, so look out for the special truffle markets that pop up around the region between December and March. The warmer summer months are when the region really comes into its own. There's a serious summer rush – towns and sites here can struggle with peak season overcrowding – but the evenings are warm and everything colour-pops in the sun.
INSPIRATION FOR YOUR FRANCE VILLA HOLIDAY