Luxury villas in Umbria & Lazio
Umbria is a region that's extraordinarily serene. It's Italy's green heart and a villa paradise with gentle hills, ancient towns and a tradition-led charm that's still very much in play. Neighbouring Lazio is the home of an epic capital city, and is a perfect pocket of haunting ruins and ancient masterpieces.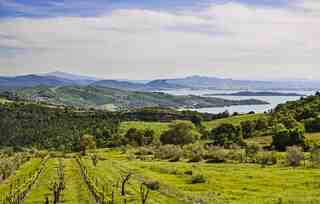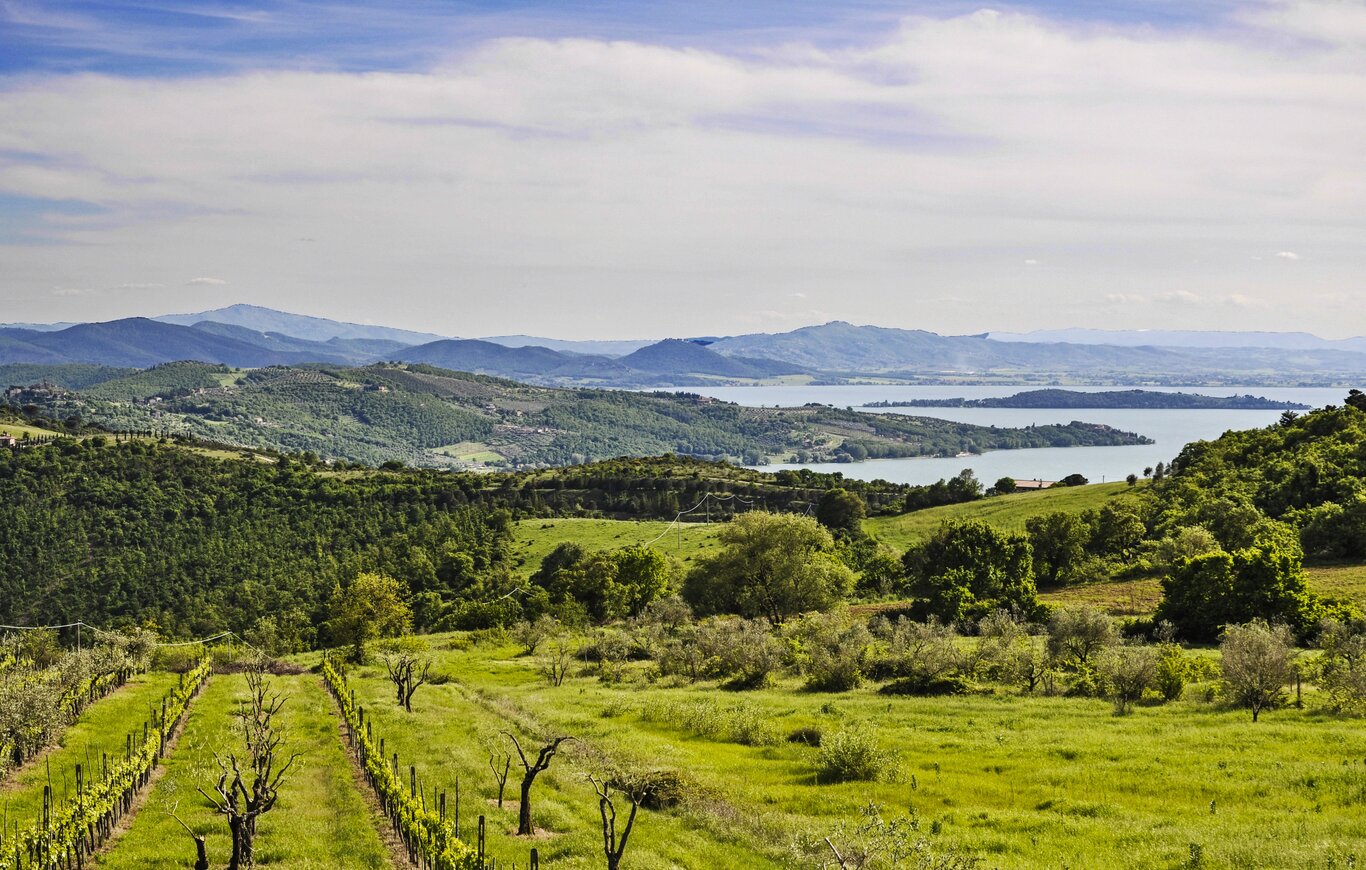 Our destinations
Our villas in Umbria & Lazio
We have a great selection of private villas that are dotted throughout these two regions. Stay near medieval towns like Todi or a short drive from the bigger cities, and choose between honey-coloured hideaways, villas with large heated pools and those with the far-reaching valley views.
View villas in Umbria & Lazio
Learn more about Umbria & Lazio
Near Orvieto, Todi & Northern Lazio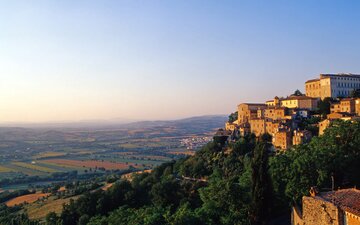 Orvieto, Todi & Northern Lazio holidays excel in tranquility, exquisite small towns, olive groves and local specialities.
Umbria & Tuscany Border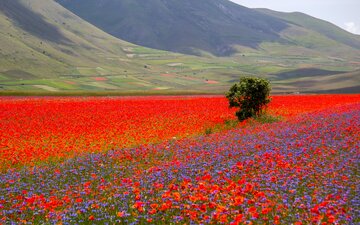 Umbria & Tuscany Border holidays encompass great art, a monastic calm and the lakes, but also a lively spot at Perugia.
Umbria & Lazio Villa holiday guide
This glorious green heart of sea-straddled Italy is quiet, remote and beautifully unspoilt. Medieval towns marry gentle contoured hills, and there's a wonderful old-world charm to Umbria's natural beauty and rich history. Lazio is next door and is the home of Italy's romantic capital – head beyond Rome and it's a gorgeous region dotted with ancient icons, emerald hills and gloriously old Roman ruins. Umbria and Lazio villa holidays are the perfect settings to just relax by the villa pool, a good book in one hand and a crisp, cold glass of wine in the other. On those days when you want more, it's all about the food, the culture, and those seriously standout views.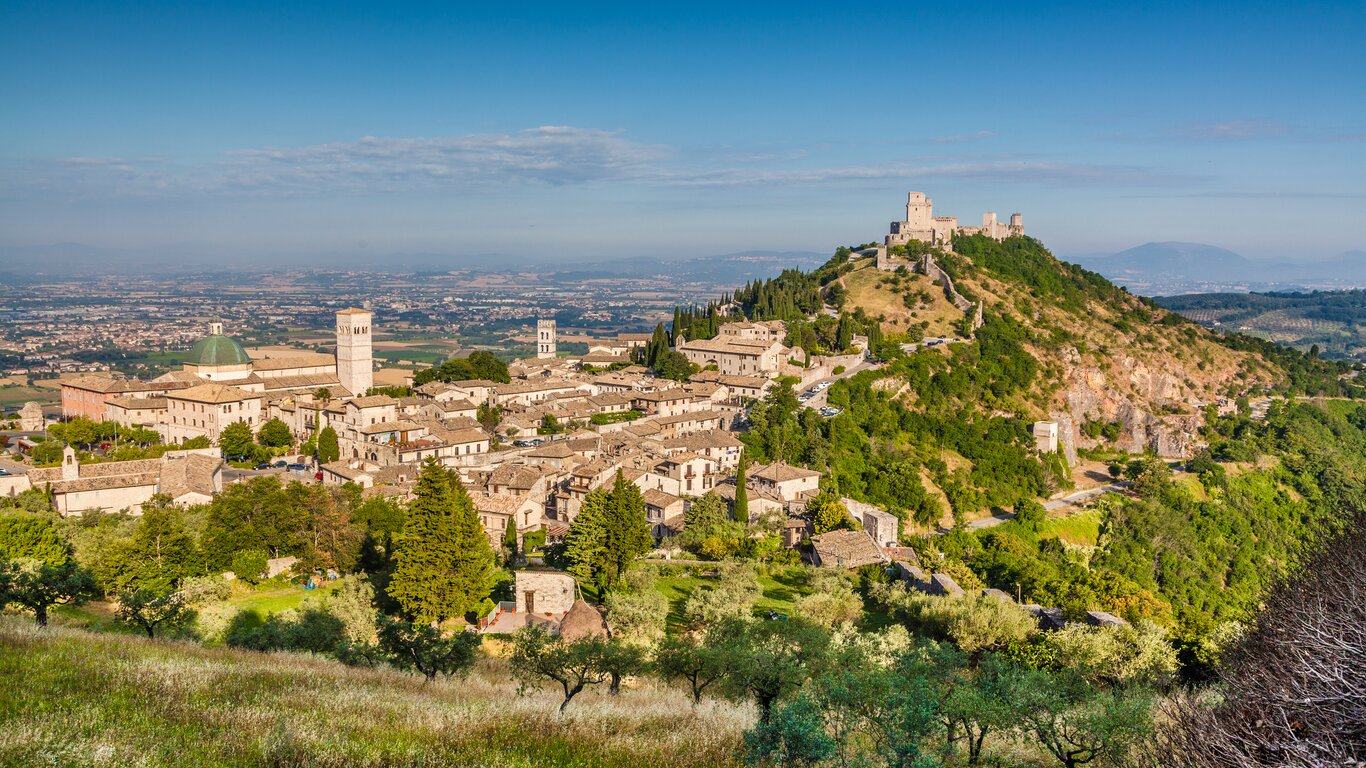 Things to do in Umbria & Lazio
BEAUTIFUL OLD TOWNS
Perugia's not really that much bigger than an oversized hill town, but it's actually Umbria's largest city. It's got a cosmopolitan university with a huge student population, and has a charming medieval centre which is well worth the visit. Swap your villa pool for a day out sightseeing – there's gothic mansions, superb shopping with great boutiques and outlets, and lovely cobbled alleys to get lost in. This little city is also home to Umbria's most important art collection at the National Gallery, and plays host to the annual Umbria Jazz Festival every July. Almost halfway between Rome and Florence, Orvieto is an adorable small city. It's dramatically perched on a plug of volcanic rock and looks over gorgeous views of the surrounding winelands. The city's austere old town is really lovely; the crowning glory is the extraordinary 14th Century cathedral, but behind this are the Renaissance frescoes by Luca Signorelli inside the Chapel of San Brizio.
Umbria's quieter charms lie in the smaller hilltop towns – just as beautiful here as they are in more popular Tuscany.  Assisi was the birthplace of St Francis of Assisi and is just a few miles east of Perugia. This hill town sits on the slopes of Mount Subasio and has perfectly preserved Roman ruins that include its 1st Century Temple of Minerva . This town is great for a relaxing wander, but is perhaps best known for its Basilica di San Francesco – a UNESCO World Heritage site and one of the country's most celebrated masterpieces. Drive south to Todi to see this pretty fairy tale town with views of the River Tiber. There are lovely narrow cobbled streets and medieval landmarks like Palazzo del Popolo, but there's also cute cafés and tiny boutiques if you fancy slowing down the pace. On the slopes of Mount Ingino, Gubbio is decidedly picturesque – it's a much quieter option but is still seriously charming with its clustered buildings, imposing Gothic towers and a lovely central square that basks in panoramic views over the pretty town.
AN EPIC CAPITAL
We think Lazio is one of Italy's most underrated regions. It's not just the home of a world-famous capital, but is a central pocket that's filled to the brim with gorgeous natural treats and some serious historic beauty. All of our southern Umbrian villas are within a day-trip distance to Rome. This Italian treasure is known the world over for its sensational landmarks  and incredibly romantic cityscape – gawping up at the huge marble masterpiece of the Colosseum, joining the coin-throwing masses at the Trevi Fountain and splurging on the most mouth-watering of Italian gelato by the Pantheon are all just rites of passage 'when in Rome'. Beyond this bucket-list city, Lazio is a region that's basically been made for a road trip. It has glorious Apennine peaks, beautiful emerald hills and endless sandy beaches for the most leisurely days out. If you're feeling the sights, the historic icons go way beyond Rome. There's the Etruscan tombs in Lazio's ancient wine country, Hadrian's huge heritage estate in Tivoli, the stunning Subiaco monasteries and Ostia Antica's remarkably preserved Roman ruins.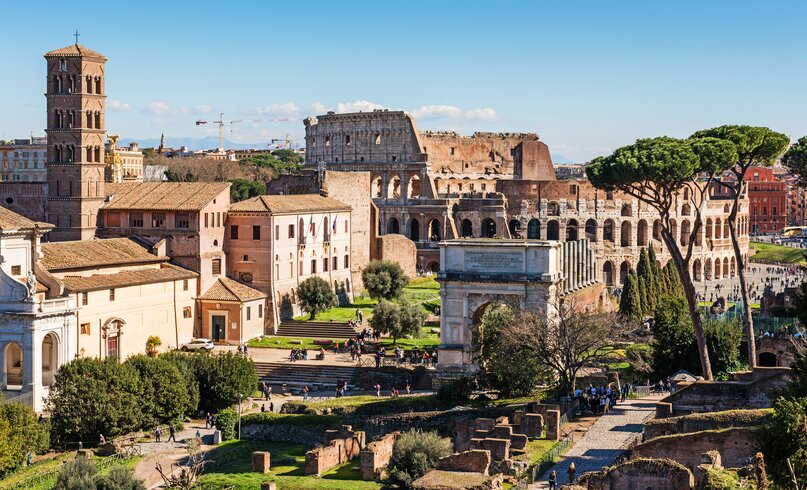 INTO THE WILD
A gorgeous green explosion with plenty of scenic spots to scout, Umbria's gentle contours and lethargic country pace mean you can take it as gentle or as active as you like on a villa holiday here. Spilling over into Tuscany, Lake Trasimeno is Italy's fourth-largest lake and is around an hour's drive from Assisi and Perugia. It's a languid splash of blue within a cypress-studded landscape, and has some really classic castle-topped medieval towns that you should absolutely put on your list to explore. Don't expect the A-list glam of Como, but do come here for the well-marked biking trails, gorgeous sunsets and the laid-back lake life that mingles on the sandy shores. Lazio also has some really lovely lakes – the most scenic are close to Grotte di Castro and Cura di Vetralla. Lake Bolsena has black volcanic sands and is rarely overcrowded, while Lake Vico is tucked away in nature reserve that runs wild with hazelnut groves and farms near the water's edge. Drive just an hour from Rome to see Lazio's coastal Circeo National Park by the Tyrrhenian Sea. Experience billowing sand dunes and some really epic forests, or it's a haven for activities like fishing and bird-watching.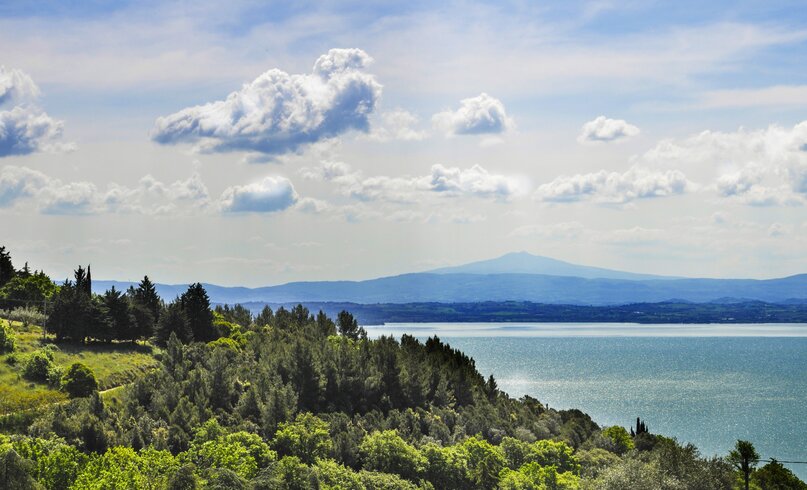 Eating and drinking in Umbria & Lazio
Refreshingly free of any fancy fine dining flourishes, Umbria has a very simple food heritage. It's soulful and seasonal – expect rustic flavours, hearty soups and stews and regional specialities made to ancient recipes or from long standing traditions. Foraged mushrooms, pungent summer truffles and prized pulses are menu favourites, and there's a heady reputation for its full-flavoured game – homemade pastas here really love a rich wild-boar sauce. If you're out for the day or night, have a look for a local porchetta – this stuffed pig speciality is spit-roasted slowly over several hours, and then traditionally carved and served in a very simple sandwich of sliced bread. Another must-try is the delicate fish stew of tegamaccio that comes courtesy of the fresh fish-filled waters of Lake Trasimeno. Pair a deep-red Montefalco wine to match the heartiest of meat dishes on the menu, and try a crisp, dry white from Orvieto for a classic Umbrian aperitif.
Cosy villa nights in are very easy to enjoy here, especially if you're visiting Umbria during the quieter winter or autumn months. Have a look at our gorgeous villas that offer cook service on request, or make the most of the high spec villa kitchens and prepare a home-cooked meal yourself. There are gourmet food shops, street stalls and local farmers markets in nearly all towns and cities, plus regional food fairs like the Eurochocolate Festival in Perugia that are worthy of a villa road trip. Norcia is a town in the Sibillini Mountains, and is region-renowned for its delicious food. This is where you'll find the famous Nero Norcia truffles and some of the best salami in central Italy – head here in February and October to enjoy the huge ham and truffle fairs that take place here every year.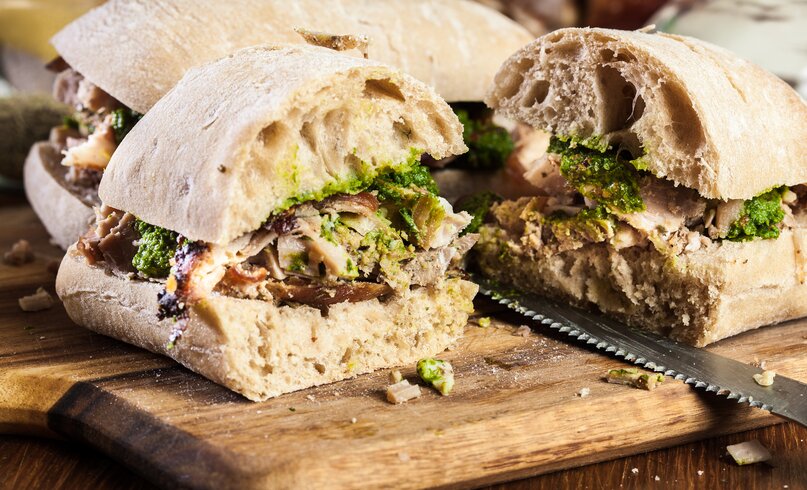 when to go to Umbria & Lazio
There's never really a bad time to plan a villa stay in Umbria and Lazio. Autumns are mild and coincide with the harvest seasons, and there's a charm to seeing the region in the quieter winter months. Yes, it can get pretty chilly, but there's sunny skies, the tiny hilltop villages are emptier and it's easier to see the main cities with fewer crowds. Perugia has a great cultural life at any time of year, and has easy rail access if you're planning to visit elsewhere. Spring is when the green countryside really comes into its own – fields get overwhelmed with sunflowers and poppies, and the hills become a patchwork of all different shades of green. It's warm and sunny, so is great for hiking or seeing the main sights without the humidity. Summer is equally as lush, but can be busy – plan ahead if you're day-tripping to the bigger cities like Rome. It's hot, and there will be longer queues for all the classic icons. Your private villa pool will offer a glorious respite from the 30-plus temperatures that can be experienced in Europe at this time.  
INSPIRATION FOR YOUR ITALY VILLA HOLIDAY