Luxury villas in Sicily
The largest island in the Med is glamorous and sun-kissed. Soak up a villa holiday in Sicily and combine cosmopolitan relaxation with dazzling island delights – there's beautiful offshore islands, dramatic volcanoes and a classical heritage that's one of the oldest in Italy.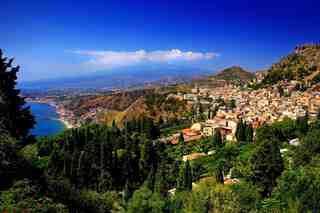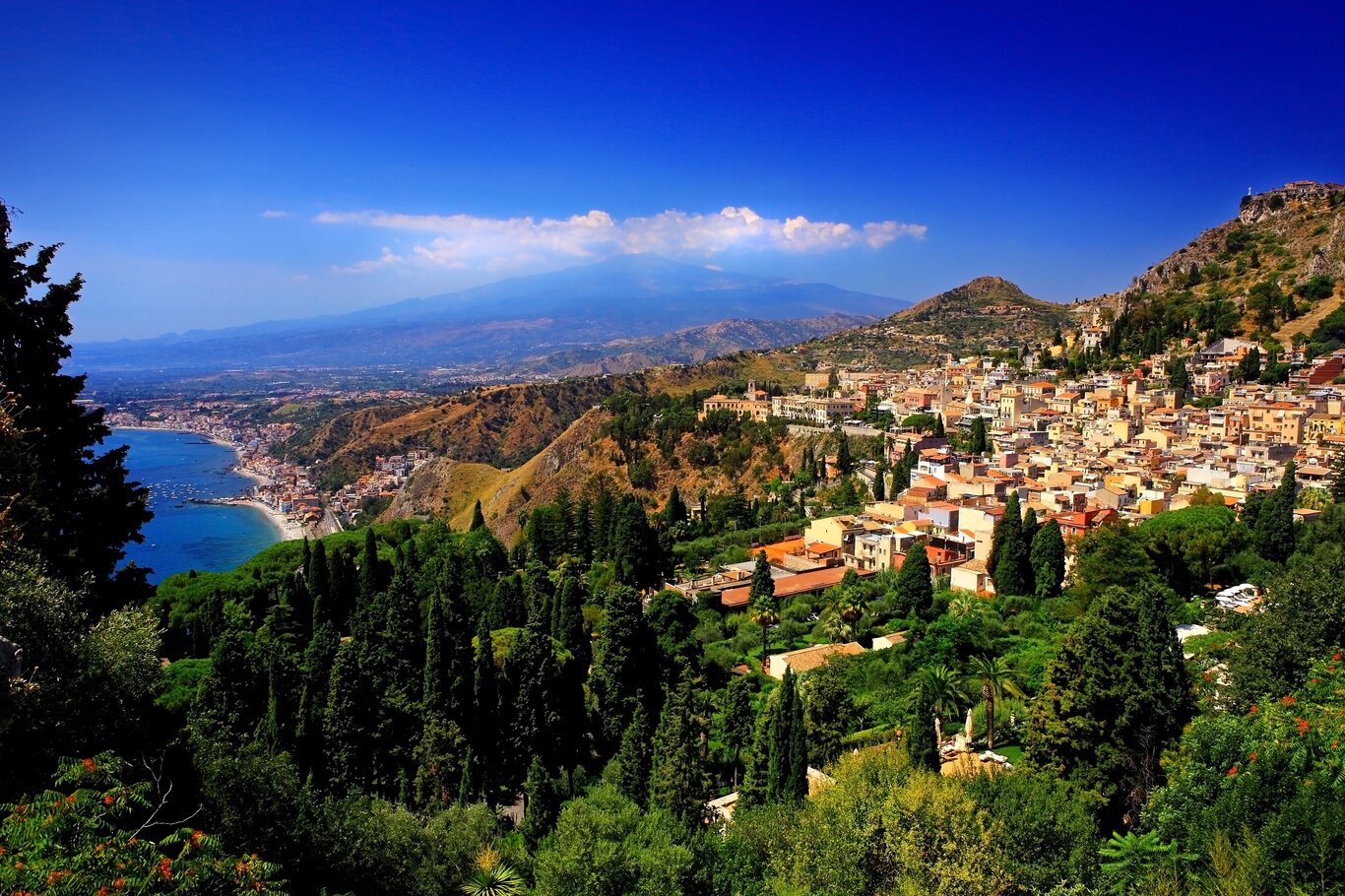 Our destinations
Our villas in Sicily
From splendid sea views to the most historic settings, our hand-picked Sicily villas are scattered across the east, west and south of the island. Soak up the long summer and choose a villa with a private pool, or stay nearer to the coast for easy beach access.
View villas in Sicily
Learn more about Sicily
Selinunte and Western Sicily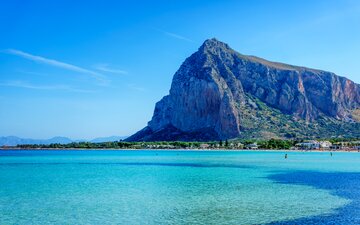 Our villas in Selinunte and Western Sicily make for an intriguing holiday, where North African influence meets European culture.
Siracusa and Southern Sicily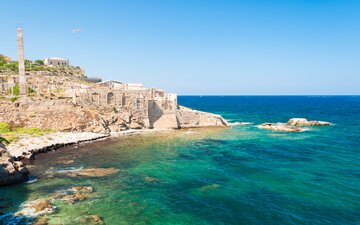 Our villas in Siracusa and Southern Sicily prove tranquility does not mean boring – there is so much to see, do and eat…
Taormina and Eastern Sicily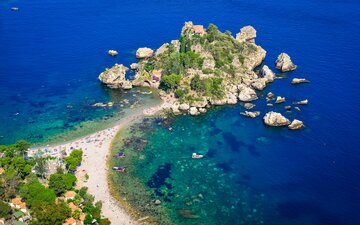 Once you visit you will see why Taormina is a firm favourite among visitors for sightseeing, eating and drinking, and entertainment.
Sicily villa holiday guide
Sicily is Italy at its most sun-baked and seductive. This dazzling island region is dramatic and cinematic, with a natural beauty and cultural legacy that's lasted through some of the world's most ancient generations. There's glamour and style in almost every corner of the island – and like everywhere else in Italy, it's all about the food and wine. Once you've had enough of your private villa comforts, leave your luxury sanctuary for a bucket list-ticking island adventure. Soak up sun, sea and some serious culture – swim in warm emerald waters, discover ancient cities and temple ruins, walk the foothills of an active volcano and admire the old baroque beauty of clustered hillside towns.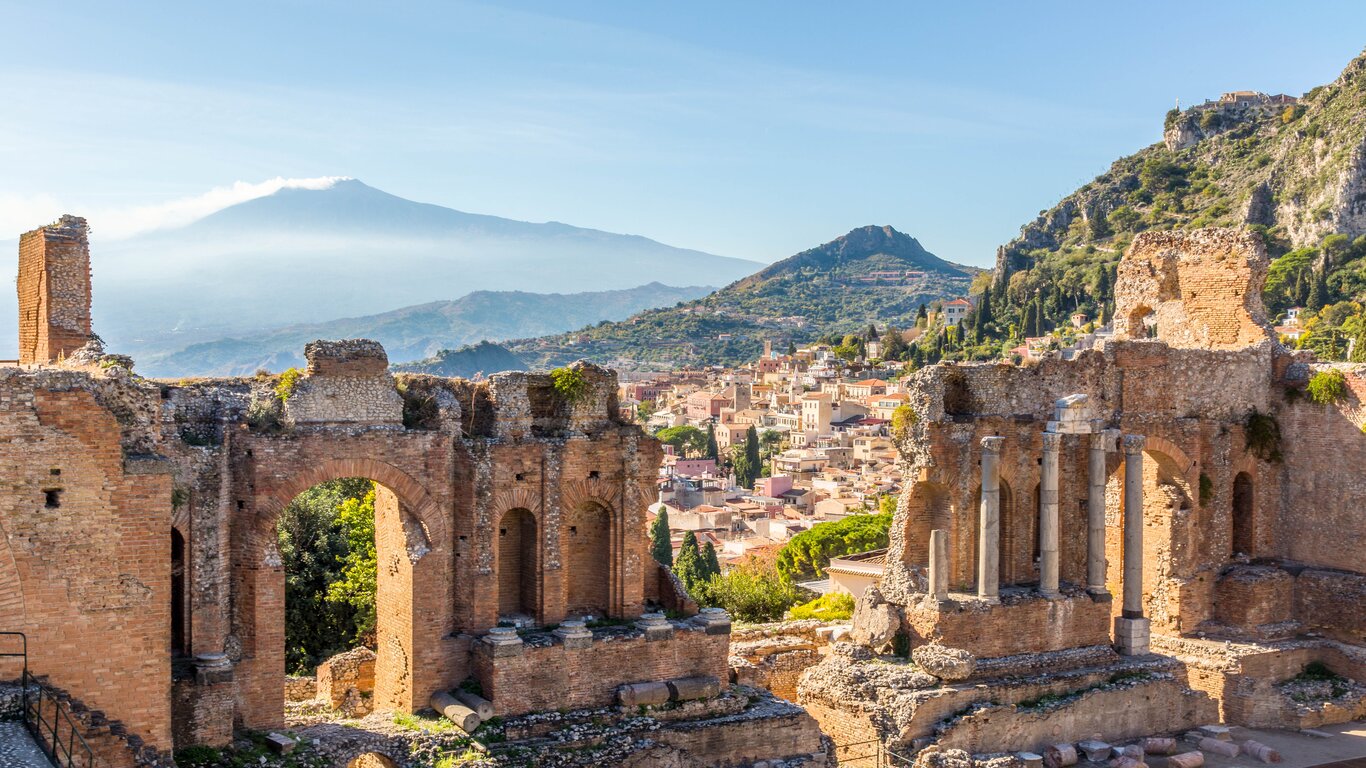 Things to do in Sicily
BRILLIANT BEACHES
Private pool villa or not, it's all about those easy beach days in Sicily. When the long summer hits, locals join the tourist crowds and flock en masse to the ocean. This is an island blessed with its lovely weather – but there's also a wonderfully diverse coastline, with enough beaches here to suit every different taste and personality. Head further out and there's more than a dozen offshore gems to explore, all with gorgeous sands that are within day-tripping distance by boat.
Sicilian beaches are traditionally quite pebbly but there are lovely stretches with soft sand, too – more often than not accompanied by the same turquoise and emerald waters you'd expect to find in the Indian Ocean. Some of the most unspoiled sands can be found at the Vendicari Nature Reserve on the island's southeast coast, while villas nearer the north of the island are just a drive from the postcard-perfect white sands of San Vito lo Capo and the seafood restaurants at Mondello beach. Swap to the island's east coast and some of the best snorkelling offshore can be enjoyed at Isola Bella, a cove just below Taormina. The blue Ionian waters are blissfully translucent here, but it's also rocky so don't forget your water shoes and consider renting a lounger. The west coast is home to the Scala dei Turchi rock formation; a blindingly white sweep of limestone rock that dramatically overlooks a lovely golden stretch of sand. This lunar-like setting is Sicily's most dazzling beach backdrop, and has private beach clubs or an open public stretch, depending on what you're feeling.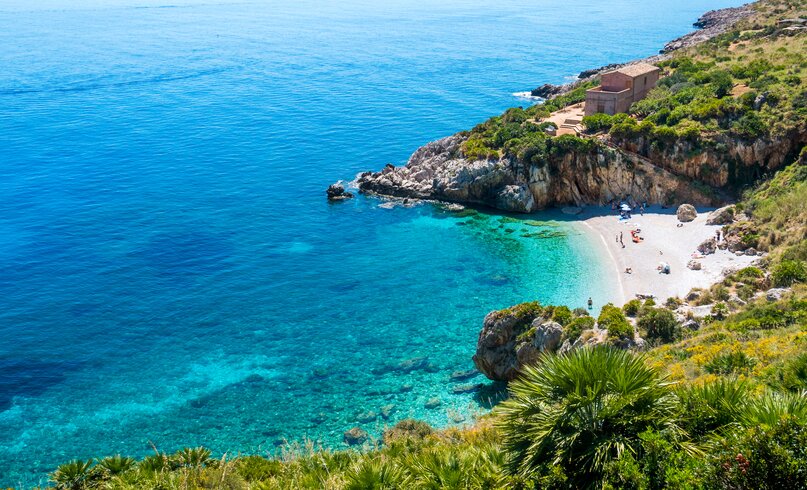 ISLAND ANTIQUES
Sicily is an island with an impressive past. It's been invaded, conquered and has survived earthquakes and eruptions, leaving it with a cultural heritage that's so rich it's virtually on display around almost every corner of the island. Switch up your villa time with a road trip to some of the best of the island's historic spots. The ancient Greeks left behind a serious wealth of ancient ruins – there's the Greek theatre in Siracusa, the city remnants of Eraclea Minoa and the stunning temples at Segesta and Selinunte. The Valley of the Temples is the best-preserved Greek site, and it's just 3km south of Agrigento. It was once the ancient city of Akragas, but you should head to the most intact of the temples – Concordia, Juno and Hercules –  if you can't spend too long here. The island's historic Roman influences are probably best seen at Piazza Armerina. The home of the intricate mosaics at Villa del Casale, these are some of the most important in Italy's ancient history. If you're staying near Trapani, the tiny Roman burial chamber of Crispia Salvia in Marsala is worth a visit, too.
Sicily's southeastern corner is a honey-hued haven of Sicilian Baroque architecture. The Val di Noto region was essentially all but destroyed by a devastating earthquake in 1693, but was eventually rebuilt into the towns that are now UNESCO-protected for their elaborate old-world style. Ragusa, Modica and Noto are some of the region's most picturesque towns to see – they're grandly faded, with sun-bleached shutters and tangled alleyways, but are gorgeous with their handsome palazzi, stone-stacked hillsides and hypnotic historic centres.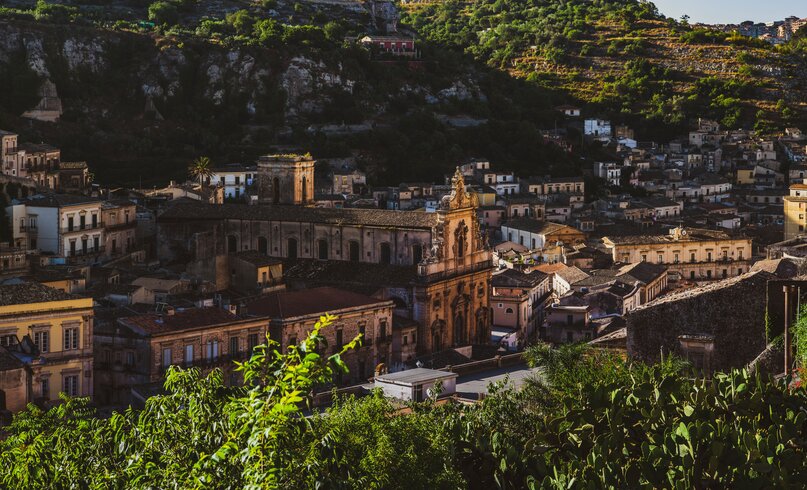 GREAT SMOKING MOUNTAIN
This heat-hazy island is incredibly fertile, and has a wealth of landscapes that change as you travel across the island. Citrus groves and wine estates occupy the rolling, dry countryside that covers much of Sicily – but there's also a windswept western coast and a wild interior, with olive-studded hillsides, forgotten valleys and some of the finest Italian beaches on its gloriously long coastline. The imposing presence of Mount Etna is one of the country's great outdoor adventures, and climbing – or, at least seeing – Europe's tallest active volcano is a great alternative to a lazy villa day. It's got extinct craters, desolate lava fields, and a moonscape-like landscape that's become so iconic. There are almost 20 different walking trails that you can have a go exploring, though the prettier treks tend to be found nearer to its foothills. If you don't fancy the action, head to Taormina or the beaches near Catania to see this dominating beast at its brooding best.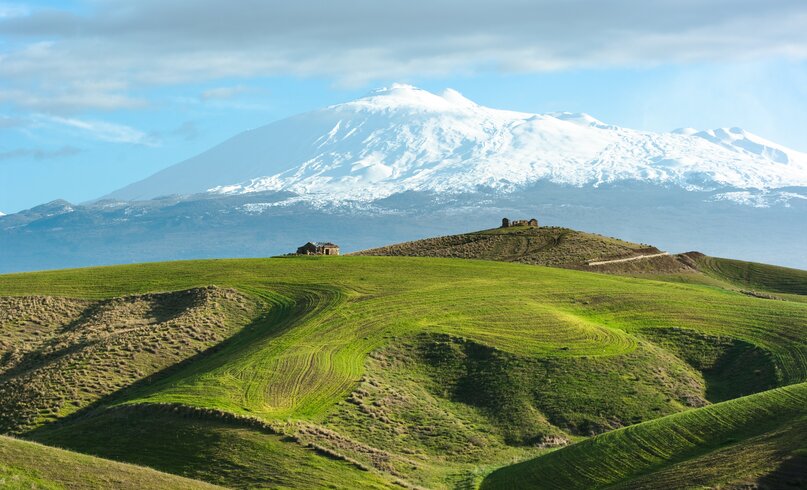 Eating and drinking in Sicily
The Sicilian food and drink scene is very Italian in style – it's earthy, exciting, and an essential part of everyday local life. In Sicily, you're more likely to be sipping a red Nero d'Avola or a white Moscato with your dinner, while cuisine-wise it's very much influenced by its past. Recipes are timeless and live on through different family generations, and it's full of culinary traditions that draw on the island's rich history and heritage.
When you're out and about, expect to see mainly island-grown ingredients on the menus. There's an unsurprisingly large fish and seafood culture, and Sicily's southern setting means that sun-ripened citrus fruit is a food market constant. Beans, pulses and nuts are also very common in local dishes. One of the best ways to really experience the local fare is by visiting some of the popular open-air food markets. You can stock up the villa, but also discover some of the best snacks and street food that are sold here. There are regular markets set up most days in the larger towns and cities, while smaller villages have a scheduled market day just one or two times a week. Vucciria and Ballarò are Palermo's best medieval markets – they're chaotic and busy, but stalls are stacked high with all different coloured fruits and vegetables, and of course, plenty of fresh fish. Keep an eye out for the city's staple street food like purpu (chopped and boiled octopus) and pani câ meusa (beef-filled bread and cheese rolls). Not forgetting the sweet treats, Sicily is an island with a very sweet tooth. Anyone who prefers pudding over mains will be in their element – cream-filled cannoli pastries actually hail from the island, and it's even been said that Sicily is where the Italian gelato we know and love today comes from, so you can expect good things!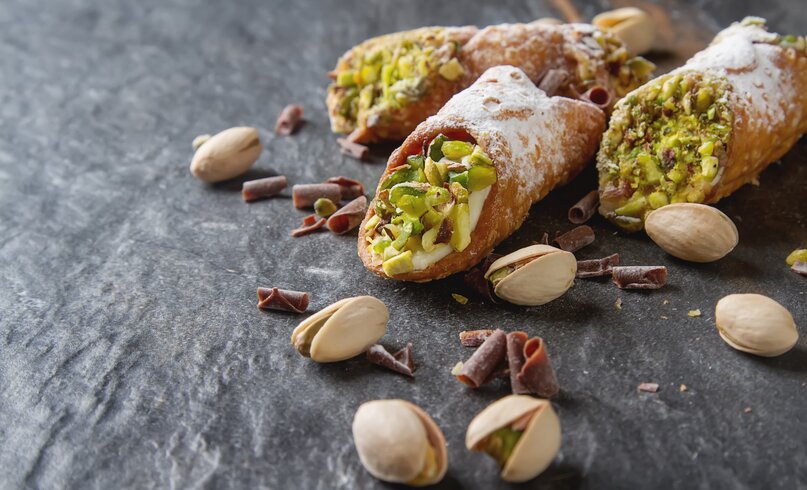 when to go to sicily
Sun-soaked Sicily has a lovely year-round climate and is a dream for a villa holiday. It's got lovely beaches, plenty of island charm, and every season brings something a little different to show off the island at its best. Low season hits during late autumn and winter. It's colder at this time of year, but is still relatively mild when compared to other European getaways. Winter is great for an authentic villa holiday – the island's much more relaxed and tranquil without the crowds, and it's a great time for heading out on wine tastings and touring the towns. The scenery is still lovely, too – just remember the extra layers so you can properly enjoy it! Sicily's long, hot summer is when the island really hits its peak. This is prime time for sunbathers so beaches can get crammed from July to mid-September – restaurants, piazzas and the ancient sites will all be much busier, too. Sea waters are lovely for swimming at this time, but you'll definitely be wanting to schedule in to those afternoon siestas as temperatures can easily hit the early 30s at the hottest part of the day.
INSPIRATION FOR YOUR ITALY VILLA HOLIDAY