our guide to the perfect villa holiday in kefalonia
Kefalonia is the largest island of the Ionian Islands, however it is not best known for its size but for its unspoiled beauty, stunning sandy beaches, lush forests, spectacular mountains and for neighbouring with Ithaca, the homeland of one of the most famous myths of Ancient Greece's culture: Ulysses. Myrtos, considered one of the best beaches in the world with glistening white sands, turquoise waters and surrounding cliffs, is without a doubt the most emblematic image of the island, and is within easy reach of our villas in Fiskardo. The island's wartime travails were recorded in the novel and film Captain Corelli's Mandolin, which did much to put Kefalonia holidays on the map. From its capital Argostoli, sitting on a large southern bay, to Skala in the south-east and Sami on the east coast, the island's towns owe their fresh, newly-minted look to the 1953 earthquake. Fiskardo was relatively untouched, and has a little more history. Kefalonia (sometimes also spelled Cephalonia) is a true discovery for anyone searching for a small slice of paradise for their next villa holiday.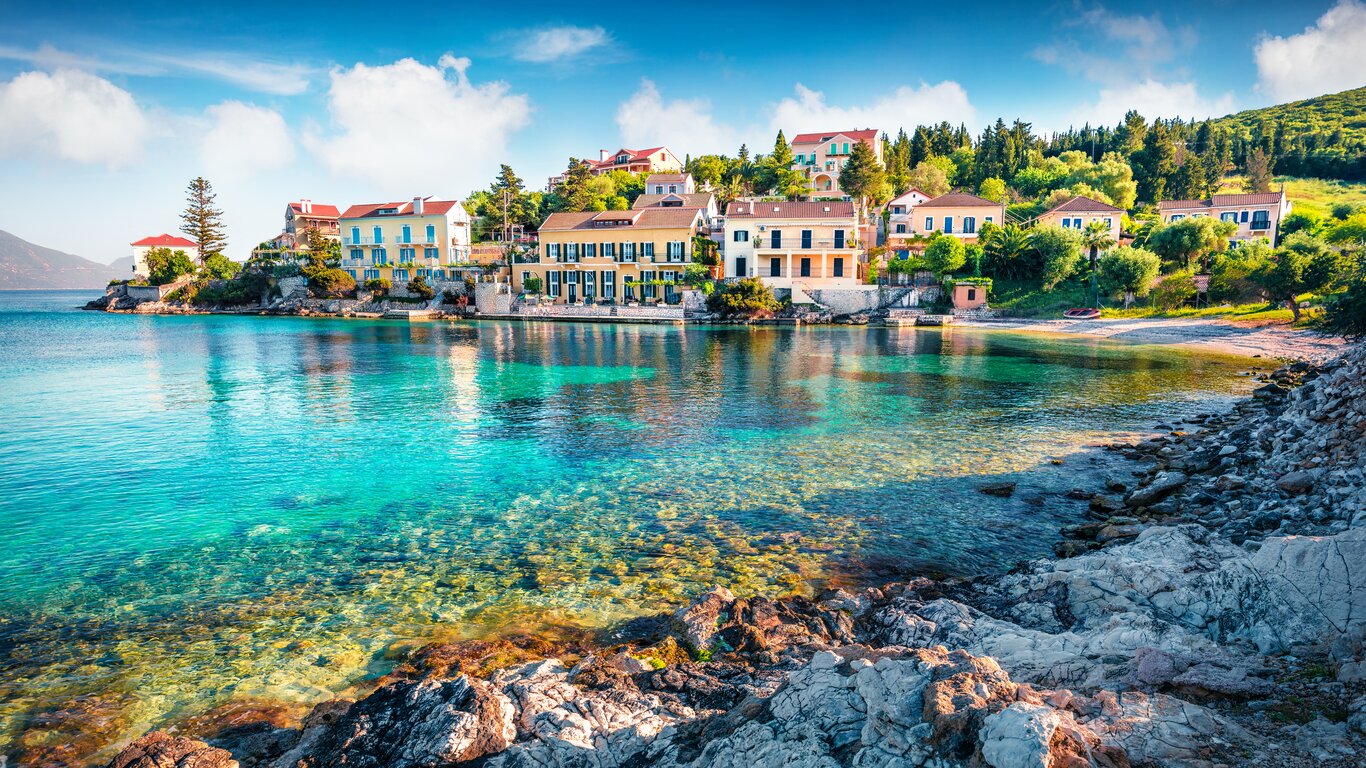 Things to do in Kefalonia
Beaches
Our luxury villas in Kefalonia have been handpicked for their superb sea views, impressive private pools and their close proximity to stunning beaches. We have a number of villas in Fiskardo, a beautiful little fishing village with some of the oldest buildings on the island after it was one of the few places to survive the 1953 earthquake. From here you can drive to Myrtos beach located on the northwestern coast of Kefalonia, rumoured to be one of the best beaches in the world. Blue flag beaches are in abundance in Kefalonia, which makes it the perfect destination for family holidays filled with swimming and building sandcastles.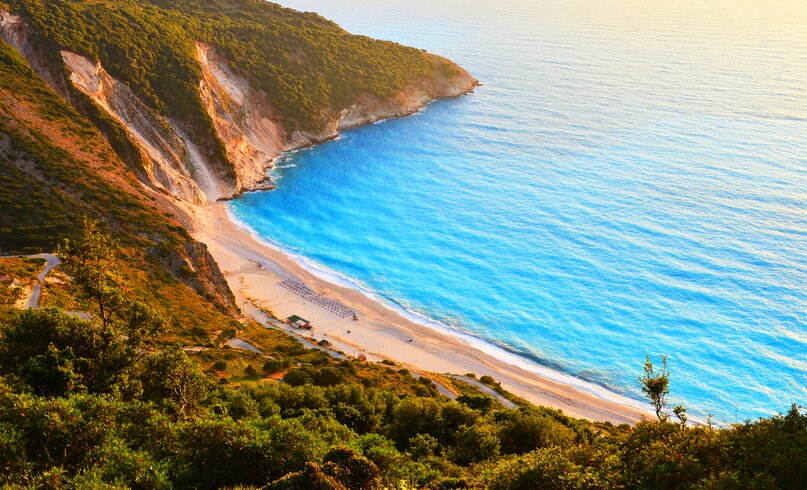 activities
If you are inclined to spend a day away from the comfort of your villa, then taking a boat trip to the Melissani Cave is a must do in Kefalonia - watch as the sun shines down on the intricate stalactites, reflecting off the crystalline waters. Argostoli is the islands capital and the bustling harbour is where many boat trips begin. Wander down from your villa after breakfast to spot sea turtles hoping for a bite to eat from one of the fishing boats returning with their mornings' catch. Another exciting trip out on the water is to the neighbouring islands of Ithaca or Zakynthos for the day or split your holiday between two islands and stay in one of our villas in Zakynthos for a week.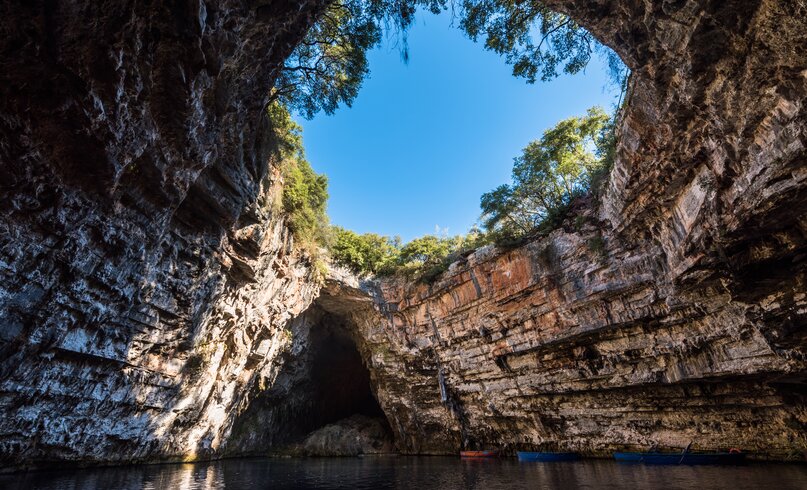 Eating and drinking in Kefalonia
Our villas in Fiskardo are within easy reach of a wide selection of seafront tavernas with a view, and a 19th century harbour popular among the yachting crowd. Scala also has a great range of places to choose from for dinner with a buzzing atmosphere, alongside a few cocktail bars and a taxi rank at the entrance to town for those staying in villas nearby.
An exciting way to sample traditional Kefalonian cuisine from the comfort of your villa is with added cook service. And not only can our villa specialists arrange extras such as cook service and boat hire, they can also book your flights.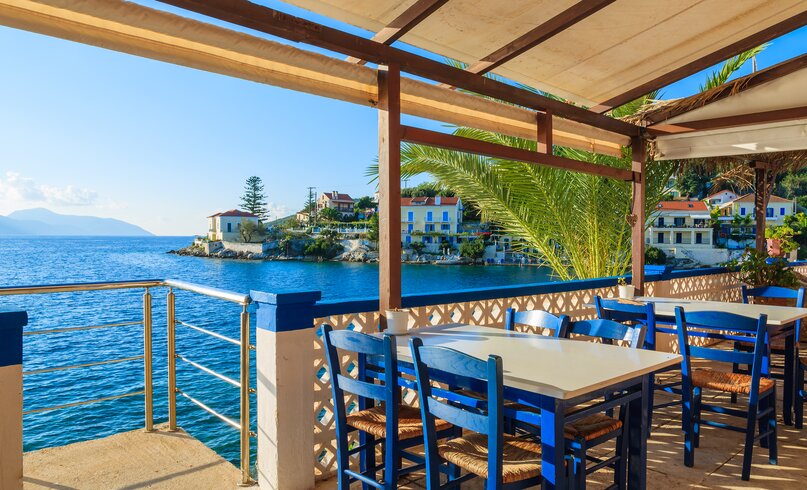 When to go to kefalonia
A villa holiday in Kefalonia can be enjoyed anytime between April and October. While spring can start off a little wet and windy, by May the average daily high temperature is a pleasant 25 degrees. Peak months during the summer will experience temperatures in the low thirties; going into September the weather stays warm enough for relaxing by the pool at your villa.
INSPIRATION FOR YOUR GREECE VILLA HOLIDAY