Brač holiday guide
Brač is the longest island in central Dalmatia. Naturally beautiful, it's covered in lush pine forests and home to Zlatni Rat (also known as golden horn beach), one of the most amazing beaches in the whole of Europe. The island is known for the warmth of its welcome, a distinct Mediterranean vibe blended with centuries of tradition, and landscapes ranging from dense woodland and picturesque beaches to ornate buildings and quiet cobbled streets. Brač is known for its excellent lamb and seafood dishes, as well as its flavourful olives and wine. The island's signature olive oil is perfect for taking home as a souvenir.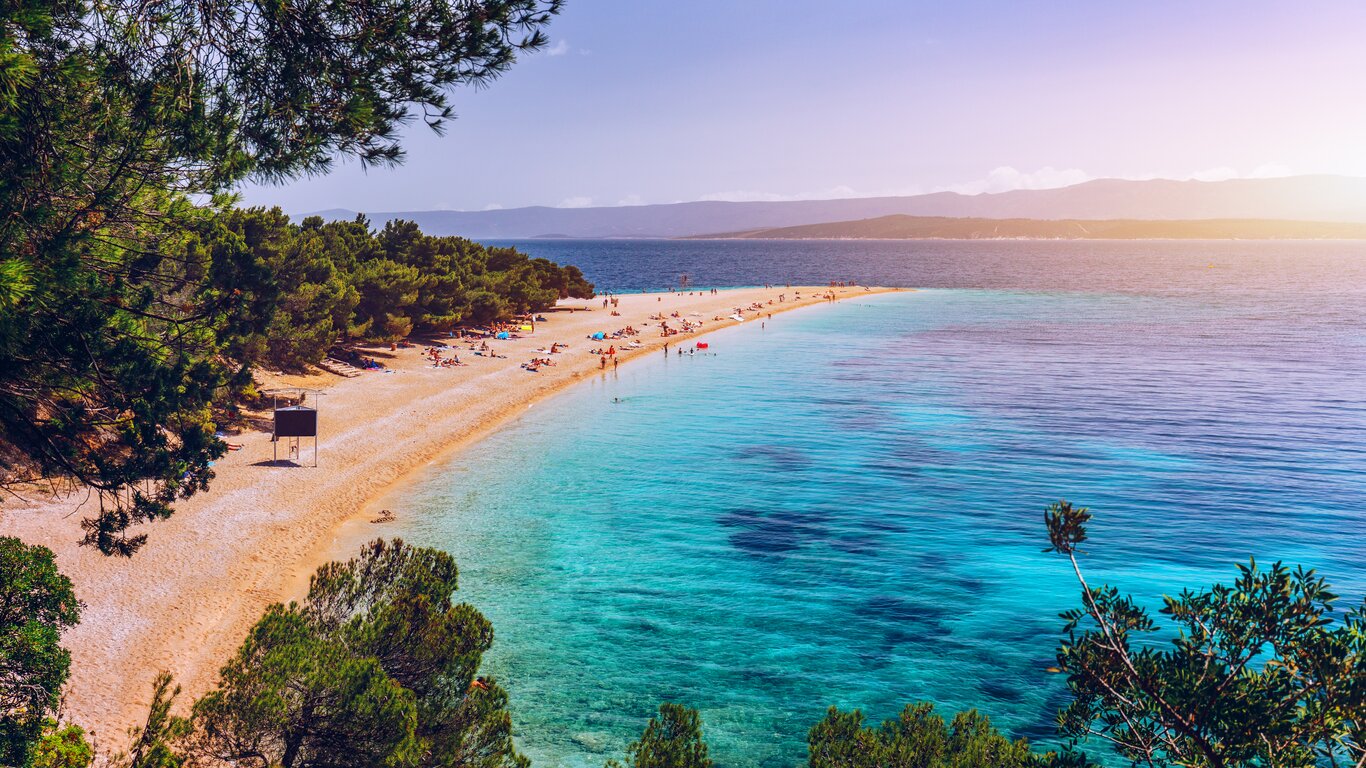 Things to do in Brač
EXPLORE ON FOOT
Away from your villa, a great way to discover the island is on foot. Hike from Bol to Vidova Gora and enjoy breathtaking views from the highest point of all the islands in the Croatian Adriatic. Remember to take a packed lunch as there's a picnic table poised right at the top for al fresco dining with a view; on a clear day you can spot Zlatni Rat, the neighbouring island of Hvar and the Croatian mainland. A faster paced alternative to hiking is mountain biking, and while Vidova Gora has a challenging cycle route, there are many other excellent guided tours to choose from.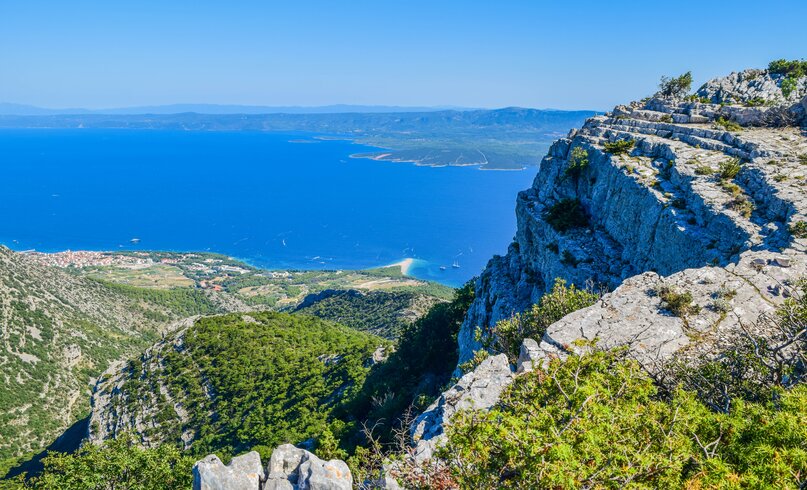 PICTURESQUE BEACHES
Bol has a town where you can indulge in a cocktail and head to picture-perfect Zlatni Rat, the island's most famous beach. With small round pebbles underfoot, the crystal clear sea is warm and inviting, with very few waves and lots of activities for families on holiday including windsurfing, kiteboarding and an inflatable water playground. Zlatni Rat is not the only spot to enjoy the appealing Adriatic. While stand up paddle boarding and sea kayaking can be enjoyed just about anywhere, there are a number of other splendid beaches across the island. Martinica Beach is just the other side of our villas in Bol, next to a beautiful monastery. This is a lovely spot for family holidays as during the summer months, swimming lessons take place in the crystal clear waters for children of all ages. Meanwhile, in the north of the island, Lovrecina is a small sandy beach close to the charming town of Postira; under an hour's drive from our Brač villas.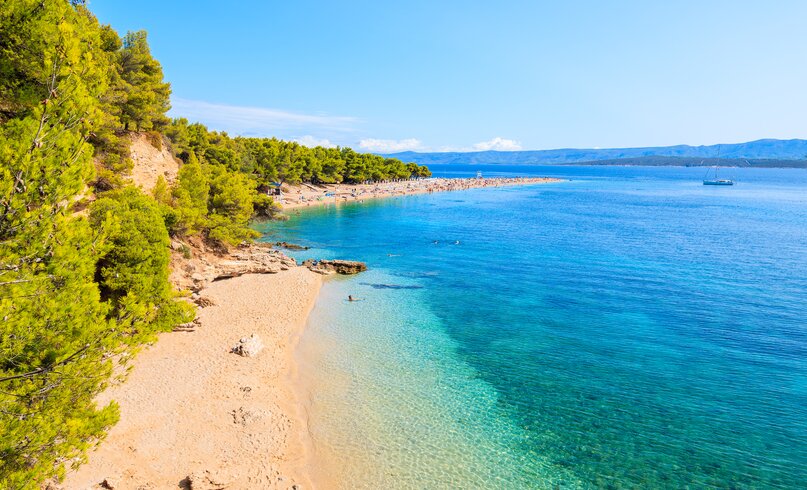 ROAM THROUGH TOWNS
If you'd like to get away from the crowds of Bol, the little hamlet of Murvica is perfectly serene and slow paced. This spot has a very small official population, and was the home of monks and hermits in the 15th century. Brač may be the largest island in Dalmatia, and third largest in the Adriatic, but it is still small enough for holidaymakers to explore in a few days or less. Join a half-day guided tour to discover Pucisca's main attractions, the village of Skrip and the Olive Oil museum. If you decide to take a day trip from your villa to the mainland, a ferry to Split takes just 50 minutes from the port in Supetar. Wander the Roman old town, enjoy lunch on the waterside promenade and explore the Diocletian's palace before heading back to your Brač villa for the evening.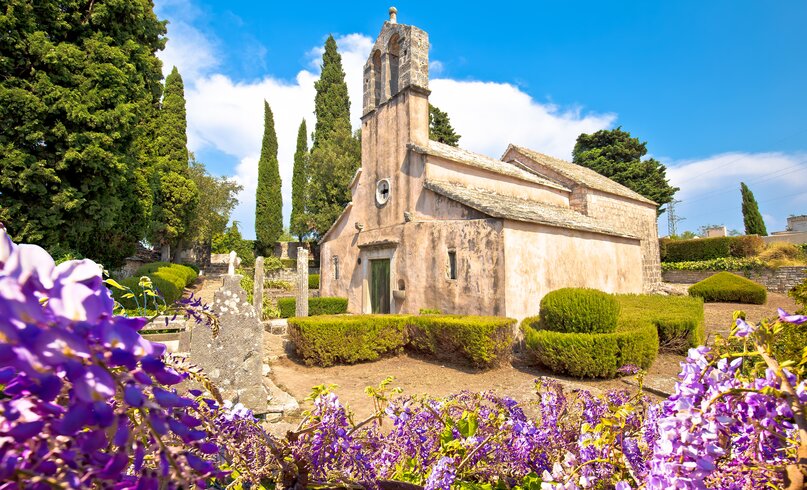 Eating and drinking in Brač
Generally, Brač cuisine is not much different from that in continental Croatia. However, the variety of fish courses is much larger here, and you can guarantee that the seafood will be fresh - especially in the coastal restaurants. The locals in Brač prefer hassle-free, healthy eating. Near the coast, there are over 300 species of edible marine inhabitants, providing a huge scope for seafood dishes. The most popular delicacies include stuffed calamari, baked sea bass fish, lionfish and octopus or lobster salads. Brač is well known for lamb meat, sheep cheese, olive oil and mandarins. If you want to eat like a local, the Kopacina restaurant in Donji Humac is one to visit. Make sure to try 'ispod peke', baked lamb cut into cubes and slowly baked, covered in hot coals.
Cafes and cafeterias are the spots to visit if you fancy a cup of coffee in the morning, with most of them opening around six am. Coffee is usually accompanied with a glass of water. Tea is also fairly popular in Brač, generally herbal or floral infusions. Freshly prepared lemonade is also a must-try, with sugar to add served separately.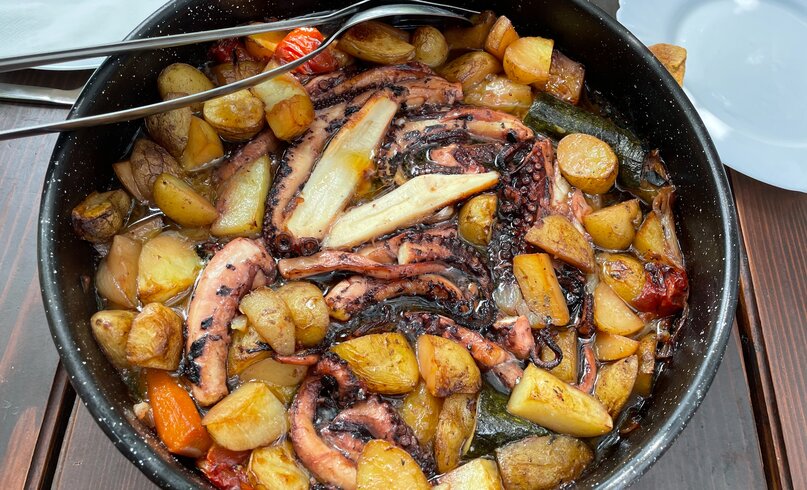 When to go to Brač
The weather in Brač enjoys glorious temperatures between May and September. For our beach villas in Croatia and holidays involving watersports and swimming in your villa's pool, July - September is perfect, while late spring is ideal for sightseeing.