Menorca villa holiday guide
Low key island living, quaint town squares and over 200km of coastline peppered with endless white and gold sand beaches - Menorca is the wonderfully laid back sister island when compared to its neighbouring Balearics. The excellent weather of this eastern Spanish archipelago provides the perfect setting for relaxing by the pool at your villa, yet there is more to Menorca than simply sun, sea and sand. In 1993, UNESCO declared the island a Biosphere Reserve, so you'll discover that it's also a place of extreme natural beauty, with rolling hills, rocky landscapes and hidden coves to explore.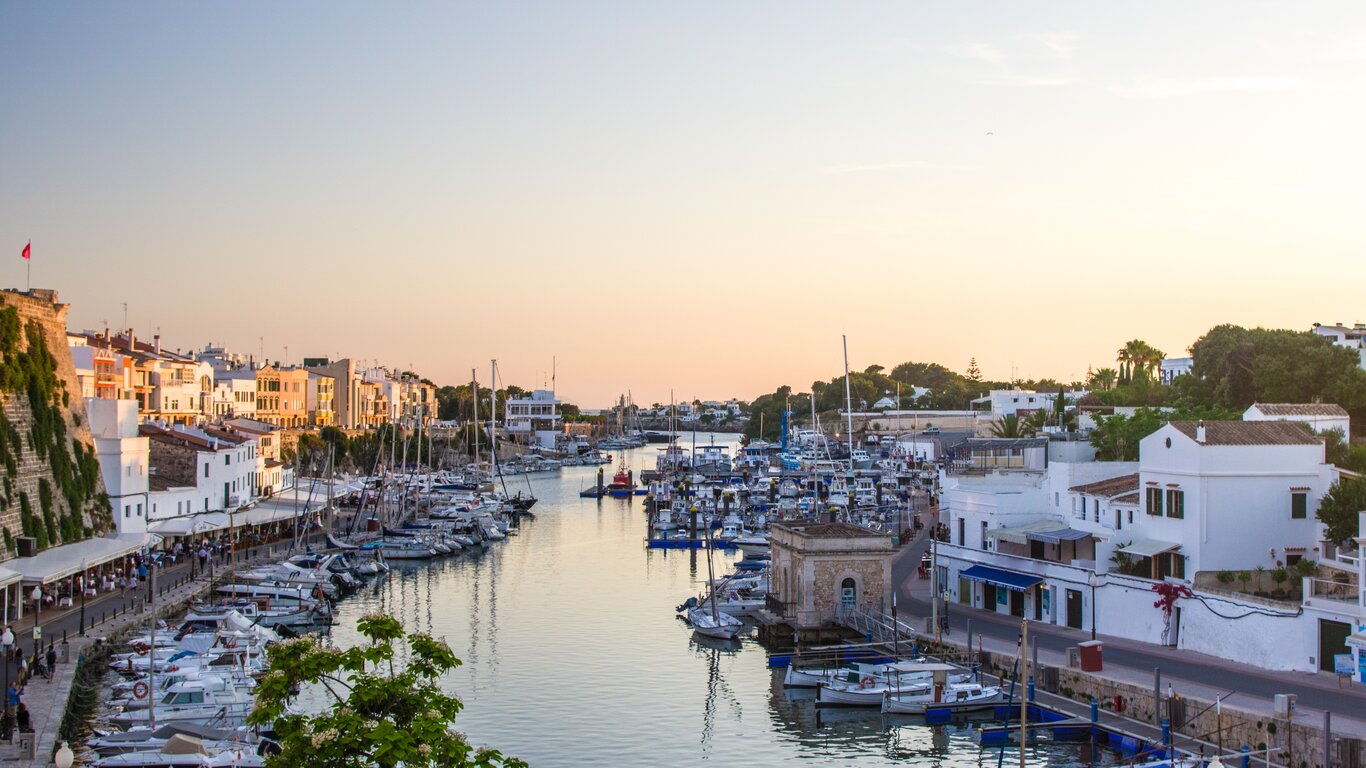 Things to do in Menorca
Relaxation
You'll be sure to find plenty of ways to unwind in a luxurious Menorcan villa, whether you're sipping coffee on a private terrace, dining al fresco under the stars or basking in the sunshine around your private pool. However, this beautiful island also offers a range of stunning day trips that will keep you away from the bustle of the bigger cities. Much of the coastline is protected; there's not a building in sight at coves like Cala Pilar or Cala Mitjana, but even resorts have their quiet spots. The longest beach – Son Bou – where we have a selection of villas, gradually gets calmer as you walk west, away from the pedalos and sun loungers, while Cala Turqueta is a beautiful white sandy beach with shallow clear waters; great for families. Cala Pregonda on the north of the island is yet another stunning beach with a mix of rocky landscapes and greenery; a beautiful spot to sit and relax. At the end of the day, soak up the last rays of sun at the beach bar in Binibeca or head over to Cova d'en Xoroi- an impressive bar built into the rocks - listen to live music while watching the sunset.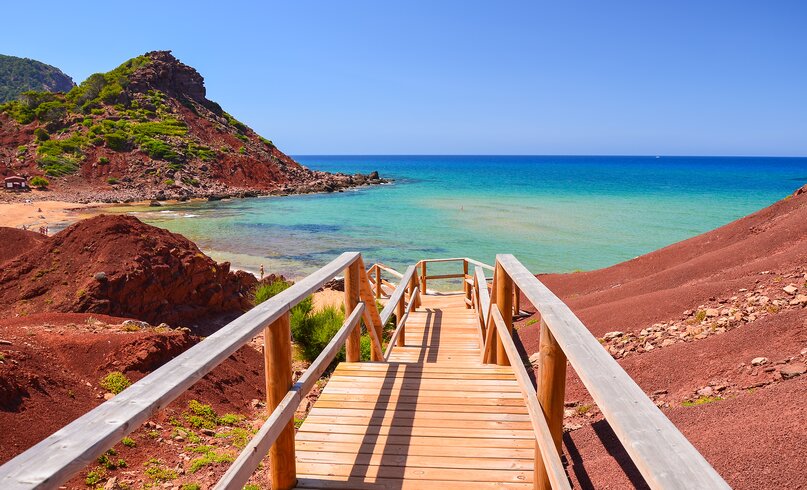 Activities 
While the peaceful relaxation of a private villa could tempt many to soak up the sun from the pool side, more active visitors to Menorca will have plenty to keep them busy. Ramblers and horse riders can cover the island's perimeter on the 185km-long Camí de Cavalls. Split into 20 well-signposted sections, this ancient bridleway cuts across beaches, under the shade of olive trees and past dry dry-stone walls that divide the countryside into fields or tanques. Out on the water, Fornells is a safe place to get your confidence up on a kayak, yacht or windsurfing board.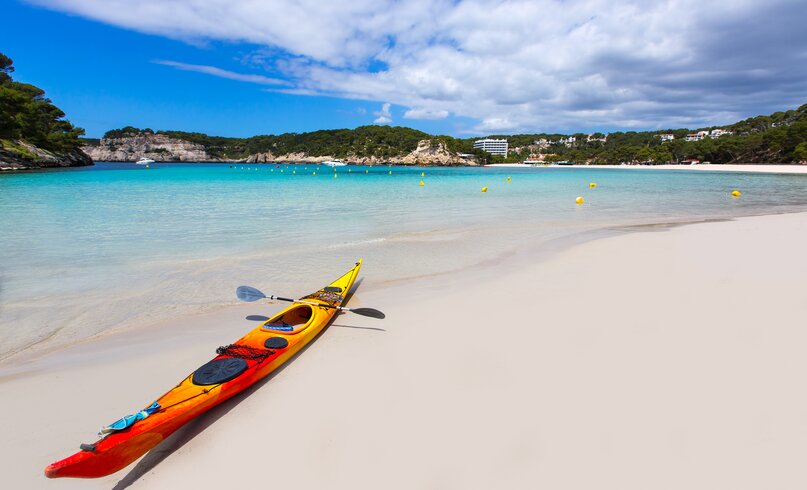 Shopping and entertainment
Ciutadella is very atmospheric town with narrow, cobbled streets, a lovely town square and even has a small harbour just below the town, perfect for an afternoon of wandering around; visit the evening market for jewellery, pottery, artwork and crafts. On the opposite side of the island Mahon port is the biggest natural harbour in the Med and a great place for shopping in boutiques or wining and dining in one of the many bars and restaurants. 
If you fancy an evening away from your villa, it's worth heading out to experience Menorca's fun night-time offerings. In the summer months the island's an open-air venue, you'll also find fairgrounds, fireworks, markets and live music at fiesta time. Sit under the stars to hear anything from jazz to chamber orchestras in locations like the fragrant Claustre del Seminari (cloisters) in Ciutadella or the cool Claustre del Sant Francesc in Mahón before heading back to your villa for the night.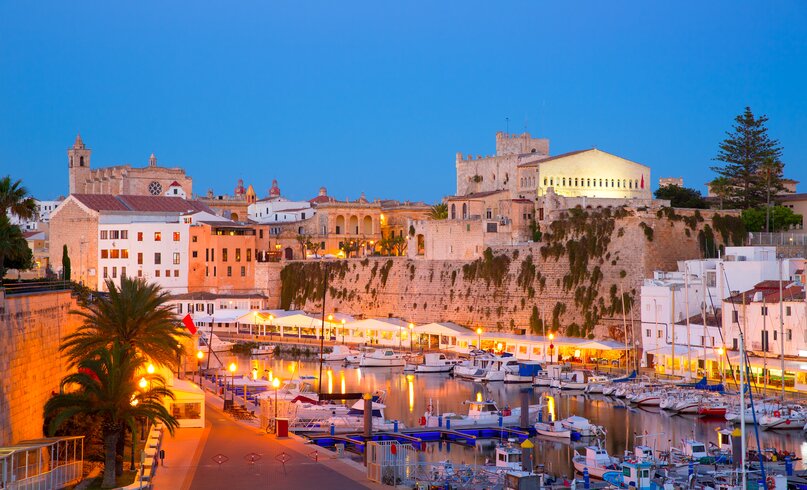 Eating and drinking in Menorca
Our villas in Menorca are perfectly equipped for cooking up a feast for family and friends on holiday; visit the local supermarket to pick up traditional island favourites such as Mahón cheese and ensaïmada pastries. A recent growth of small shops offering pre-prepared, home cooked dishes (plats preparat) means you'll easily be able to find local tapas-style bites to take back to your villa for a relaxed lunch by the pool. 
If you're dining out in one of many cosy seaside eateries, be sure to sample the island's signature dish - Caldereta de Llagosta (lobster stew) - you'll need numerous tools to crack through to the tastiest pieces of flesh; be prepared to get your fingers dirty and you're bound to enjoy every mouthful. 
To drink? Well, the favoured tipple is pomade - gin Xoriguer topped with ice-cold lemonade. At fiesta time, bars serve it in tiny paper cups; it's easy to lose count of how many you've had.  Or head to the Xoriguer Gin Distillery and pick some up yourself to sip throughout the day in the luxury of your villa.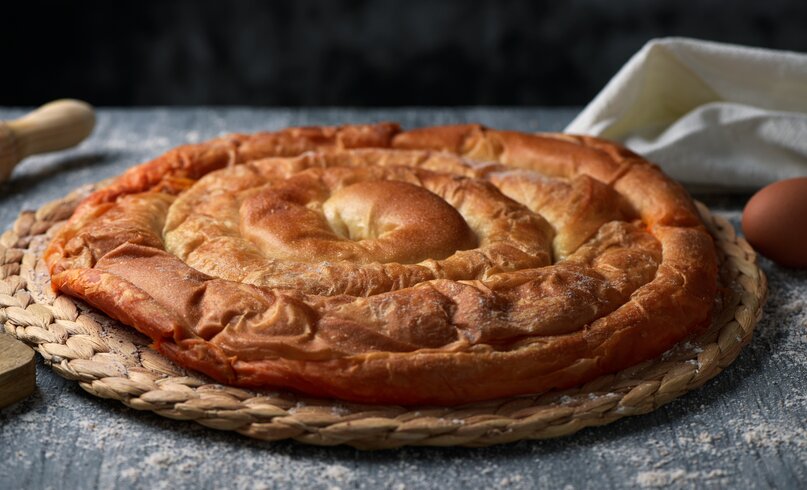 when to go to menorca
July and August are the hottest and unsurprisingly most popular months for holidaymakers. In July the temperature increases as the month goes on, starting with average daytime temperatures of 23°C and highs of around 27°C, rising by 2°C by the end of the month and continuing for August. 
Walking and cycling holidays are best enjoyed in Spring and Autumn while the island is beautiful with lush flowers and it's still warm enough to swim. Our villa holidays are available from May until early October.
INSPIRATION FOR YOUR SPAIN & BALEARIC VILLA HOLIDAY