Douro Valley villa Holiday Guide
At the Douro Valley's most westerly point, Portugal's second city Porto is the glorious gateway to one of the world's oldest wine regions. Follow the river at its heart and Portugal's dramatic wine country becomes one of the most unique spots on earth. Wake to sleepy valley views and enjoy a seductively slow villa getaway; the Douro Valley is where tumbling terraced vineyards blanket quinta-studded hills, and postcard-pretty villages meet 18th Century wine cellars. Indulge in the simplicity of your villa with a morning of poolside relaxation – or switch it up and head out to explore. Teasingly tempting towns are just a short drive away; climb hilly cobbled backstreets, taste the silkiest of tawny ports, and hop on a rabello boat along the magical Douro River.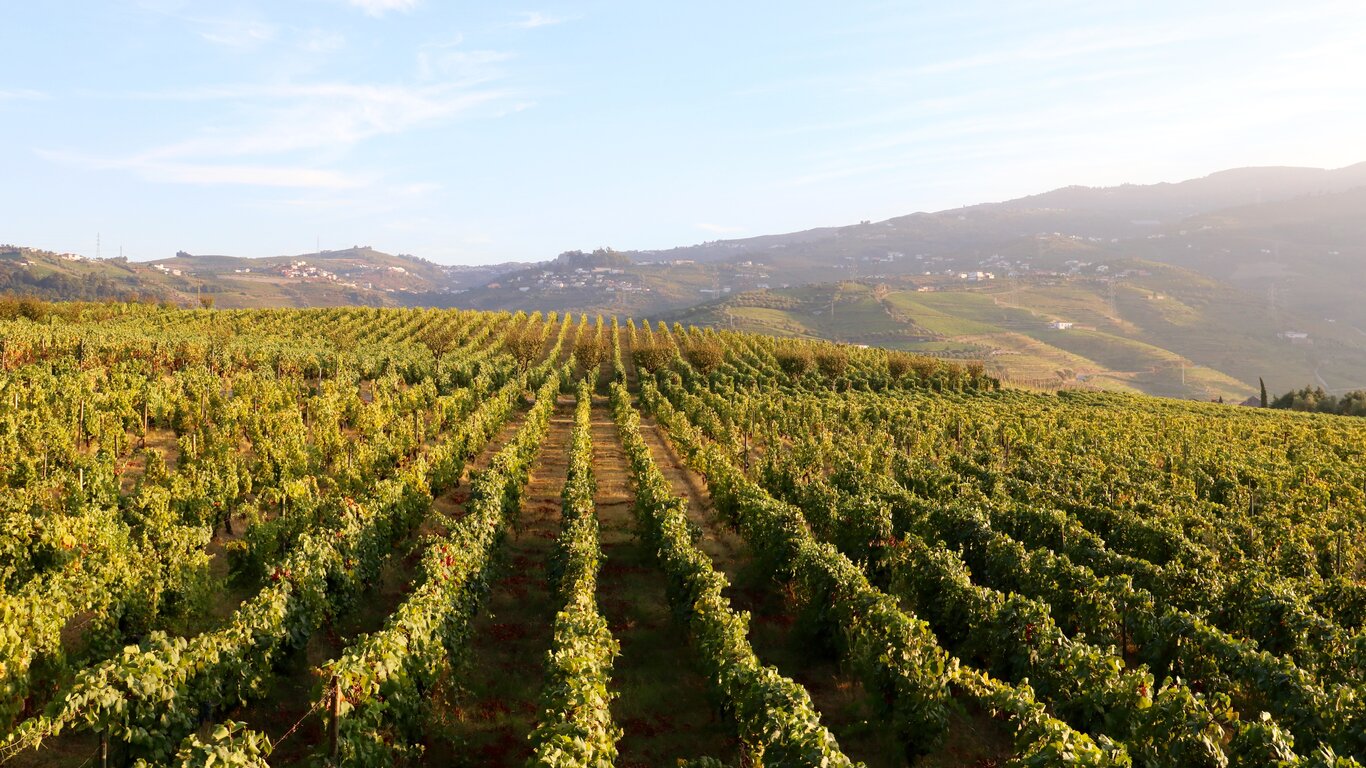 Things to do in the Douro Valley
WONDERFUL WINE
The Douro region has been making wine for over 2000 years – so any visit should definitely include a trip to at least one of its gorgeous vineyards. This quinta-studded region has hundreds of different wineries and estates for you to explore – the world-famous port (unsurprisingly) used to be its main focus, but there are plenty of different table reds and whites that you can try on tours and tastings, too. Pick dry or rich, or go ruby or tawnie – whatever your preference, there's an impressive range of flavours to try here. Visit old family estates that day way back to the 18th Century, or explore the newer offerings with wine cellars that use more modern technologies. The 135-hectare estate of Quinta do Crasto is just thirty minutes from the pretty town of Pinhão. This classic quinta offers guided tours with wine tastings, and is well-loved for its premium ports and panoramic vineyard views. Take snaps of the 'floating' infinity pool that hovers over the Douro River while here. If you're more into your old tawny port, the Quinta do Noval estate is just as enticing as its historic house setting. It's one of the smaller ones, but with its boutique size also comes some of the most gorgeous terraced vineyards in the area. If you're road tripping into Porto, definitely add in a port tasting stop. This namesake city has plenty of bars and wineries all over town, but it's the Vila Nova de Gaia district where the best wineries are located. Cross the iconic Dom Luis I bridge to find the best of the city's old port lodges. This is where guided tours or cellar tastings are at their best – look out for some of the country's best vintage ports, and explore the barrel-lined cellars that have been making wine for centuries.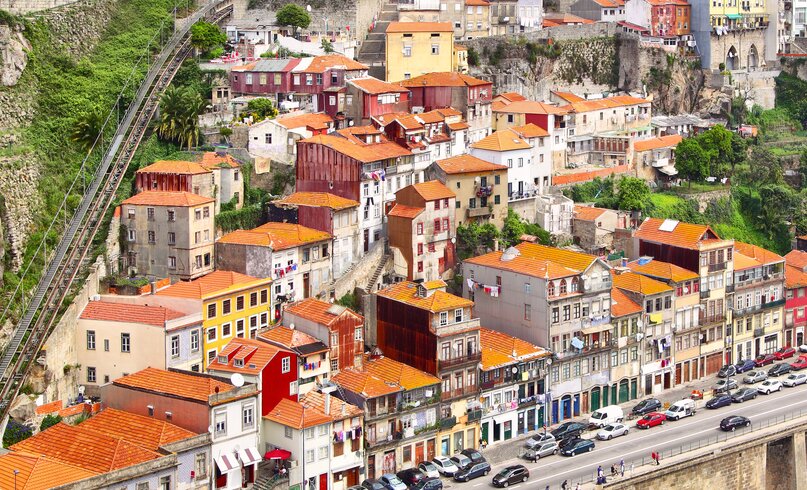 VALLEY VIEWS
Once you've had your fill of the vineyards, it's time to try something a bit different. The Douro Valley is a region made for outdoor adventures, and its cinematic hillsides are the perfect backdrop to a romantic river ride. Swap your villa for a jaunt into the towns of Régua or Pinhão and hop into one of their old rabello boats. This transport traditionally carried the old port barrels from the valley into Porto – but today, these flat wooden barcos are not only lovely to laze in, but are an idyllic way of soaking up the views along this famous wine route. If you're feeling a little more adventurous, swap the boat for a few hours canoeing or kayaking along the Douro River instead. Back on land, one of the best ways to see the valley is riding the vintage rail route that criss-crosses the landscape. The journey between Régua and Pocinho is one of the most gorgeous spots on the route; winding alongside the river, you'll head straight into the heart of the Alto Douro's wine country. This train ride can also be started from the centre of Porto, too. If you've headed here for a day trip, why not join the train here and sit back and relax as you head back to your villa. Where vineyards contour this epic valley landscape, this two to three-hour train route really is one of the world's great rail rides.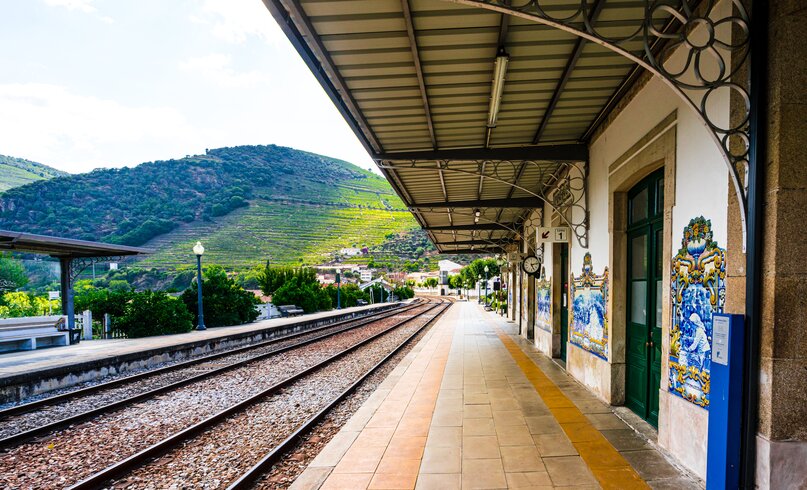 Eating and drinking in the Douro Valley
Not only is the Douro a seriously good wine spot, but it's a region with a food scene that's just as delicious. It's a region rich in restaurants, so there's plenty of choice when eating out here. Simple village tascas are all about the hearty home-style cooking, or there's plenty of haute cuisine experiences at the higher-end eateries. Some of the best fine dining can be found in a traditional quinta along the Douro River. After a wine tour and tasting, head for lunch (and a view) at the DOC Restaurant in Folgosa. Not only one of the Douro Valley's stand outs, it's one of the finest dining spots in Northern Portugal – dining right by the river, both the views and seafood here are mouth-wateringly good. If you're heading into Régua, Castas e Pratos is a wonderfully old wooden warehouse to look out. It serves delicious local classics reinvented with a modern twist, and is accompanied by a huge wine bar and cellar so you can pair the best local tipples with your food. If you're day tripping into Porto, this is a city ripe with restaurants – some of the best are riverside right by the Dom Luis I bridge. If you're looking for ingredients for a villa-cooked meal, head to the city's lively Mercado do Bolhão. Ringing with the sounds of local fishwives hawking to sell the catch of the day, this market has plenty of fresh fruit to try, and lots of tasty goods to bring back with you to the villa. Back in the valley, all of our villas are just a short drive from food shops and wine spots. There's a butchers and local market in nearby pretty Pinhão, or there are larger supermarkets in the bigger towns of Alijó and Régua.​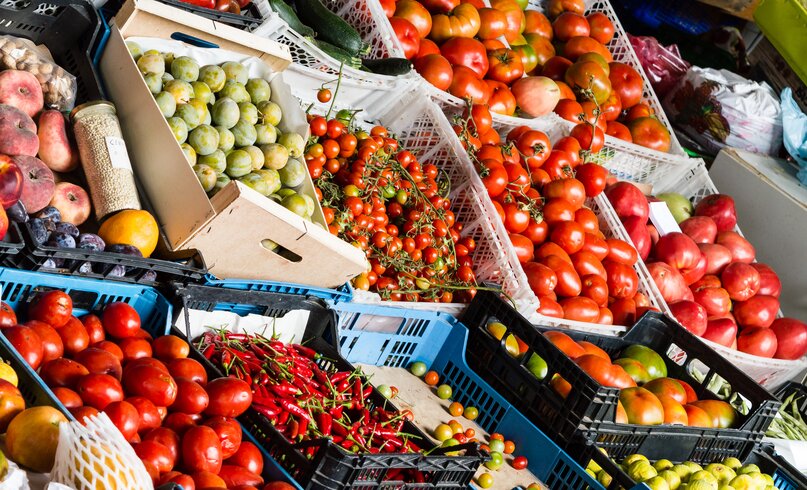 when to go to the Douro Valley
The Douro has something to see and do all year, whether it's touring the estates,  going for wine tastings, or trying out the fantastic local dining scene. The region has a continental climate which means it experiences very different seasons throughout the year – winter is often cold and wet, while the sun-soaked summer is very dry and humid. Day spots like Porto are wetter in the off season, but have a much more bearable summer heat thanks to a light Atlantic breeze. The Douro Valley is ripe with outdoor adventures, and the spring and autumn shoulder seasons are especially great times for getting out – popular activities here include hiking, cycling and canoeing down the river. Plan a villa holiday for mid-to-late September so you can join in with the valley's grape harvest – whether it's grape picking or foot stomping, this is a huge annual tradition for locals and visitors to help out with.
INSPIRATION FOR YOUR PORTUGAL VILLA HOLIDAY