Rhodes holiday guide
Greece's sunniest island, Rhodes, is home to an array of dramatic landscapes, delicious cuisines and an incredibly rich history. With its reliable weather and 300-plus days of sunshine, this wonderful destination offers the perfect setting for a relaxing villa holiday. Head here for long sunny days spent lazing on sandy beaches, exciting afternoons exploring medieval towns, or adrenaline-fuelled mornings windsurfing on crystalline waters. Not to mention quaint whitewashed homes with their authentic blue doors, the magnificent acropolis, elegant mansions and sumptuous fresh seafood, all of which have drawn writers, artists and A-listers here throughout history.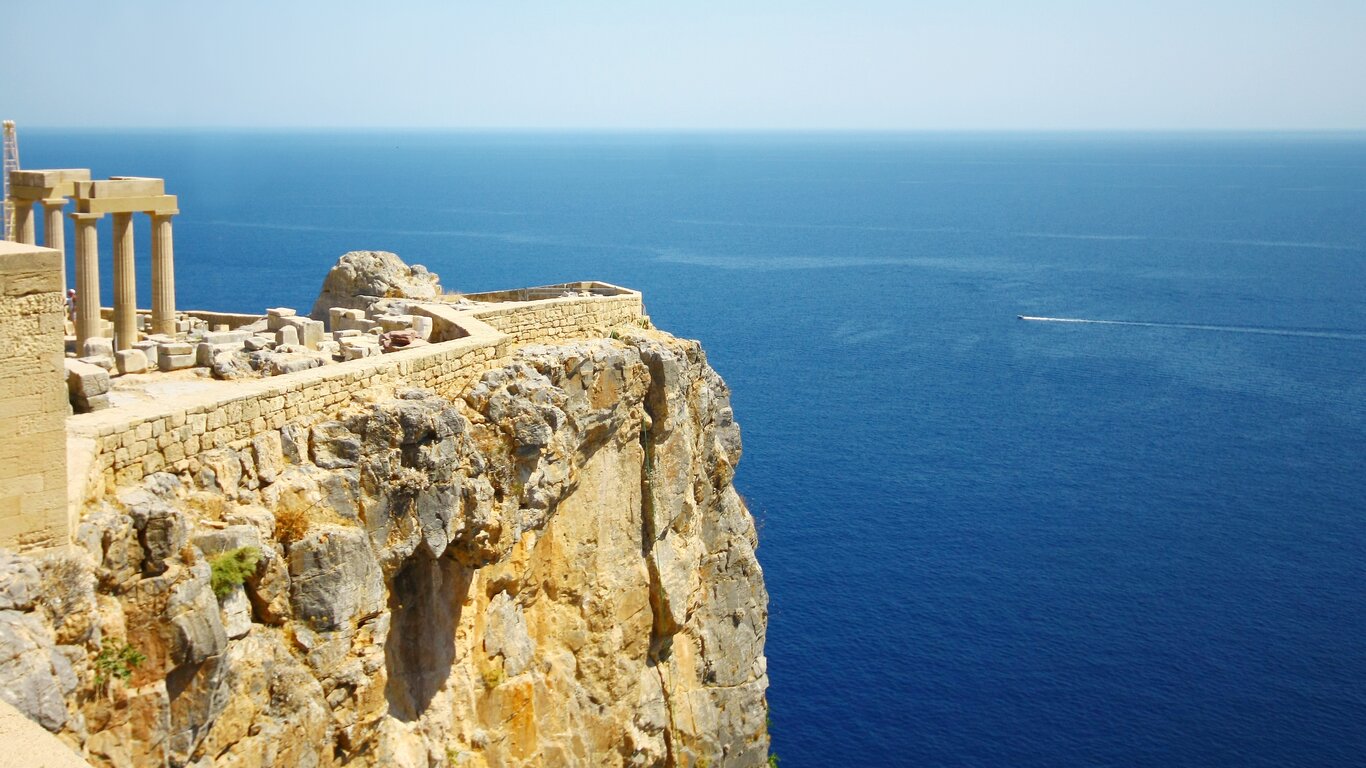 Things to do in Rhodes
STEP BACK IN TIME
Rhodes' atmospheric Old Town is a labyrinth of cobbled streets that will transport you back to the Byzantine era and beyond. This UNESCO World Heritage Site was previously home to the Colossus of Rhodes, one of the seven ancient wonders of the world. Known for its cosmopolitan atmosphere, Rhodes Old Town is the oldest inhabited medieval city in Europe, composed of hundreds of narrow streets and alleys that are well-worth a day's outing during your villa vacation. Another significant site to visit on a culture trip is the Ancient Acropolis of Lindos. The remains of the acropolis stand dominantly on a cliff overlooking the sea, framed by imposing fortress walls. Tourists can also enjoy a popular 2.2-mile round-trip hike that centres around this grand landmark.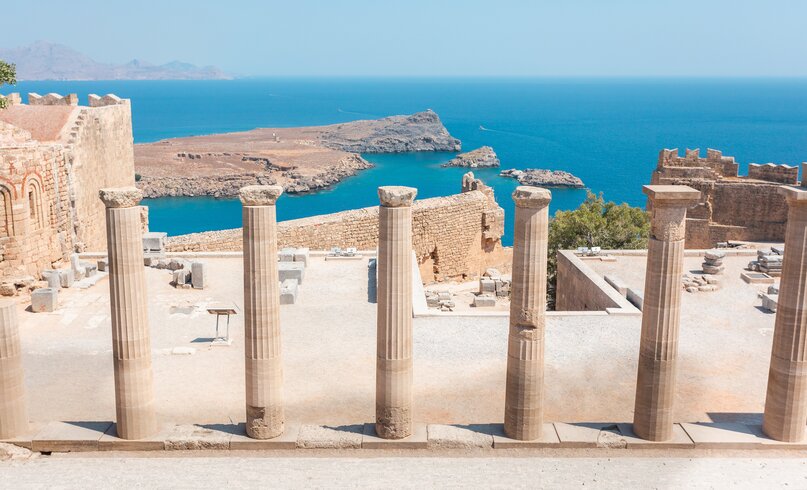 GET OUT ON THE WATER
There's no better way to explore Rhodes' magnificent coastline than on a boat tour. When you're not lounging poolside at the villa, why not head out for the day on a Catamaran Cruise, admiring the views, snorkeling and swimming. Or, take a sunset cruise from Mandraki Harbour to Kalithea Springs, with a backdrop of the golden Aegean sky. There are also plenty of opportunities for water sports on your villa holiday, ideal for the thrill-seekers among your party. Windsurfing is a particularly popular sport on the island, with many others including kitesurfing and jet-skiing. There are many watersports centres across the island's collection of beaches, from Afandou and Ixia to Faliraki and Kiotari. There's no better place for a holiday by the sea.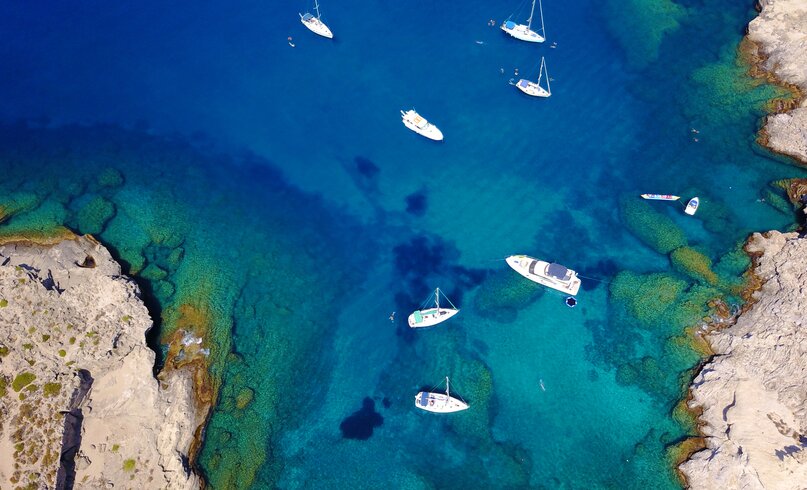 DISCOVER BEAUTIFUL SCENERY
Rhodes is renowned for containing some of the most beautiful beaches among the Greek islands, with golden sands, dramatic cliffs, turquoise waters and a backdrop of whitewashed homes that tumble down the hillsides. Some of the most scenic views of the Mediterranean can be found at Monolithos Castle, originally one of the most powerful fortresses in Rhodes. Here, visitors will discover a wonderful viewpoint entirely worth the hike. Or, head to Anthony Quinn Bay, named after the Mexican producer, for breathtaking emerald waters and dramatically scattered rocks. Our luxury holiday villas in Rhodes are close to several spectacular walking and hiking trails that can also be enjoyed during your Greek island escape. Beautiful bays, charming villages, breathtaking peaks and panoramas all make Rhodes a fantastic destination for walking holidays.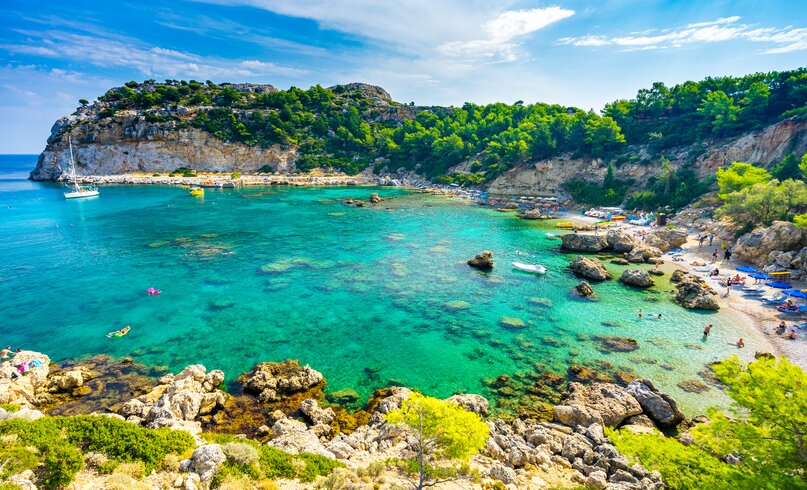 Eating and drinking in Rhodes
Keen gastronomes will not be disappointed on an island escape here. On a holiday to Rhodes, you can expect delicious meat, fresh seafood and olive oil across the majority of tavernas and restaurants, from Kattavia to Ialysos. Desserts here are often made with cereals, nuts, fruits, honey and herbs, creating the unique flavours Rhodes is loved for. Visitors will also recognise a number of more traditional Greek and Mediterranean delicacies. The medieval Old Town is known for its cafes - make sure to stop off for a coffee and tasty baklava during a day exploring the area.
Evenings away from your accommodation are best spent in Rhodes Town; there are many bars in the old town for enjoying an ouzo, a dry aperitif that is widely consumed by tourists and locals alike. Or, enjoy a glass of local wine, since Rhodes has a wine-making tradition that goes back to antiquity. The island boasts a wide array of snug tavernas which typically serve grilled seafood and a selection of ouzo chasers. Rhodes is also home to some of the best nightlife in Greece. The liveliest town on the island is Faliraki: once a traditional fishing village, this seaside resort has become a hub for vibrant nightlife and is ideal for group holidays with friends.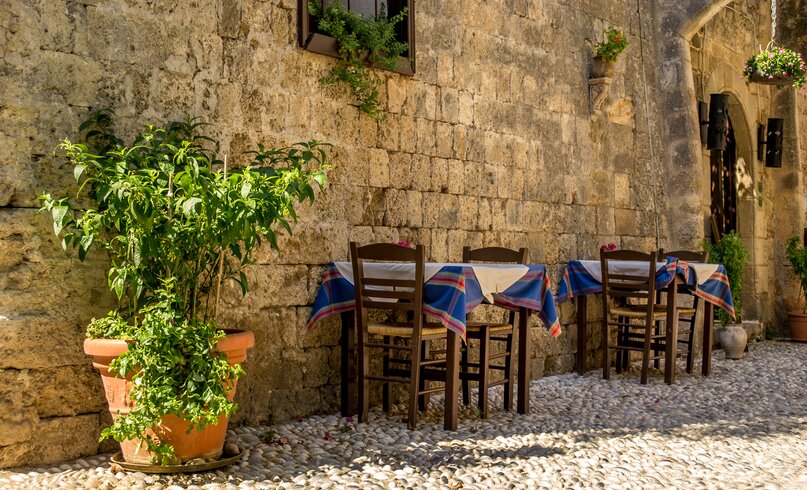 Average weather in Rhodes