Puglia villa holiday guide
Italy's sun-kissed south is remote and quiet, with a gorgeous coastline and perfect summer weather that make relaxing in your villa that teeny bit better. Go beyond the lazy villa days, and this southern beauty has a wealth of culture and history that's just waiting to be explored. Towns here are UNESCO-listed and its tiny trulli houses are world-famous. Discover an olive-tree studded countryside, relax in rural masserias, admire mysterious works of architecture and spend every day indulging in the most simple, but soul-stirring, food.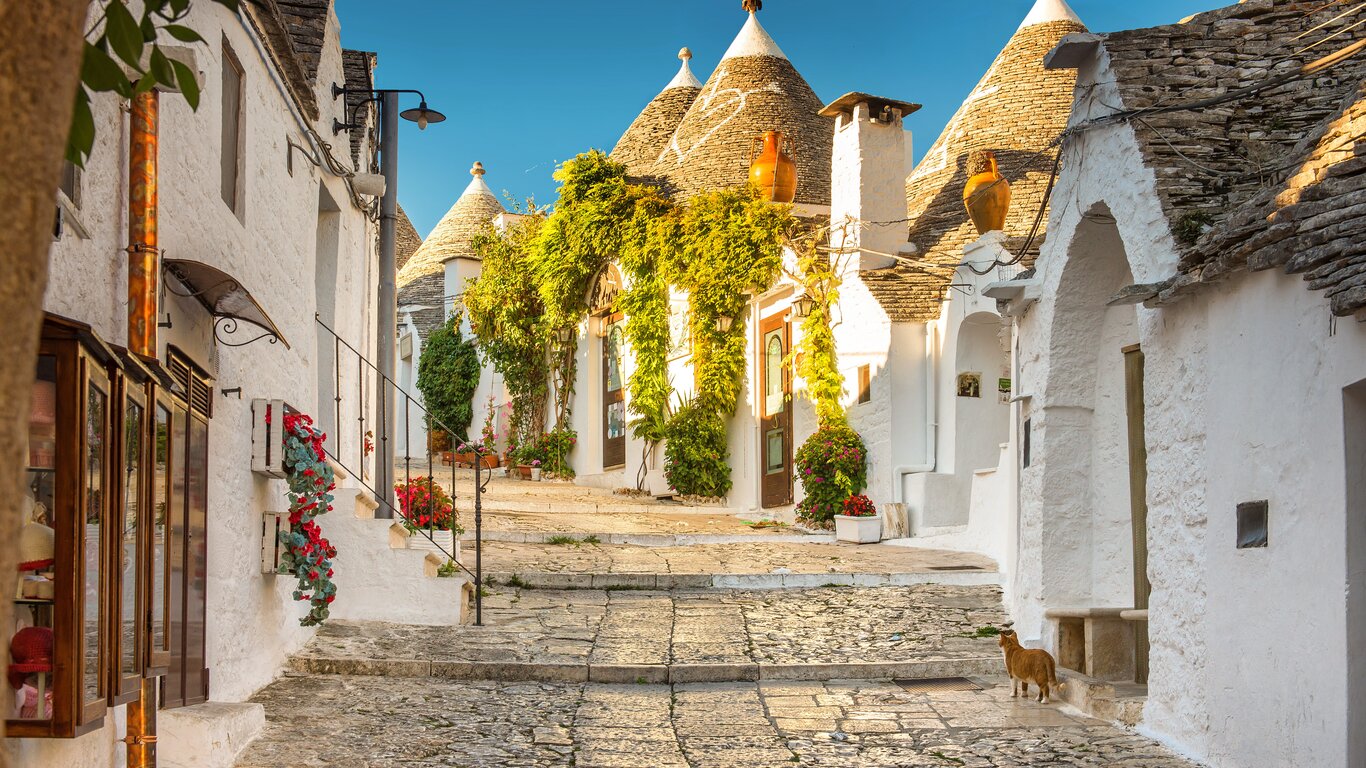 Things to do in Puglia
Picture-perfect towns
With bucket list cities and world heritage sites on your doorstep, a road trip should be at the forefront of any villa holiday in Puglia. Whitewashed Ostuni is chic and sparkling – a fairy tale town that's all covered in white, with pearlescent fortified walls and crumbly terraced houses. Baroque-blessed Lecce is a popular Puglian highlight, dubbed the 'Florence of the South' for its elaborate but graceful stash of distinguished 17th Century buildings. It's a relaxed university town, with great restaurants and upmarket boutiques, but it's the striking baroque style that really catches the eye – reaching its peak are the majestic Basilica di Santa Croce and Palazzo Vescovile buildings that stand guard in the focal Piazza del Duomo. Then there's the region's trullo town notoriety, which doesn't get much better than the prehistoric trulli houses in UNESCO-listed Alberobello. This unique terraced town goes back way beyond the 14th Century – and is as picturesque as you can imagine, with a dense mass of beehive-shaped dry stone houses, all strangely white-tipped as if dusted in icing sugar.
Well-worthy of a daytrip is the crumbling stone city of ancient Matera, which is just over an hour's drive west of Bari in the neighbouring region of Basilicata. This extraordinary city – recognised as the 2019 European Capital of Culture – is thought to be the third oldest city in the world, and has a real sense of history that transports you back to the Holy Land times with its ancient rock churches, troglodyte caves and higgledy-piggledy sassi districts.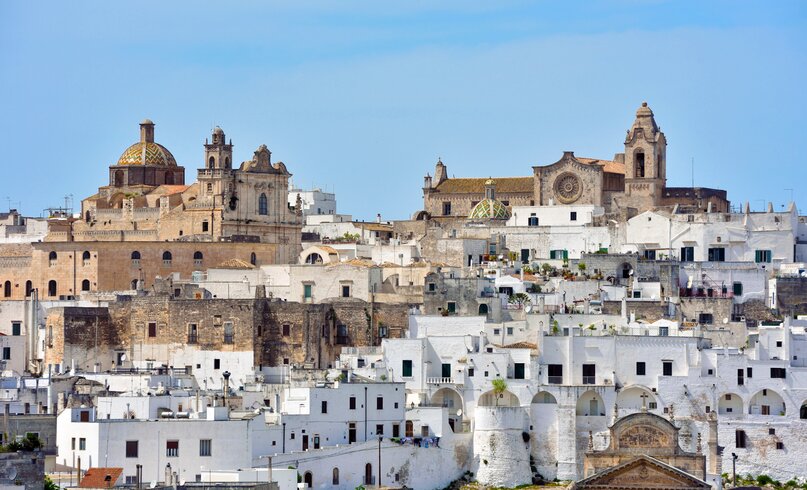 Beach-blessed coast
You're rarely very far from the sea in Puglia, so a day trip to the beach is a great option for all our villas. The Apulian coast is huge and covers rocky cliffs, secluded coves and stunning beaches, but it's the sun-baked Salento which has some of the most idyllic sandy stretches in the area. Waters here are indulgently warm in the summer, and it's a proper painter's heaven with the ocean turning all different shades of green and blue. Pescoluse Beach is the Maldives of the Salento – crystal clear waters and dazzling bright sands span a huge sandbank right on the Ionian Coast. On the peninsula's southern tip, Santa Maria di Leuca is where the Italian elite prefer to go. Look out for lavish villas and a lovely seaside promenade, and hop on a boat to see the Punta Ristola (it's all about the sea caves in this scenic spot). Elsewhere in the region, the tiny old town of Polignano a Mare is hidden just south of Bari; it has a gorgeous medieval centre and perches precariously close to the edge of the limestone cliffs. There are small piazzas and secret bays you can explore, but it's the beautiful (if very small) beach in the heart of the town that's the true gem to see – nestled between two towering rocky walls, the pristine waters are great for a swim and there are boat trips you can take to see the caves that are only accessible from the sea. Capri-like Torre dell'Orso is just forty minutes from Lecce (plus only a ten minute drive from the Bronze Aged-beauty of Roca Vecchia). This long, sandy beach is a lovely blue flag stretch, and has a great backdrop overlooking the faraglioni that jut out from the sea.
Natural treasures
Outside of the cities, Puglia's a region rich in fertile flatlands and gorgeous national parks. Trullo country, among the orchards and vineyards around Alberobello, Cisternino and Martina Franca, has some of the best drives if you fancy some photo ops outside of your villa – and slowing the Pugliese pace right down, the farmland of the Valle d'Itria is seriously idyllic. There's the giant sponge-like setting of the Murgia, lots of luxury masserias for relaxation, and some of the best spots for trullo-hunting. Coastal walks, picture-perfect headlands and a fantastic national park are all at the heart of the Gargano Peninsula. It's home to the ancient woods of the Forest of Umbria, and dramatic crags that tower over secluded coves and tiny fishing villages. Inland, closer to the regional border with Basilicata, the Alta Murgia National Park is the best spot if you fancy an adventure. Prehistoric  footprints have only recently been discovered in the valley of the dinosaurs, and there are so many rolling hills that are just perfect for hikes and bikes.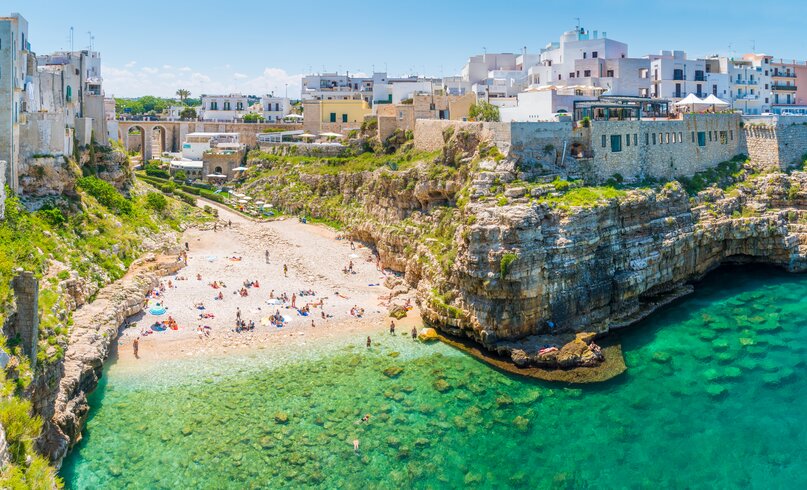 Eating and drinking in Puglia
There's a deliciously soulful feel to the simple food scene in Italy's deep south. Puglian dishes are loved for their affordability, and their hearty home-style cooking and punchy flavours are made with only the freshest seasonal ingredients to hand. An 800km coastline makes seafood and fish a menu staple – meat is rarer (lamb being an exception), but you'll still likely spot a butchers or street-food stall in your nearest town with a wood-fired grill readily cooking meat to order. The little bombette barbecued rolls in Cisternino are a regional highlight, as is the region's olive oil, focaccia and the melt-in-your-mouth burrata cheese. The old Italian classic of a simple pasta probably tops the list for Puglia's most popular dish. Sauces can vary, but you'll never struggle to find it on a menu here. With a bunch of different varieties you can try, there's the regional speciality, orecchiette (shells strangely shaped like 'little ears') and others like troccoli, cavatelli or stacchiodde that are all likely to pop up on menus or in the shops, too. Pasta dishes are easy to replicate if you're feeling a homemade meal in the comfort of your villa – or, it's a great shout to learn if you're interested in adding a cooking class to your villa stay. Following traditional recipes, you'll learn the art to rolling, flattening and handcrafting the pasta, just as the locals' expertly do.
Drinks wise, Puglia's wine follows the same way as its food – both seriously delicious and affordably priced. This region is one of the largest wine producers in Europe (it's genuinely nearly equal to the entire wine production of Germany), so you won't be lacking for trying a new red or white during your villa stay. The hot, sunny weather, combined with the region's traditional grape varieties, mean that Puglia's especially good for producing powerful reds.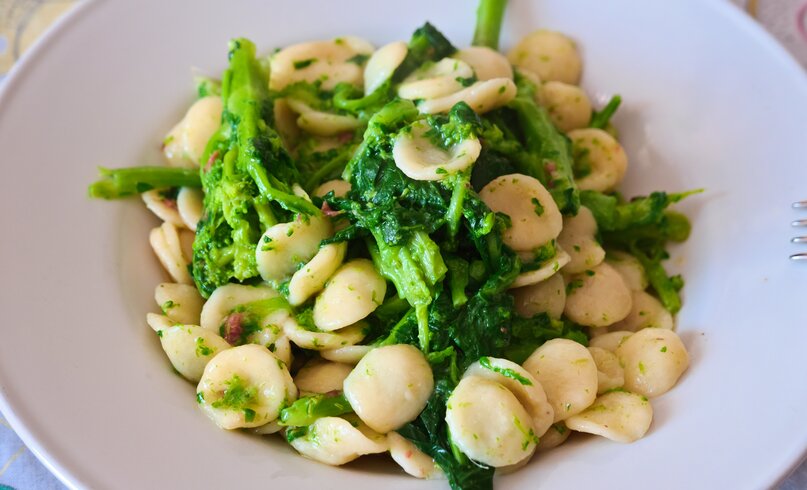 when to go to puglia
Puglia is Italy's sun-bleached southern heel, and unsurprisingly one of its most hottest, and driest, areas in the country. The region enjoys a typical Mediterranean climate, so suits a villa holiday at any time of the year. Winters are mild and enjoyably short, while summer is long, hot and dry – July and August can easily reach relaxation-inducing temperatures of 30 degrees (or more). Beach days and private villa pool splurges are the best ways to soak up the sun in the summer, but if you're planning to see more of the sights and culture, it's worth heading here in the spring and autumn months – the cooler (but still warm) weather in April to May and September to October are usually the most comfortable times to head out for an exploration on foot.
INSPIRATION FOR YOUR ITALY VILLA HOLIDAY