Essaouira Villa Holiday Guide
You don't have to look hard for relaxation in Essaouira. Commonly known as 'the windy city of Africa', it attracts more windsurfers than beach dwellers, and while there is a beautiful sandy beach, we still think the ultimate spot for relaxation is back at the pool at your luxury villa. Our Essaouira villas are all fully staffed and located within the grounds of a small hotel where our guests can enjoy a special range of spa and beauty treatments.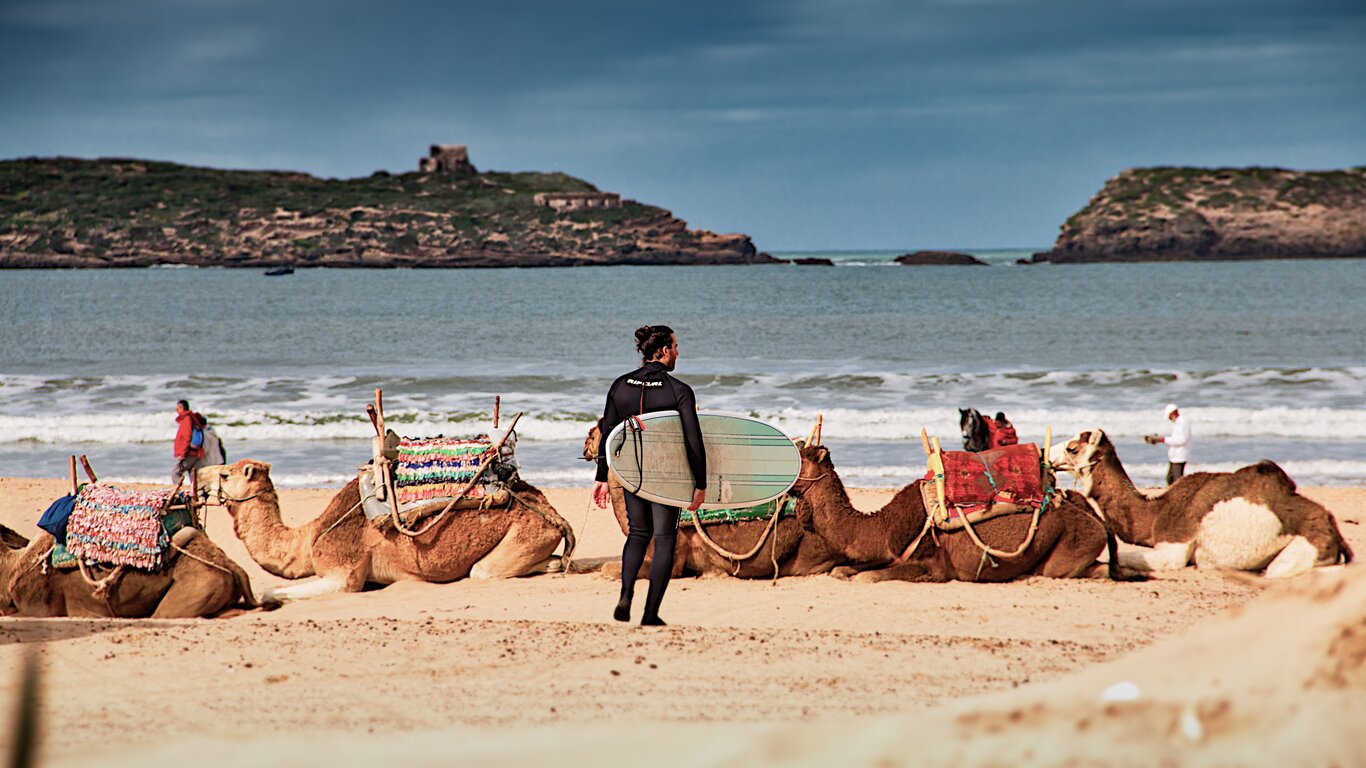 Things to do in Essaouira
Exploring in Essaouira
Essaouira is a delightful 18th century seaside town, formerly known as Mogador. The old town is enclosed by fortified walls, with distinctive white and blue houses alongside a series of wide sandy beaches backed by sand dunes and it is a popular destination for windsurfing. The town's main square is filled with cafes and meandering walkways lead to the souk (market) excellent for buying jewellery and spices, and the town is also noted for beautifully crafted woodwork made from thuya, a mahogany-like hardwood. Also worth visiting is the harbour and watching the wooden fishing boats bringing in their day's catch and the fish restaurants are highly recommended.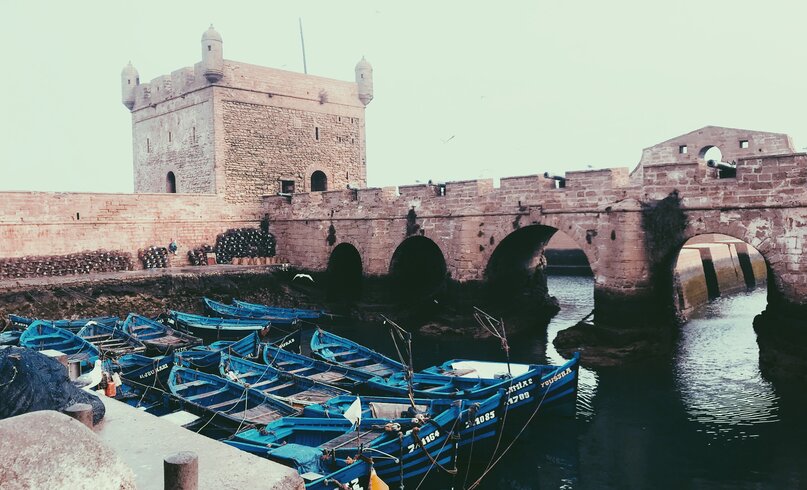 Shopping in Essaouira
If you're staying in a villa in Essaouira, visit the old port city of Mogador, famous for its refined craftsmanship, especially woodwork beautifully inset with lemon wood, ebony, mother of pearl or threads of either copper or silver. The journey from Marrakech to Essaouira is around two and a half hours, so can be done in a day trip, while Essaouira has an excellent souk of its own selling similar items, with many hidden treasures waiting to be discovered. A driver can be arranged from the comfort of your villa for a day trip to Marrakech if you seek to experience the bustling souks of the city.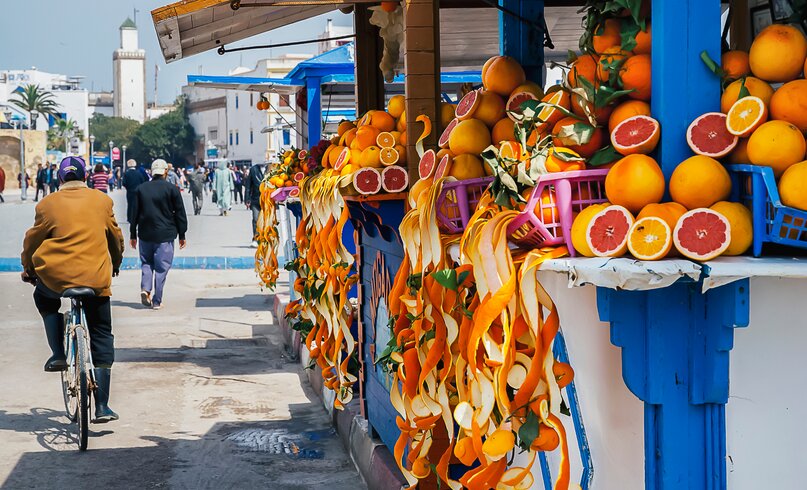 Relaxing in Essaouira
Villa holidays in Essaouira guarantee relaxation, as every one of our villas here is fully staffed. This means alongside housekeeping and daily breakfast service guests will also enjoy either lunch or dinner prepared by the cook alongside a range of beauty and wellness treatments in the spa at the nearby boutique hotel. Every villa within this extraordinary collection has a beautiful private pool for guests to cool off from the heat alongside a beautifully appointed and fully-equipped home away from home in which to get away from it all and truly relax.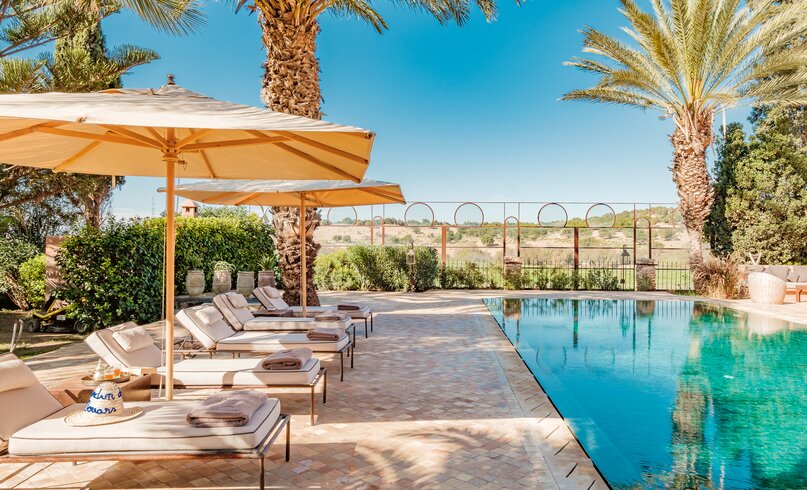 Eating and Drinking in Essaouira
Guests can experience the authentic taste of Essaouira without even leaving the villa. Daily breakfast is prepared by the cook and includes fresh juices, french toast and delicious Moroccan pancakes. One other meal of your choice will be prepared and served by the cook each day, whether you choose lunch or dinner, expect dishes such as fresh salads or soups and traditional Moroccan tagines. Away from your villa, despite being a fairly small seaside town, Essaouira has a surprisingly diverse range of high quality restaurants with plenty of culinary adventures to experience. Menus will be peppered with smoked and fresh fish alongside rich tagines, and make sure to visit a patisserie to sample some of the best Moroccan pastries.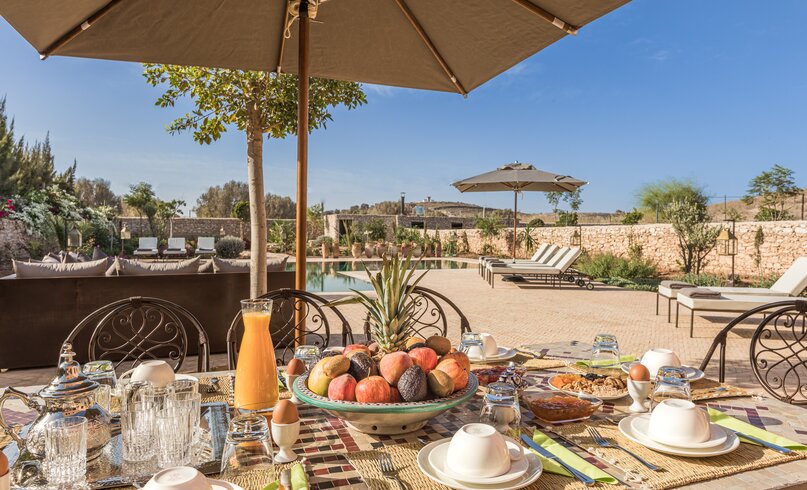 When to go to Essaouira
Being the coastal cousin of Marrakech, thanks to a constant breeze the climate in Essaouira is far milder than Marrakech with lower summer temperatures of around 23 degrees. The amount of sunshine you can expect on your villa holiday in Essaouira is good all year round, while the sea is cool even in the summer. which is why it's perfect for windsurfing and other watersports.