corsica Villa holiday guide
This pint-sized pocket in the Mediterranean is France's wild and sun-kissed villa holiday getaway. It's a tiny island with an independent identity, and an incredible geographical diversity that's full of contrasts. Travel from its north to the south and Corsica enchants with glittering bays, vibrant valleys, handsome hill villages and snow-flecked mountain ridges. Here, chestnut forests blanket the mountains and trendy modern port towns hug the cliffs. Stumble across megalithic marvels, soak up Italian influences in its sun-bleached south, and laze on the most extraordinary white sands on its beautiful beaches. Beyond its natural beauty, Corsica has an enchanting history, too – Napoleon Bonaparte was born in Ajaccio, and Lord Nelson lost his eye in Calvi's ancient citadel.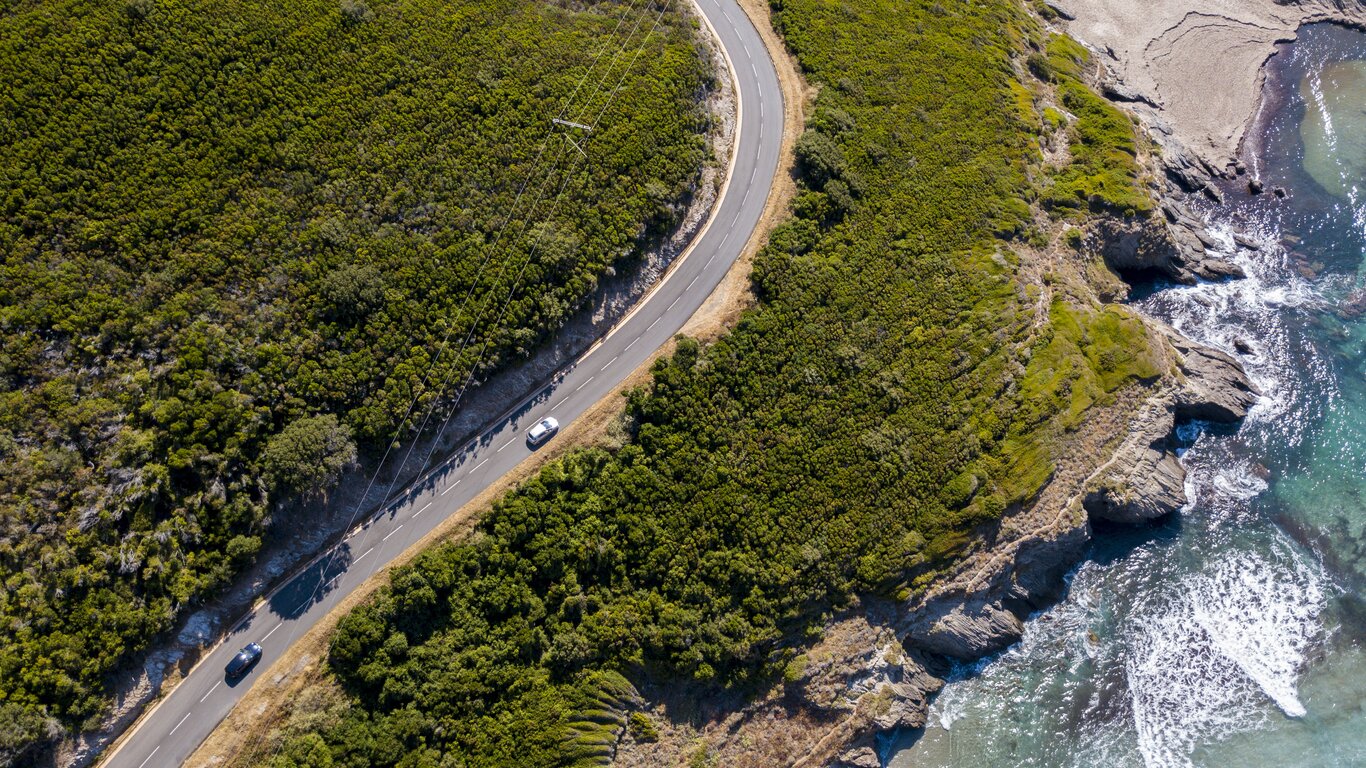 Things to do in Corsica
BEAUTIFUL BEACHES
If your private pool is leaving you wanting more, swap your villa views for the glorious waters of the Mediterranean. Corsica has some of the prettiest beaches in France – there's the palm-fringed bays and sugar-white coves, plus the boat-only hideaways dotted all around the island. Palombaggia beach is a sun-bleached paradise on the south-east coast. It's pine-flanked and pink-tinted, and is a famously photogenic dream – pitch up and take in the views of the Cerbicale Islands that add a wild indulgence to this incredible setting. Travel down the headland to find Rondinara beach; a more sheltered crescent bay with rentable loungers and a calm sea. Swim, sunbathe or hire a classic yellow pedalo to explore the inviting waters. There are ice cream stands for quick refreshment or relaxed restaurants further out for a more leisurely beachside meal. If you're holidaying with a family in tow, drive to the soft white arc of lovely Pinarello beach. This south-east stretch is around an hour's drive from our villas, and it's extremely family-friendly. Quiet and shallow waters are perfect for swimming, and there's a boardwalk and a smattering of local restaurants for an easy but fun full day out.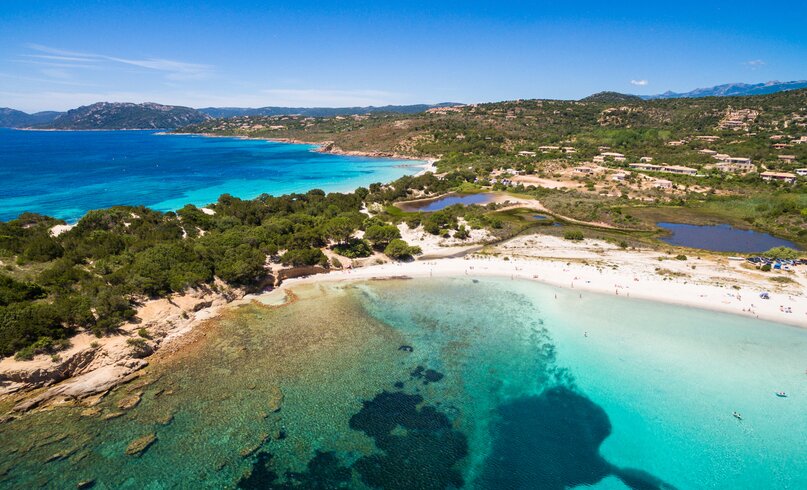 ANCIENT HISTORIES
The land that bore Napoleon Bonaparte is also an island rich in ancient treasures. Just like its Sardinian neighbour, Corsica's prehistory has left remarkable megalithic sites dotted all over the island. Filitosa and Palaggiu are two of the most extraordinary sites that you should add to your holiday bucket list. Impressive granite stones date back to the Bronze Age, but if you're short on time, Filitosa is the more extraordinary of the two – its sculpted megaliths are set in an ancient olive grove and include mysterious rock art carvings that date back thousands of years.
Whether it's Bonifacio's medieval town or the abandoned village of hilltop Occi, there are plenty of old towns to see here, too. Leave your villa and head out for an island road trip. Beside the glitzy harbours and trendy waterfronts, Corsica is a gorgeous mismatch of tangled lanes, eerie streets, ancient citadels and medieval treasures. Up in the northwest, Calvi is a town loved for its crescent bay and rich marina. But it's got a history, too – this fiery town has a medieval citadel which is where Lord Nelson lost his eye besieging the city. Head to the island's west coast to visit Ajaccio, the laid-back capital. This picture-perfect city has a touch of the trendy Côte d'Azur feels, but is historical at heart with icons like the house-turned-museum where the great Napoléon Bonaparte was born. Add a visit to the ancient hill town of Sartène as you travel back down the south-west coast. This handsome village is endearingly slow-paced, and is a far stretch from the glamour of the modern coastline. It's ramshackle, scruffy and shady in parts, but gives you that authentic glimpse into the ancient history of rural Corsica.
A WILD ISLAND
Corsica's long and winding roads can be time-consuming to drive, but this is an island that invites adventure. Around almost every corner you'll find a time-forgotten village and views that are well-worth the linger, so leave your villa for some time out exploring Corsica's rugged wilds. From glittering bays and pine-blanketed mountains to prehistoric coastlines and wind-eroded valleys, it's a bustling outdoor playground. The island's northern tip is where you'll find Cap Corse, a peninsula of precipitous crags topped with villages that tumble into coves. It's also a great stop to see Corsica's wine country around Patrimonio, famous for its sun-blushed rosés and Vermentino white wines. Head to the northwest coast to experience the eight miles (or so) of the UNESCO-protected Scandola Nature Reserve. This majestic wilderness is best seen by boat, so head to Calvi's port to join a tour of the area. Right down on the south coast are the stunning nature reserves of the Cerbicale and Lavezzi islands. Travel by boat from Bonifacio or Port Vecchio to explore these paradise islands – they're uninhabited so bring day-trip provisions, and look out for the incredible nesting sea birds that call these tiny islets home.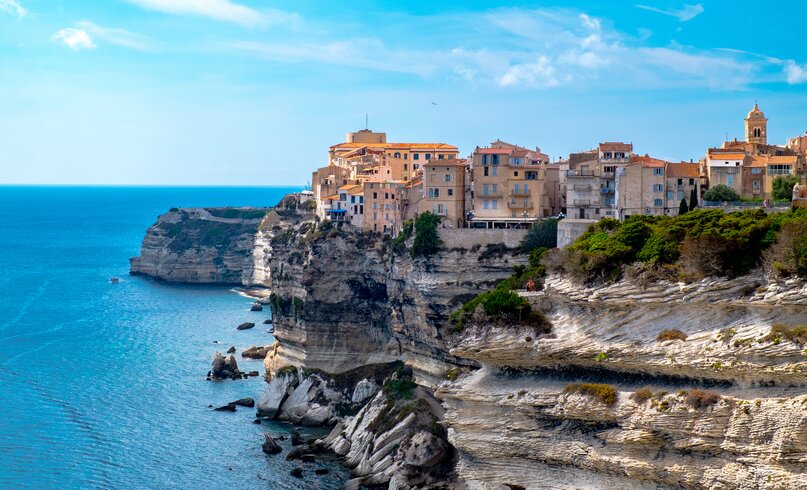 Eating and drinking in Corsica
Corsica may be a defiantly independent region, but its earthy cooking style definitely draws on its French and Italian neighbours. On the coast, it's all about the fresh fish and seafood, while inland, the culinary culture goes heavy on its meat, cheese and chestnut delicacies. The Corsican food scene is full of flavour and is very local and tradition-led. You'll struggle to find a French region with a better choice of charcuterie on its menus – and its sun-loving fruits and island-ripened vegetables are about as indulgently fresh and tasty as you can get.
For a proper Corsican feast, stock up your villa's kitchen with staples of the island's unique diet. Pair a crumbly Brocciu cheese with a rustic fresh bread for lunch, and experiment with the local market's fresh fish offerings for dinner – whether it's rock lobster, oysters, squid or a roasted sea bream, Corsica has them all. Local specialities to keep an eye out for include the island delicacies that have a chestnut element to them. The mountains here are blanketed in an unending supply of chestnuts, so foodie options tend to follow suit. Try original chestnut-flavoured ice cream and pulenda (chestnut dumplings), or look out for traditional desserts like the chestnut tart or Beignets de Brocciu (chestnut-flour and creamy cheese-filled doughnuts).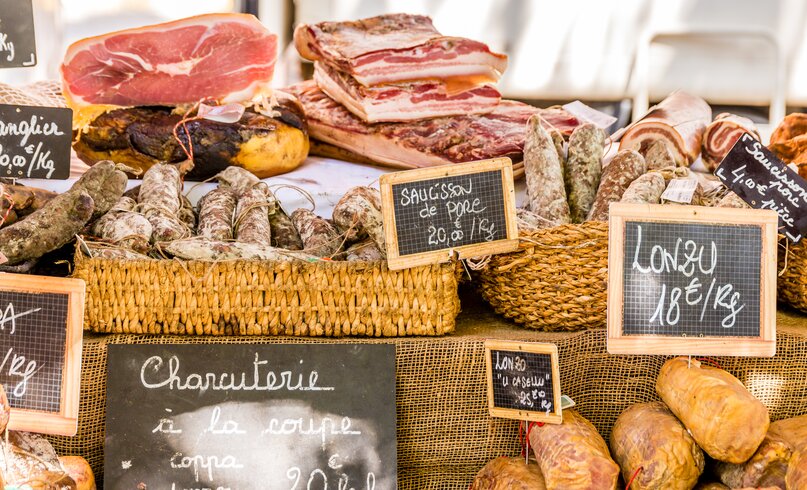 when to go to corsica
Corsica's hot summer and mild winter makes it a great year-round option for a villa holiday in France. It's a summer retreat of choice for many mainland French travellers, and is also an island with a lovely off-season sunshine, too. This region's rugged spine has mountains which can get snowy in winter – but the island's natural beauty and delicious food make it a welcome retreat for any time of the year. Corsica is a hiker's heaven, especially in the spring and autumn months – restaurants and shop prices are also better value at this time of year, and the beaches are indulgently quieter, too. If you're visiting the island during its peak summer season, prepare for July and August to be hot. They're dry and humid months, so probably aren't the best times to organise a super active holiday – but they're lovely if your villa holiday is more about the all-important sunbathing sessions and those gloriously warm Mediterranean waters.
INSPIRATION FOR YOUR FRANCE VILLA HOLIDAY