Villas in Côte d'Azur
A week (or two) in a villa on the glamorous Côte d'Azur is all about the glitzy sights, iconic beaches and unadulterated relaxation. France's sun-drenched southern coast is where million-dollar harbours complement belle époque details, and cosmopolitan seascapes give way to picture-perfect villages and hilltop towns.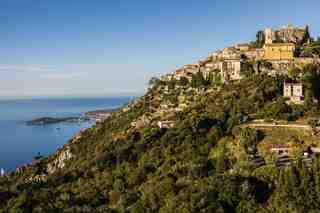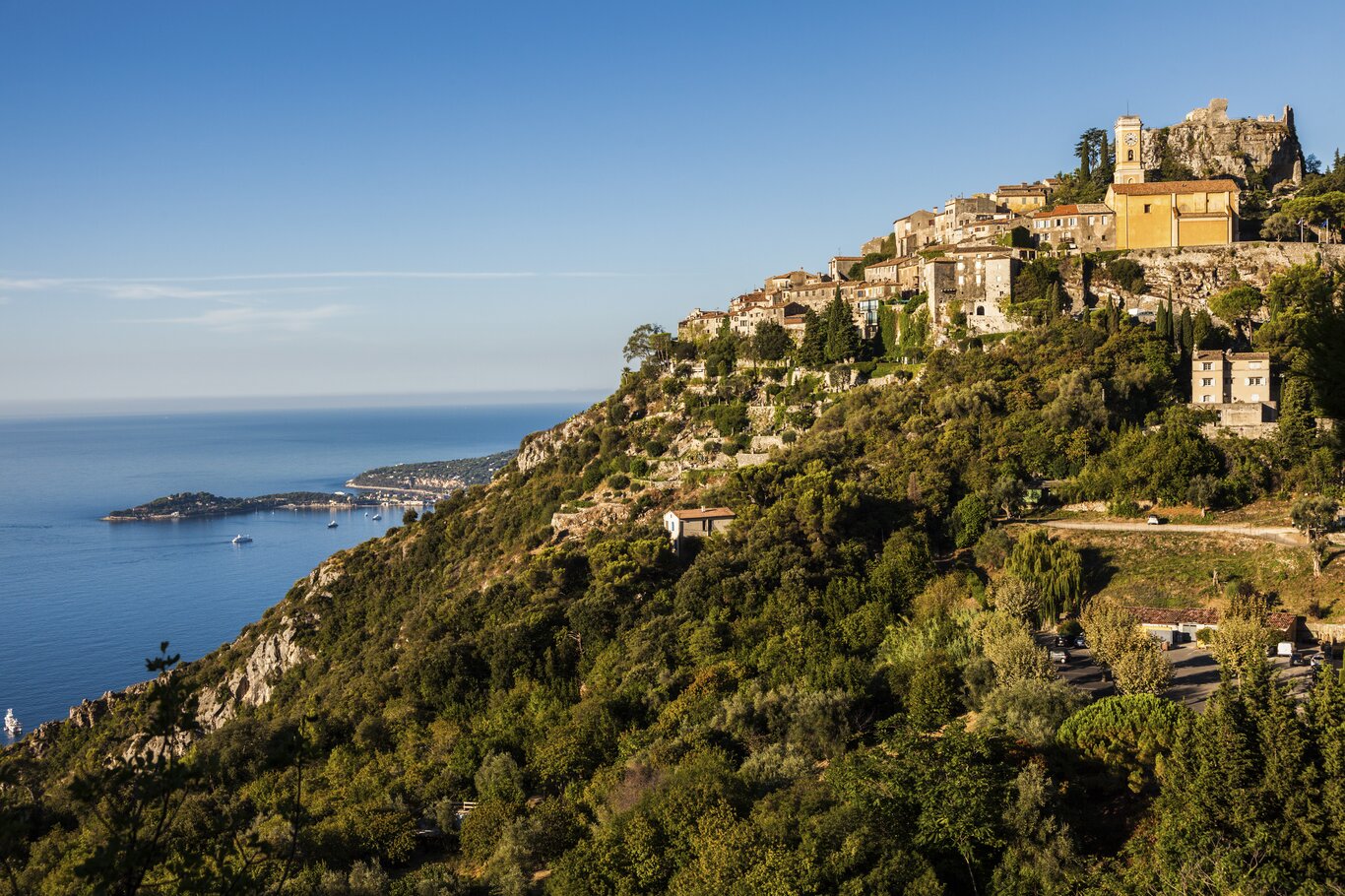 Our destinations
Our villas in the Côte d'Azur
Our hand-picked selection of luxury villas are all within fabulous locations on the Côte d'Azur. Soak up sun-splashed gardens near medieval Grimaud, stay near the star-studded sands of St. Tropez, or head for the hills in the sweet-smelling perfume capital of Grasse.
View villas in Côte d'Azur
Learn more about Côte d'Azur
Bay of St. Tropez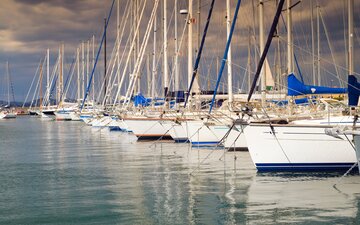 Our luxurious St Tropez villas are mostly located close to the coast within easy reach of Saint-Maxime or Bormes les Mimosas. A few villas in this region are further inland in...
CÔTE D'AZUR Villa holiday guide
Gorgeous beaches, legendary hotels, and yacht-studded harbourfronts lined with the most designer clubs and bars – from the bay of St. Tropez to the Italian-border of Menton, the iconic Cote d'Azur promises a villa holiday at its most glamorous and exclusive. Relax and recharge, whatever the season – and welcome those seductively long, lazy days by your villa pool. It's all about the easy-going lifestyle on the French Riviera. Tear yourselves away from your villa sanctuary and this palm-fringed coast is a road-tripping heaven. Watch roller-skaters soar down Nice's Promenade des Anglais en masse; sip cocktails with the elite in Monte Carlo's casino; and celebrity-spot on striped sun lounger-beaches beside the glam La Croisette in Cannes.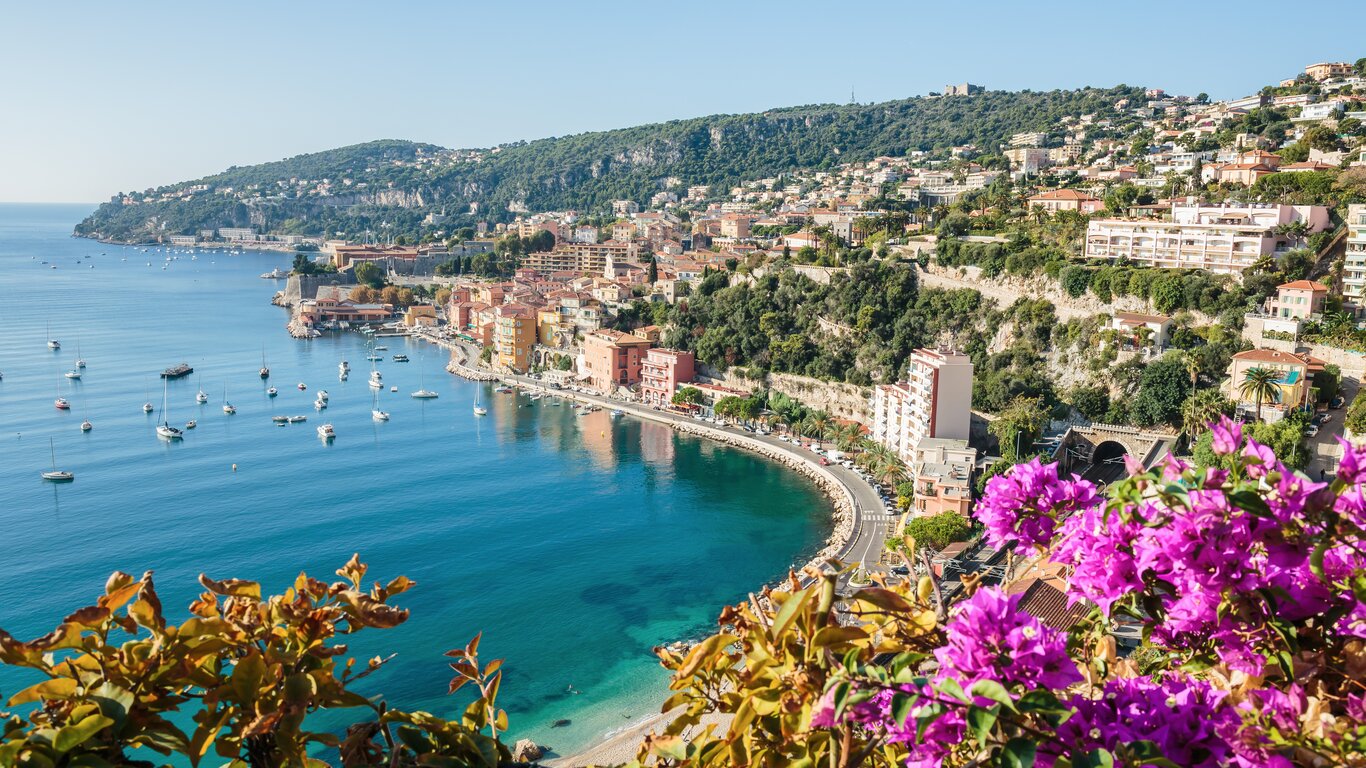 Things to do in the Côte d'Azur
Riviera road trips
A villa holiday in the Côte d'Azur shouldn't just be about your private pool – the pretty towns and villages on the Riviera are all worthy of a road trip, too. Lovely Antibes has one of the region's most charming old towns. It's a stroller's paradise with a rich literary and artistic history – Picasso lived and worked in the old town hall in 1946, while its charming neighbour, Juan-les-Pins, is where novelist F. Scott Fitzgerald lived in the 1920s. Antibes' exclusive cape peninsula is the home of the famous Eden Roc hotel,  and is a beachside dream to drive with its star-studded mansions and dramatic views that reach all the way back to the medieval walls of old Antibes.
Shutter-clad town houses and beautiful baroque buildings add to the old-school charms of Nice's classic quarter. There's a colourful old town which thrives with personality, rich with lively restaurants, café-lined squares and the famous promenade that sweeps the whole of the Baie des Anges. Drive from Nice towards Monaco for some of the prettiest villages on the coastline. Èze is one for the romantics – a tiny 900-year-old pocket perched on an impossibly steep peak, this hilltop treasure is a medieval labyrinth of winding alleys, old-stone buildings and glorious art galleries. Midway between the two, Saint-Jean-Cap-Ferrat instantly seduces on sight with its dreamy peninsula, mega-rich millionaire villas, exclusive beach clubs and poster icons like the extravagant Villa Rothschild gardens.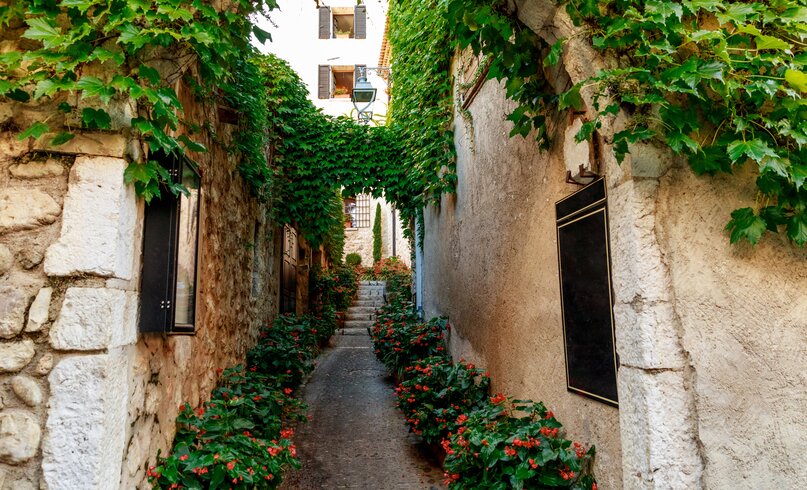 Beyond the beaches
Not all of the French Riviera's iconic sights are beachfront. Wildlife lovers should head inland to Mercantour, a hiking hotspot and national park tucked between the Alps and the Med, where you'll find the Vallée des Merveilles – exquisitely scenic mountains with over forty thousand prehistoric drawings carved into their rocks.
The pretty town of Grasse is found way up high in the hills between Nice and Cannes, and is unofficially regarded as the capital of the perfume world. Fragrant fields of lavender dominate the surrounding hillsides, and there are so many pastel soap shops and colourful cafés to lose time exploring. Big brand perfumeries are based in and around the town – and most offer free guided tours of their factories. Keep an eye out for the Fragonard and Molinard perfumeries when wandering about – historic La Galimard (founded in 1747) is less central, but is famous for being one of the oldest perfumeries in the world. If you fancy trying something different, workshops are available here to blend your own bespoke signature scent.
This region is world-renowned for its premium wine types, so if you're day-tripping from your villa, another great option is to explore the Riviera's delicious vineyards. Pampelonne Rosé is the product of St. Tropez, or there are great vineyard tours available around Bormes-les-Mimosa in the Var. Combine a spot of wine tasting with an island tour by hopping on the ferry from Cannes to the Lérins islands. Pine-shrouded Ile Sainte Honorat is home to a working (and wine-producing) monastery, which draws in the oenophiles with its unique Saint Césaire Chardonnay.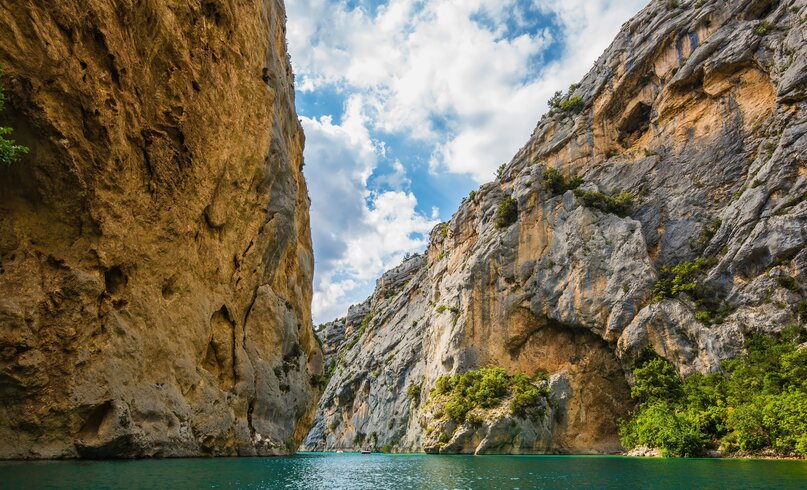 Eating and drinking in the Côte d'Azur
Just like the rest of the country, there's a serious food and wine culture in the Côte d'Azur. Food-loving locals follow a classic Mediterranean diet, with olive oil, bread and cheese, the freshest vegetables and seafood a prominent feature in Riviera cuisine. Food markets here are legendary – Cannes, Nice and Antibes all have a great covered market that you can take time to explore – and it's the natural culture to while away long mornings in a café, people-watching with a warming café crème and buttery pastry in hand.  
For those nights that you don't fancy staying in at the villa, do like the locals and head out – a great shout is the Cours Saleya in Nice's Old Town. Renowned for its classic specialities like a signature salade niçoise or a caramelised pissaladière, it's also a hub for tasty street snacks like the city's speciality, socca (chickpea pancakes). Save time for an aperitif in one of the pretty squares first – a crisp aperol spritz or punchy pastis is the perfect way to start an evening out on the Riviera (especially on a warm summer's evening). If it's a special occasion, the Côte d'Azur is not without a lovely fine dining treat. There's gorgeous bistros and local-loved brasseries, plus a stunning selection of Michelin-starred gems. If you're staying in a villa near Grasse, a great romantic night out is at Auberge de la Chêvre d'Or in the pretty village of Cabris. Other top spots include Alain Ducasse's three-starred Le Louis XV restaurant in Monaco's Hotel de Paris, and Mirazur in Menton; another triple-star that offers an unparalleled Provençal experience.
Sweet treats and desserts are definitely at their most indulgent in France, and this gorgeous stretch of coastline does not disappoint. Boulangeries, patisseries and Italian-inspired gelaterias can be found in most villages or towns near to our hand-picked villa settings. Cannes' specialist macaron shops are admired region-wide for their delicate, but delicious, flavours, and St. Tropez is known for having some of the best bakeries in the area. If you're staying in one of our villas near St. Tropez, there's no better taste bud tempter than the rich cream-filled, brioche-based cake of its Tarte Tropézienne namesake.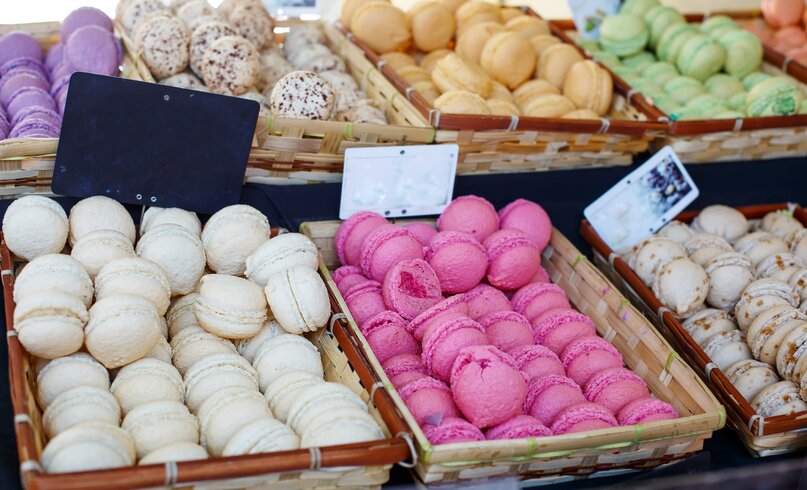 when to go to the Côte d'Azur
This sunny southern stretch is the perfect destination for a French villa holiday in all seasons. The Côte d'Azur has a Mediterranean climate; summer is hot, humid and sunny, while winter is greyer (sometimes wet), but still mild in temperature. Spring has the best temperatures for wandering about the Riviera on foot – it's cheaper, less busy, and the countryside is looking very pretty with flowers, trees and vineyards all beginning to blossom. Peak summer season covers the end of June through to early September. Expect crammed beaches, queues in the restaurants, and a humidity which can reach to a hair-raising peak. These summer months are also the most expensive on the Côte d'Azur, so be aware when dining out or booking any out-of-villa activities.
INSPIRATION FOR YOUR FRANCE VILLA HOLIDAY