Marrakech Villa Holiday Guide
Villa holidays in Marrakech are like no other destination. The desert heat paired with our wonderful properties creates a truly unique holiday experience. The excitement of the souks makes for memorable holiday moments discovering the flavours of the city through multiple senses. When it's time to relax our villas in Marrakech provide the ultimate environment in which to do so. Expect elegant private pools for cooling off from the desert sun and superb levels of service, from housekeeping and cooks to drivers, gardeners and concierge service. Many of our Marrakech villas offer breathtaking views of the Atlas Mountains, while day trips can also be arranged by your Villa Manager for those looking to explore.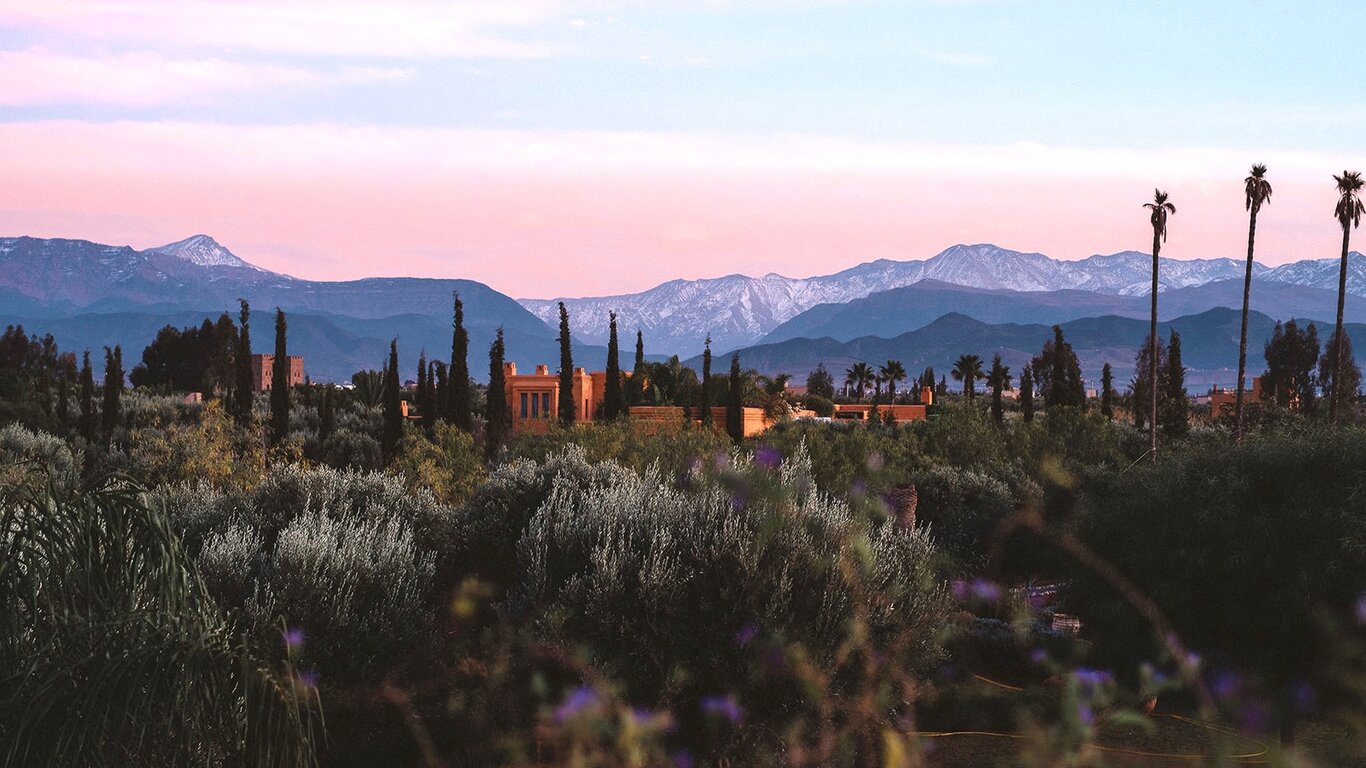 Things to do in Marrakech
Exploring in Marrakech
An excellent city for exploring, Marrakech can be as adventurous as you like. We are not condemning a week spent within the grounds of your villa - in fact we encourage it! But for those looking for adventure, you too have come to the right place. One of our top recommendations is a visit to the red city's souks. Getting lost here is part of the fun but if you are short on time, you can ask your driver for tips or a local guide can show you the way. Navigate alleyways of energetic vendors selling everything from aromatic spices to handmade textiles, pottery and jewellery. On the contrary, a visit to Yves Saint Laurent's Jardin Majorelle is a tranquil oasis in the heart of the city. Further afield, your Villa Manager can arrange a day trip trekking in the striking Atlas Mountain range. If trekking isn't your cup of tea, drive for lunch at panoramic spots in the mountains such as Kashbah Tamadot and Kasbah Bab Ourika.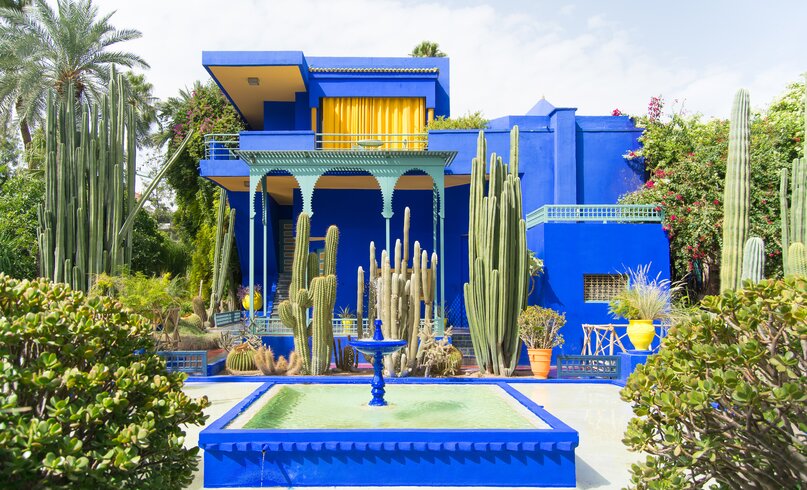 Shopping in Marrakech
Souk shopping in Marrakech is an exciting and memorable experience. Expect friendly bartering, beautiful handmade rugs, ornate lamps and jewellery, and much more! You can also experience traditional Moroccan treats from a number of food vendors if you get peckish along the way. For high end boutiques, plan a visit to the French quarter of Gueliz, which is decidedly modern in comparison to the Medina. Alongside a number of charming boutiques are cafes and a selection of contemporary art galleries.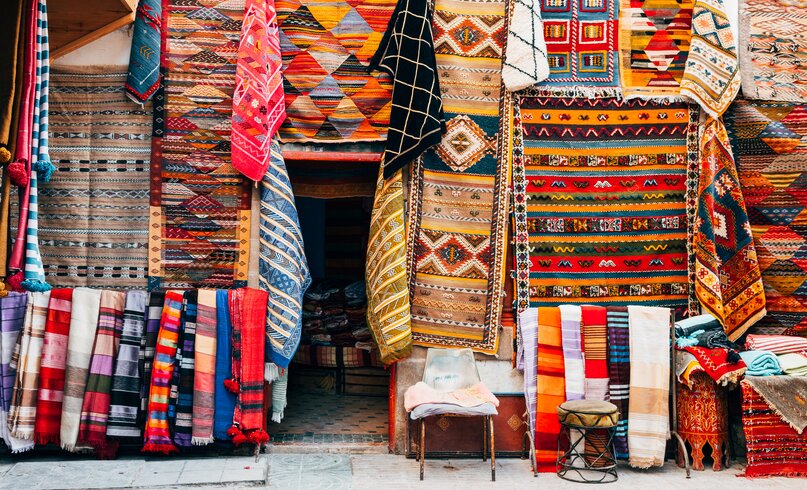 Relaxing in Marrakech
Our collection of private villas In Marrakech provide the ultimate place in which to relax, no matter where you are staying. The portfolio caters for relaxing retreats of all shapes and sizes, from a romantic getaway for two, to a large group holiday for up to fourteen, in-built hammams and spa treatments can be enjoyed by all.
Every villa holiday in Marrakech enjoys some form of cook service, allowing guests to ease deeper into a state of ultimate relaxation. Meanwhile, our luxury villas in Marrakech include food and spa treatments too. Rooftop terraces with Atlas Mountain views are equally fitting for sunrise yoga and meditation or sunset cocktails.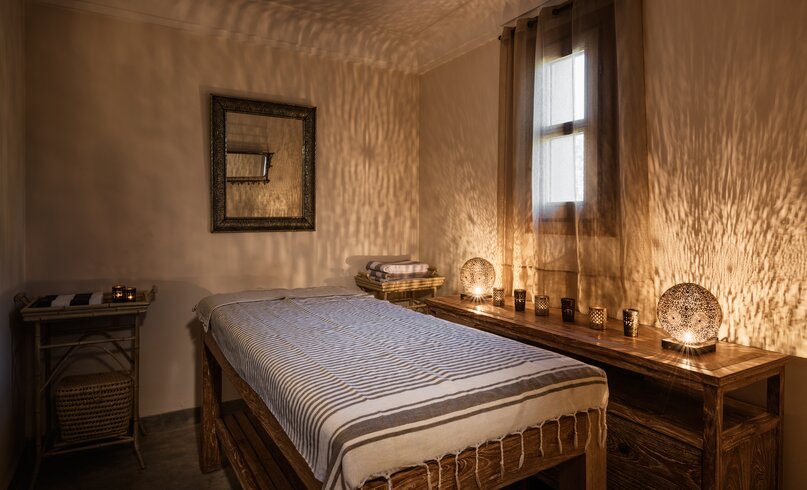 Eating and Drinking in Marrakech
When it comes to bars and restaurants there are many hidden away in the souks such as Nomad, as well as in the city with superb vistas over the mountain tops of the Atlas. Fine dining locations include La Maison Arabe among others, and for delicious cocktails in an elegant setting, make sure to visit The Churchill Bar at La Mamounia which is exceptional. Having said that, all our Marrakech villas have some form of cook service, along with a team of exceptional staff - so there really is no need to leave your luxurious home from home.
Our villas with cook service in Marrakech usually have staff quarters within the grounds and offer an excellent and discreet service. Plan your meals in advance, discuss dietary requirements and then at the end of the holiday you cover the cost of the food shopping, which is incredibly good value unless opting for one of our ABOVE villas in Marrakech where the cost of food is included.
Allow your cook to take the reins if you want to experience traditional Moroccan cuisine, expect fresh ingredients packed with flavour, traditional tagines, light salads and unlimited mint tea - served whenever and wherever you choose! Though many restaurants don't serve alcohol, your Villa Manager can arrange your choice of beverages to be purchased and delivered in advance for your arrival at the property.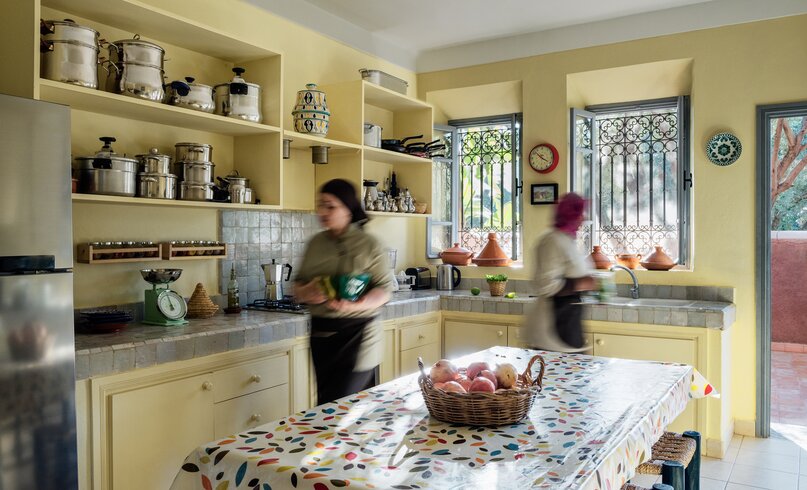 When to go to Marrakech
Sizzling temperatures in Marrakech make it a year round destination. Our Marrakech villas are also equipped with sitting room fireplaces for the evenings in cooler months. Spring is the ideal time of year to explore the sights of the city without the scorching hot temperatures, while the summer is a great time for friends and families to relax and make the most of their villas with private pools.