Nissaki, Barbati, Gouvia, Kommeno & Corfu Town holiday guide
However you approach Corfu Town, it hits you between the eyes with its fusion of Greek, Venetian, French, and British architecture, its colossal castles, and its twin ports—the Old Port busy with leisure craft, the New Port full of ferries and cruise ships. Gouvia was once a Venetian naval base and a way-station for the London–Karachi flying-boat service; it now has the island's biggest marina. Close by, upmarket Kommeno, and the former fishing villages of Nissaki and Barbati for a holiday, represent the best of rural Corfu. Civilized yet unspoilt, the area is half way along Corfu's most beautiful stretch of coast. Yet, since it flanks the main road, from here the whole of northern Corfu is open to exploration, by bus or—better still—by car.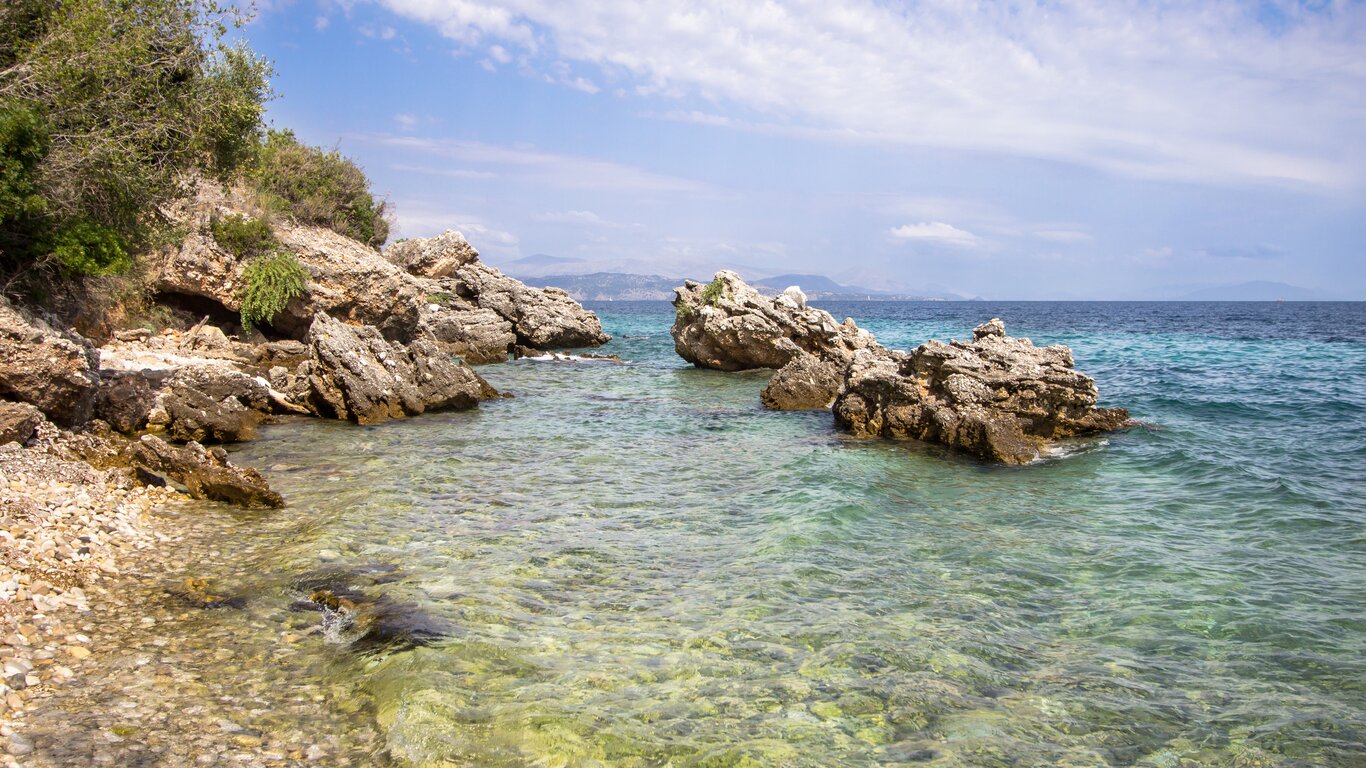 Island attractions
Exclusive Kommeno offers fine dining and secluded beaches, with Corfu Town just a short drive away, while the blue-flag beaches and wooded headlands at Barbati and Nissaki are dotted with houses and villas and a dense ocean of trees. At Gouvia the swimming is safe, the water sports are numerous, and if you cannot bag a sunbed there is plenty of shade under the trees.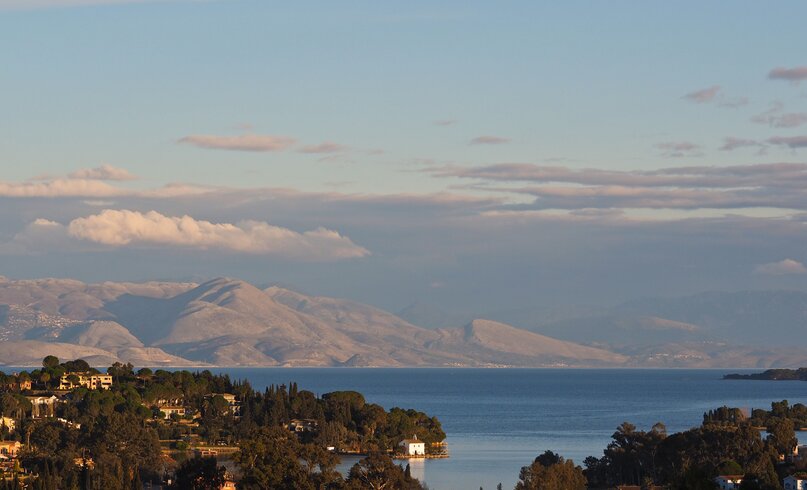 Things to do
This is a place to kick off your shoes and relax. The pellucid sea off Nissaki and Barbati is ideal for bathing, snorkelling, and diving; the charming Church of Ipapanti in Kommeno is not to be missed. Corfu Town to the south and bustling Kassiopi to the north are a short bus-ride away. From Gouvia, you can walk to the nearby village of Danilia—old-looking but actually recently-built, it was the setting for the wedding scene in the 1981 Bond film, For Your Eyes Only.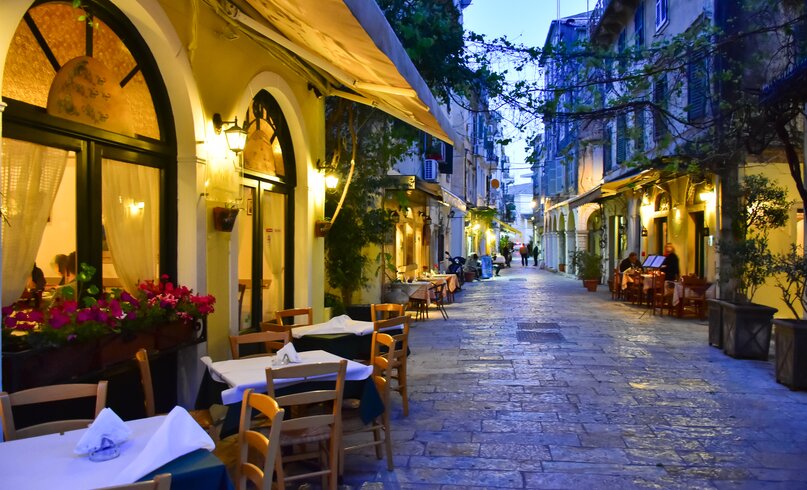 Eating and drinking
The traditional taverna is one of the great pleasures of this part of Corfu. Down the switchback road on the mountain, or on the coast, you can eat village salad (with feta cheese), souvlakia (lamb or pork kebabs), kleftiko(slow-cooked lamb and potatoes), sheftalia(spiced sausage), or chicken pilaf, drink retsina or unresinated red wine, hear live traditional bouzouki music, and leave your seats for an energetic dance. Everywhere there are enough mini-markets to allow you to put together a meal or picnic, and in Gouvia there is a comprehensive range of food and drink shops.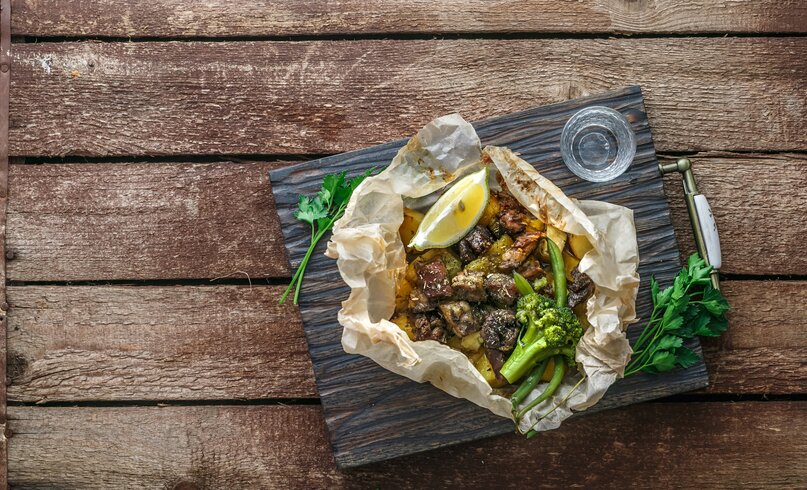 Nature
On any walk here you will come across some of the island's most characteristic trees. Olive, grown for the fruit and the oil it yields; the occasional carob with large, bean-like pods; the dark green spikes of a cypress. Look out for the sweet-smelling myrtle, and the Judas tree, said to have been the variety from which Christ's unfaithful disciple hanged himself, and whose blossom blushes pink with shame at his perfidy. And, for shade, it is hard to beat the whispering eucalyptus.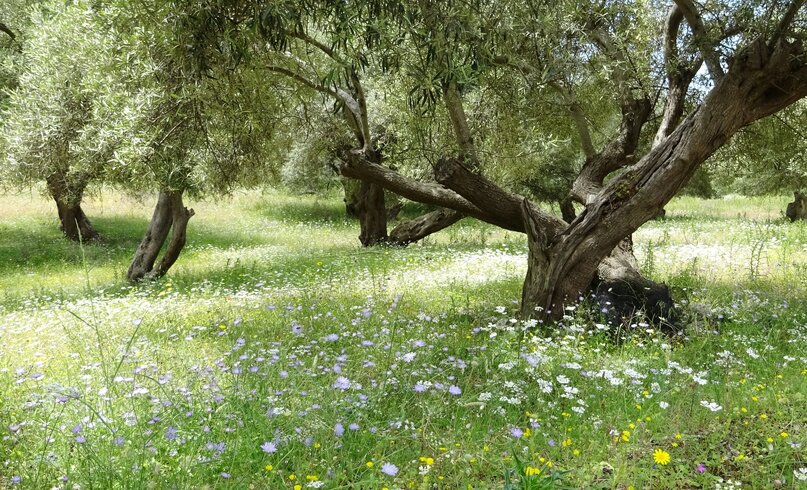 where to stay in Nissaki, Barbati, Gouvia, Kommeno & Corfu Town
INSPIRATION FOR YOUR GREECE VILLA HOLIDAY