Mallorca villa holiday guide
A Mediterranean playground, Mallorca or 'Majorca' as it is often spelled in English, is the largest of Spain's Balearic Islands. In addition to endless beaches, a villa holiday in Mallorca can also be packed with historic palaces and churches, driving routes along sheer cliffs with dramatic sea vistas, and quiet villages such as Deià tucked in the hills. You will also find great local food and unique wines in Binissalem and a lively arts scene in Palma. Our range of luxury villas provide a fantastic base from which to explore historic Old Quarters, lively food markets, varied walking trails and some of Mallorca's most beautiful beaches just a stone's throw from your villa.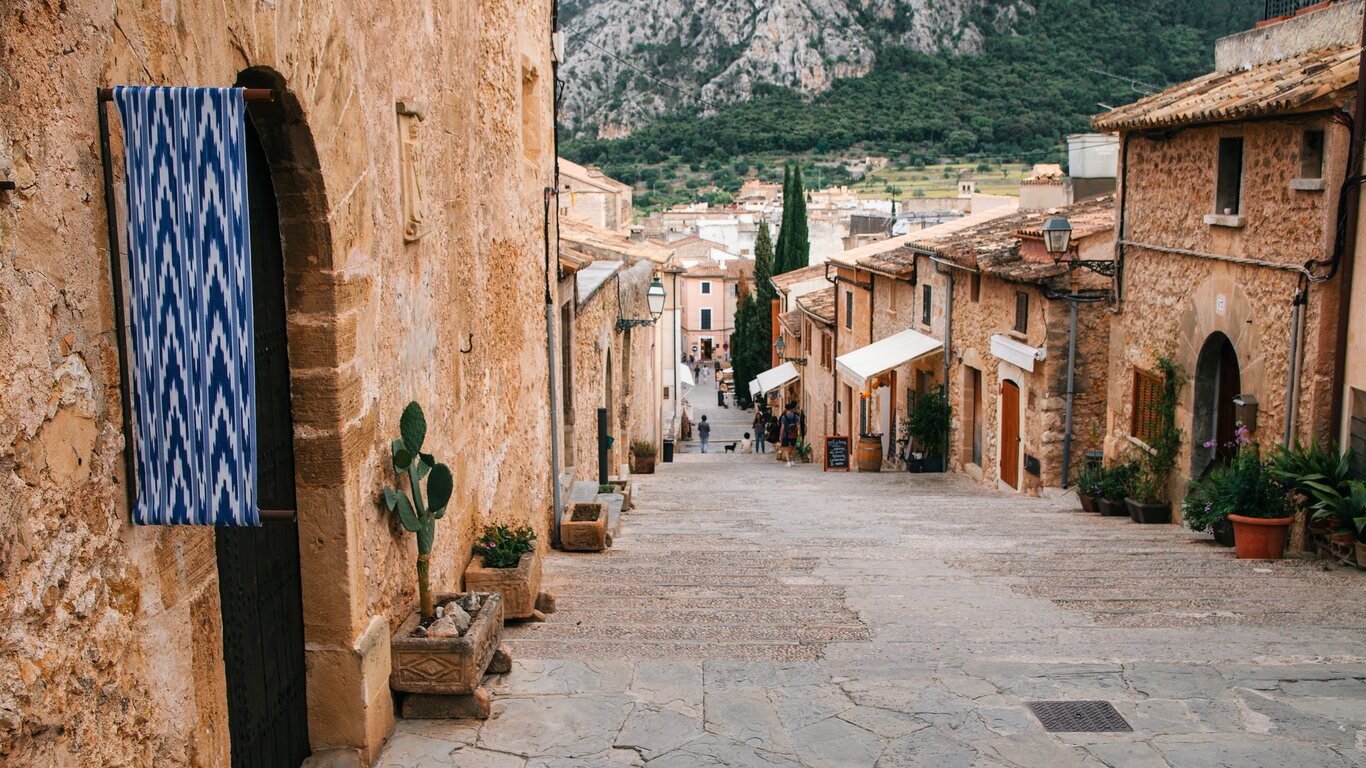 Things to do in Mallorca
Beaches
All of our wonderful properties in Mallorca (also known as Majorca) have a private pool of their own, but if you are planning to leave the villa- Mallorca is known for having some of the most beautiful beaches in Spain. The beach of Es Trenc on the southern coast of the island is often referred to as the best, with bright blue waters and 10km of pure white sand, while Cala Deia in the northwest is a pretty little cove in the heart of the Tramuntana Mountains. Our collection of Mallorcan beach villas has something to suit every taste.
Shopping
A selection of our properties are within easy reach of Santanyi street market, which is located in the town's main square and nearby streets. Over 150 stalls sell regional food and wine, clothes and shoes, kitchen utensils and craftwork, so it's great for picking up fresh produce for cooking back at your villa or to buy holiday souvenirs. The market in beautiful Pollenca is also worth a visit and very popular with foodies offering everything from olives and almonds, to local chorizo and pancetta. Whilst in Pollenca guests should take a walk up the Calvari Steps - an ancient stone staircase of 365 steps leading from the central square up to the chapel- El Calvari. The walk to the top is worth it for the view before heading back to your villa for an afternoon siesta.
Experiences
We recommend a day trip from your villa to Palma. Wander through the historic district and you'll encounter a superb range of architectural style; don't miss La Seu, the gothic golden cathedral perched above the pretty Parc de la Mar. The lively capital has a wide range of restaurants and bars to suit every budget too.
The small coastal village of Port de Sóller is one of the best places on the island to watch the sunset. The tram is a fun way to travel to the port, while hiking and cycling trails are quite spectacular.
A scenic drive from your villa to the northern tip of Mallorca leads you to the Cap de Formentor to see the amazing views where the Tramuntana mountain range meets the Med. Visit the breathtaking blue-flag beach lined with pretty pine trees for soft white sand and shallow calm waters, making this a great spot for families on holiday with young children.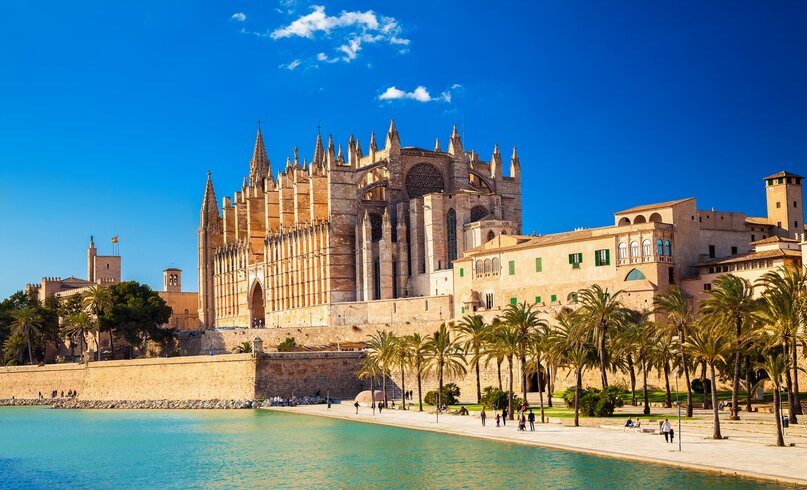 Eating and Drinking in Mallorca
A haven for foodies, visitors will be spoilt for choice when it comes to deciding where to dine in Mallorca. Palma has a huge selection of places to eat and drink, including lively rooftop bars with amazing views, while Olivar Market is good for picking up fresh fruits to take back to your villa for breakfast.
Villas near Pollença are spoilt for choice by the great selection of places to eat, from fine dining to relaxed cafes. The main square has plenty of alfresco dining options, to sit, to sip on sangria and to watch the world go by.
Meat-eaters will enjoy one of Mallorca's most famous dishes of suckling pig, which is easy to find in many restaurants and Sobrassada is a typical dish of cured sausage that's a popular favourite with tourists and locals alike.
Mallorca is home to a number of wineries, so you can always find good quality local wine to sample; several are made from grapes that are unique to the island, such as Manto negro. Binissalem is the best-known region in Mallorca for wine production, ask your local representative if you'd like to arrange a wine tour from your villa.
Foodies looking to completely relax on holiday might like to take a look at our range of luxury villas with cook service.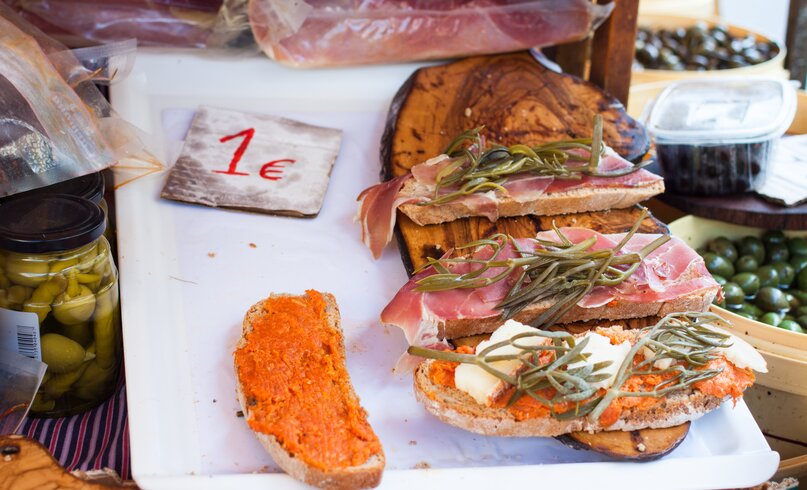 When to go to Mallorca
With an average of 300 days of sunshine each year, the weather is one of many appealing reasons for a villa holiday in Mallorca. Hot summers are ideal for beach holidays, while spring and autumn are equally pleasant seasons to visit, particularly popular with cyclists. The majority of our properties are available from April until early October.
INSPIRATION FOR YOUR SPAIN & BALEARIC VILLA HOLIDAY