The Italian Lakes Villa Holiday Guide
Villa holidays in the Italian Lakes offer the opportunity to enjoy some of the country's most picturesque places. Located in various regions across the north of Italy, the landscapes, architecture and culture vary enormously as you travel from one crystal clear shore to the next. From grand lakefront mansions, to Michelin-starred restaurants, you can't beat a walk around the shore in Lake Como. Meanwhile, Lake Garda villas sit against a backdrop of sloping vineyards to the majestic mountains of the Dolomites. A hub of activity, holidays here involve excitement both on and around the water.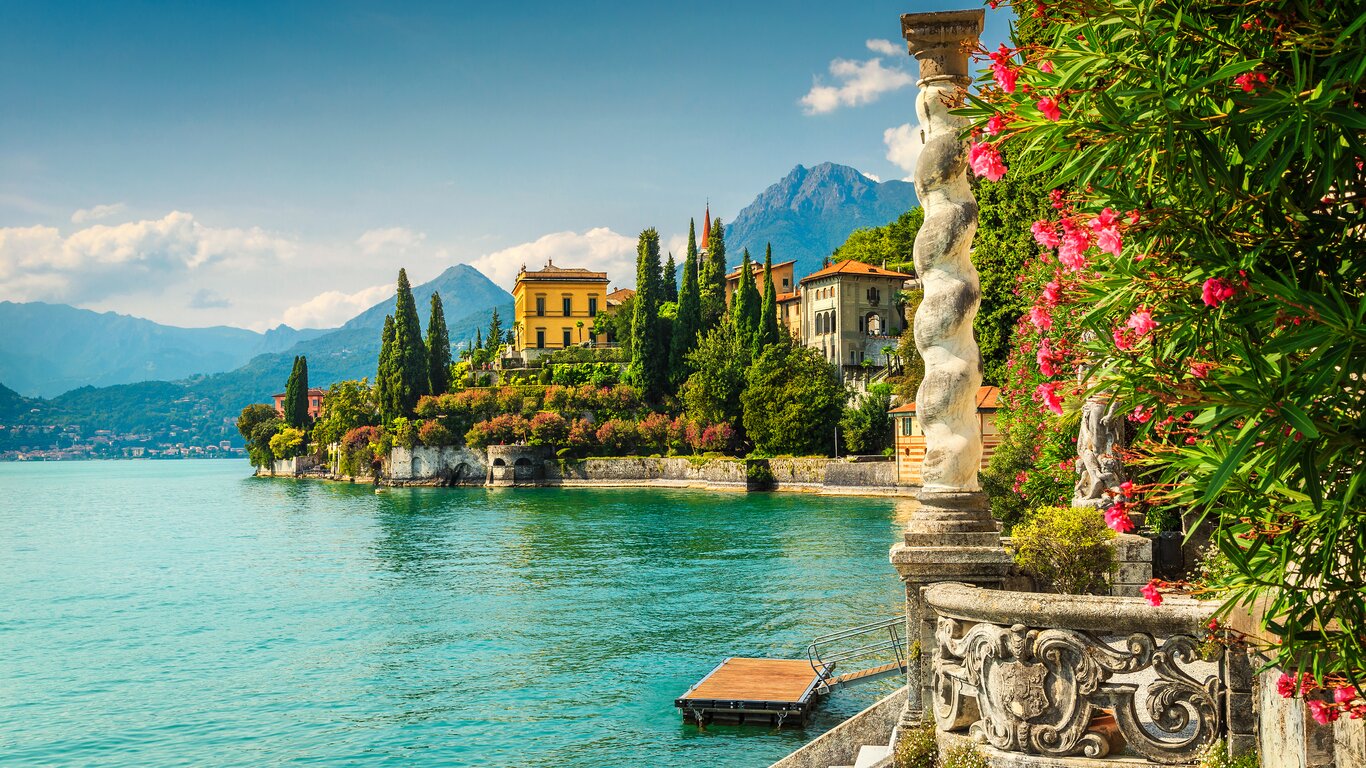 Explore The Italian Lakes
You'll be spoilt for choice when it comes to exploration on holiday in the Italian Lakes. Lake Como's appeal is steeped in timeless tradition and effortless style and you'll find that in spades in the towns scattered splendidly around the lake. Bellagio is romance and beauty wrapped-up in enticing stone lanes and cobbled alleys, buildings from the pages of history and panoramic views, while the mediaeval appeal of Menaggio is as enticing as its elegance and promenade draped in bougainvillaea. Aside from being a great starting point, the village of Tremezzo has many of the hallmark qualities of a lakeside town together with some of the area's best food, and Varenna – on the eastern shore – offers visitors stately villas and gardens to explore and a lovely waterfront in which to pull-up a chair and grab an espresso or gelato. Enjoy enchanting towns such as Gardone Riviera on Lake Garda, surrounded by rugged mountains with several hiking trails, peruse exquisite boutiques or rub shoulders with a-listers while admiring the views at lakeside bars and romantic restaurants.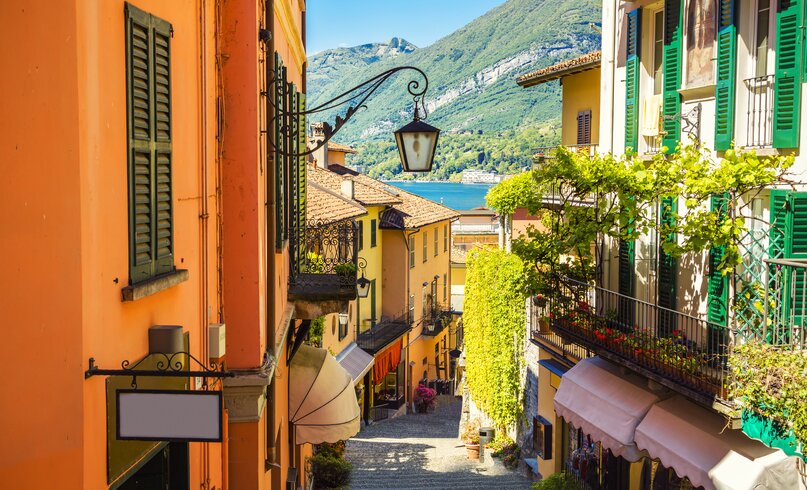 Activities in The Italian Lakes
Lake Como conjures up images of glamour and glitz from its majestic position at the foothills of the Rhaetian Alps in northern Italy. Though it may be populated by the rich and famous, Lake Como villa holidays may well surprise as a superb choice for families - or small groups of friends - with a liking for the finer things in life. Como spans the gamut from rose-laden belvederes to olive groves and vineyards, architecture of castles, classical villas and mediaeval remnants, and superb food to mountaineering, hiking, horse riding and golf.
Picture-postcard Lake Garda is the largest lake in Italy and surrounded by charming towns and dramatic mountain vistas, similar in its appeal to families and groups of friends alike. Arguably one of if not the most beautiful Italian Lake, it is also one of Italy's best wine regions thanks to the rich soils responsible for cascading vineyards that hem its shores. Besides sampling the region's finest wines, popular holiday activities away from your villa include watersports, cycling, hiking and strolling through glorious gardens. Enjoy refreshing wild swimming in crystal-clear lake waters or simply relax lakeside with a coffee and a pastry. For a more indulgent water based activity, the spa at Simione includes natural heated thermal pools and offers the opportunity to be well and truly pampered with personalised treatments overlooking the lake.
Beach clubs are a major part of lakeside life where you can rent sunbeds and umbrellas and make use of everything from bars and restaurants to wellness areas, tennis courts, soccer fields and activities such as kite surfing, windsurfing, sailing and kayaking. There is also a significant emphasis on a family friendly atmosphere, with many beach areas superbly equipped for all ages with swimming pools for children and associated activities to keep little ones entertained.
Milan, Verona and Venice are also within easy reach for exciting day trips. Step back in time at the magnificent Verona Arena and June is the time to visit to be a part of the annual Opera festival. A walking tour in Milan is the perfect way to discover the city.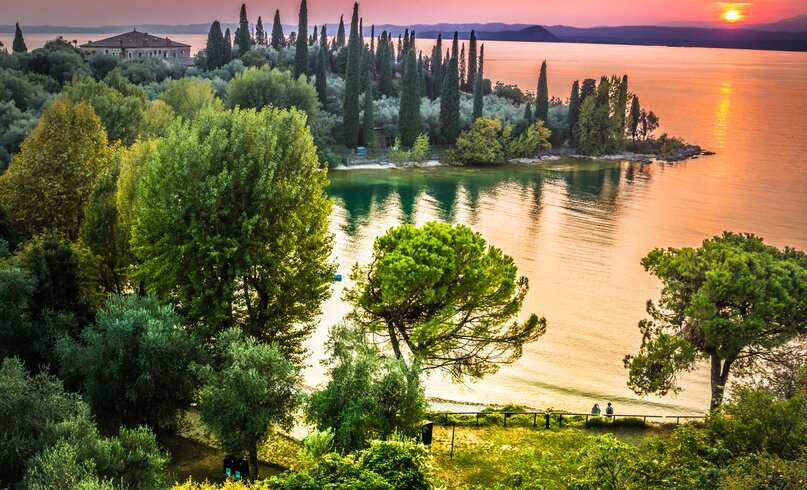 The Italian Lakes Countryside
The countryside around Lake Como and Lake Garda is typified by hillside villages, charming towns – and much, much more. In fact, you could spend months discovering a network of nooks and crannies but even a little exploring will allow you to really soak up the rural life of northern Italy. Footpaths will take you to stunning panoramic views where the beauty of the lakes and majesty of Alpine mountains come together. Sprawling, often jaw-dropping views are dotted with towering, verdant green vegetation, waterfalls, meandering rivers, secluded footpaths and cycling routes that really do allow you to shed the shackles of modern day stress and spend time at one with some of the most stunning nature and scenery in Europe.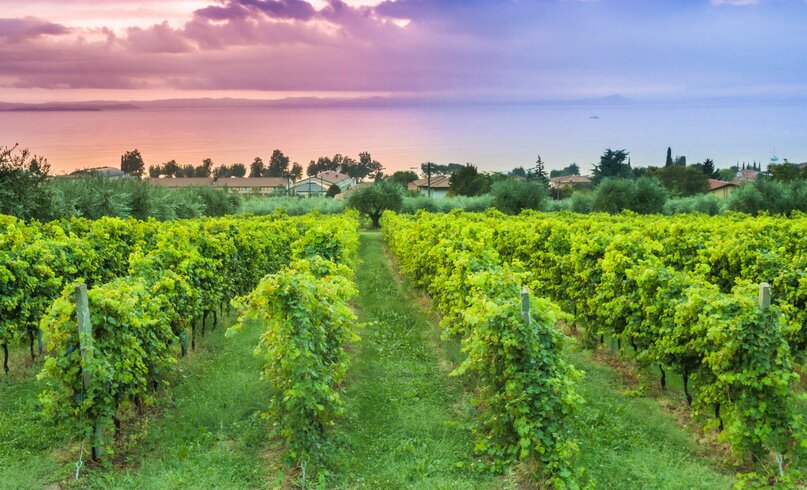 Shopping in The Italian Lakes
From wineries to leather goods and cigars, new season olive oil to coffee pots, and street markets to designer goods and fashion outlets, shopping around Lake Como, Lake Garda and the wider region is a perfect blend of quality and style. This has been one of Europe's foremost silk manufacturing centres since the 14th century and olive oil has been produced around here since 1850 - the Vanini brand is said to number Jamie Oliver among its fans, while wine from small vineyards is not only excellent value, it plays an important role in supporting local communities. The shops dotted along the steep alleyways of Bellagio in Como are especially noted for everything from shoes and jewellery to designer label clothes and lacework while, elsewhere, markets burst with superb meats and cheeses and excellent kitchenware will allow you to take a touch of Italian elegance back home.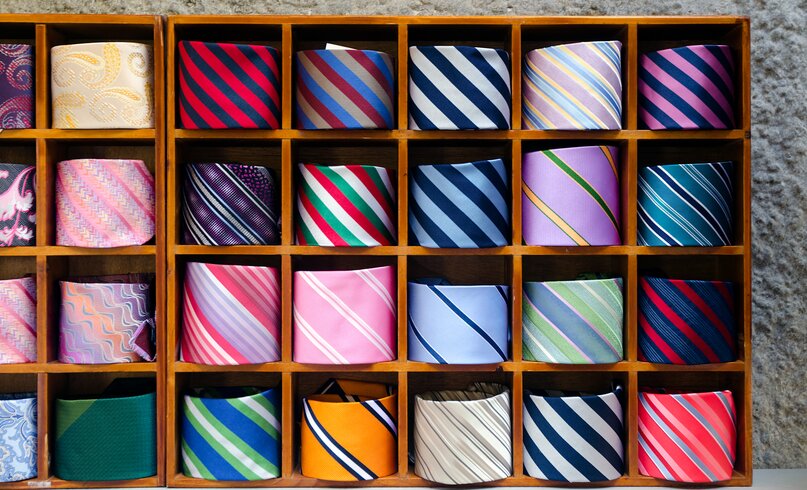 Eating and Drinking in The Italian Lakes
If you're thinking of holidaying in Italy there's a fair chance you'll appreciate fine food is one of life's great joys. Holidaying in the Italian Lakes, you won't be disappointed, for here, Michelin starred-restaurants meet family-run bistros and rustic eateries nestle on promenades and cobbled alleys alongside stylish bars and, of course, some of the best coffee shops you'll find anywhere. As one of the world's great cuisines you don't need us to give you a list of trademark dishes but - by way of whetting the appetite – you could settle down to veal cooked in a ragout sauce washed down by a rich, deep Barolo; a velvet risotto of chicken, saffron and butter complemented by the citrus tones of a chilled Trebbiani, or fresh fish from the lake, simply cooked as only the finest ingredients can. And, it goes without saying, the very best in pizza and pasta.
A fantastic way to experience the traditional cuisine of the Italian Lakes is to enjoy a cooking class with a professional. Take a day trip from your villa to a professional restaurant kitchen learning to cook a whole host of Italian dishes with a chef during a hands-on cookery lesson. After the lesson, you will sit down to enjoy the delicious food you have prepared with local wines as you enjoy spectacular lake views. Our recommended lunch spots include Punta San Virgilio on Lake Garda, where Churchill stayed, the world-famous Villa D'Este hotel in the quaint town of Cernobbio on Lake Como and the renowned Harry's Bar. And any villa holiday in the Italian Lakes is not complete without a day of wine and olive oil tasting.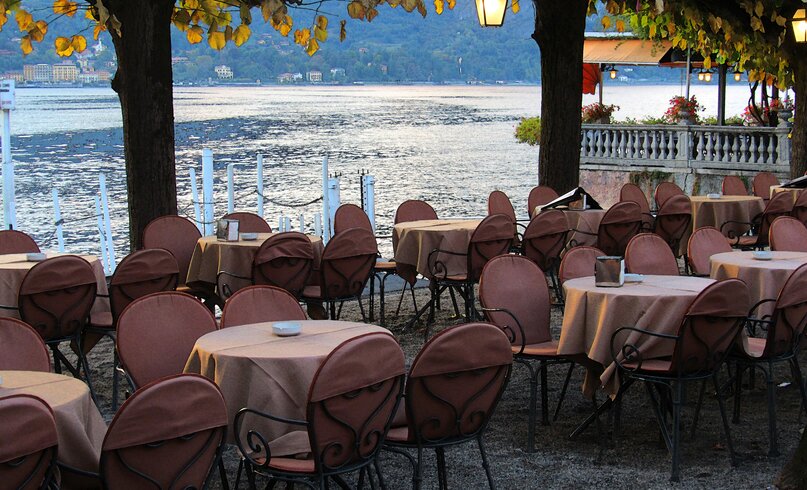 When to go to The Italian Lakes
Italian Lakes Holidays can ultimately be enjoyed all year round. Spring sees pleasant temperatures between 10 and 20 degrees and up to 12 hours of sunshine with cooler evenings. This is an ideal time of year for walking and hiking and although you can expect spring showers, this is also the reason behind the beautiful flowering gardens, which is one of the biggest appeals for many. The summer coincides with peak season and is perfect for sunbathing and lake swimming with balmy temperatures and summer festivals. Consider travelling later in the year in September or October for smaller crowds and beautiful golden landscapes as the season changes. This is also a great time of year to visit if you're planning a vineyard tour.