Santorini villa holiday guide
Let us transport you to a heavenly haze of cascading hillside villages scattered with iconic blue domes, spectacular sunsets and unique volcanic beaches; Santorini has long been at the top of many a travellers bucket list. Our Santorini villas live up to the hype, with intimate plunge pools and incredible Caldera views from the most poignant location on the island - Oia spills down the cliff face overlooking the Aegean - an ideal spot for a romantic getaway or honeymoon, and picture-perfect holiday snaps. And though it may be a popular tourist hotspot, Santorini is so blissful you'll soon forget the other tourists as you sink into the pace of idyllic island living.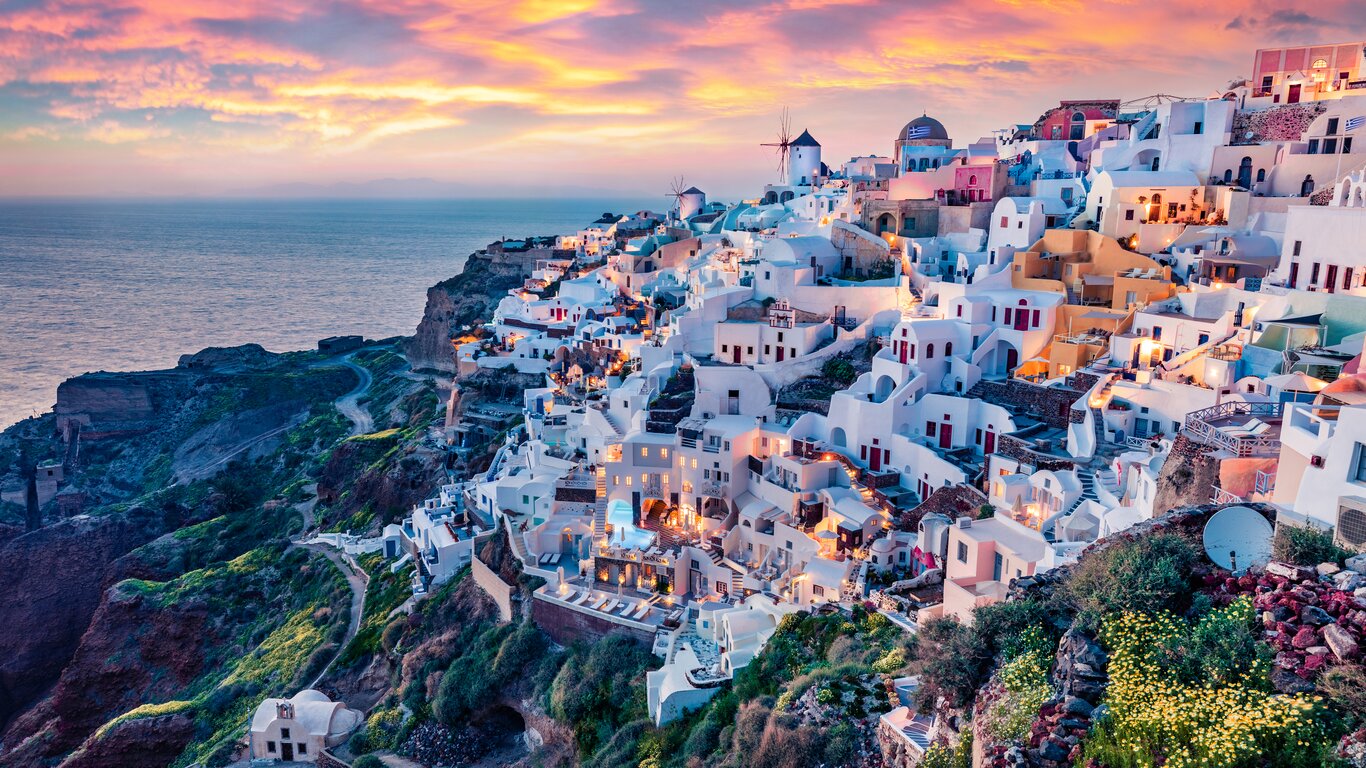 Things to do in Santorini
Santorini Coastline
Fancy a break from your Santorini villa to explore the island's dramatic coastline? The black volcanic beaches of the east coast are essential stops on a Santorini holiday - Monolithos is one of the quieter beaches with a shallow sloping seashore; Kamari has magnificent Mesa Vouno Mountain as its backdrop, and Perivolos  is a family holiday favourite with very clear waters for swimming. Dramatic Red Beach is a popular spot to see the contrasting colours of red lava cliffs against the clear blue waters; daily boats sail from Perissa beach including a swimming stop at neighbouring white beach.
If you're feeling adventurous head south from your villa to Saint George beach where the watersports centre offers everything from canoes and parasailing, to hoverboarding and jet ski safaris. The island also has three different scuba diving centres and a range of sea kayak tours to admire the superb scenery. Back on land the walk from Thira to Oia is ten kilometers of scenic pleasure, or hire mountain bikes to pick up the pace of exploration.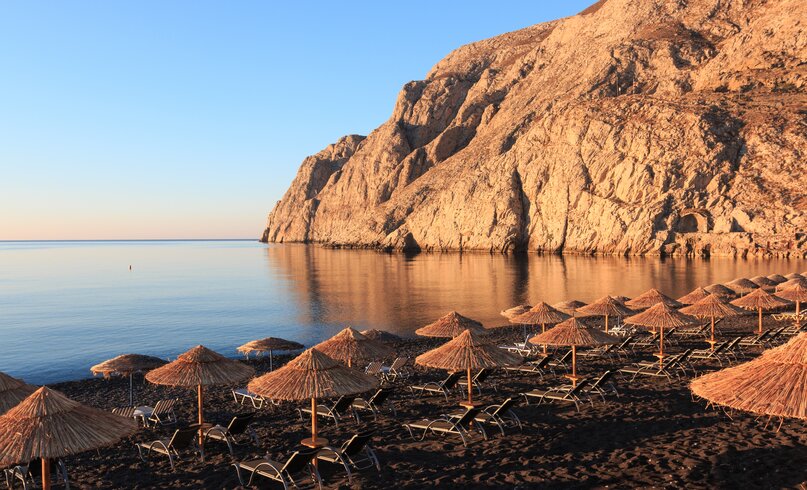 Island attractions
Away from the caldera, Santorini has plenty going for it, all of which can easily be explored as day trips from your villa. For holiday shopping Oia is home to pretty boutiques, while the main street in Fira - nicknamed Gold Street - is the place to go for jewellery, with over 40 individual shops. The island is famous for its wine, and a winery tour is a wonderful holiday highlight. Spend an afternoon tasting with a local expert, learning about grape varieties and visiting the islands best wineries as you soak up the surrounding vineyard views.
For a taste of the islands history, visit the Akrotiri archaeological site or the ancient city of Thera. For further exploration away from your villa, try a  trip to Nea Kameni – one of the two neighbouring volcanic islands. The volcano is now dormant and the whole area is studded with striking dark cliffs; hike to the top of the mountain for the breathtaking view.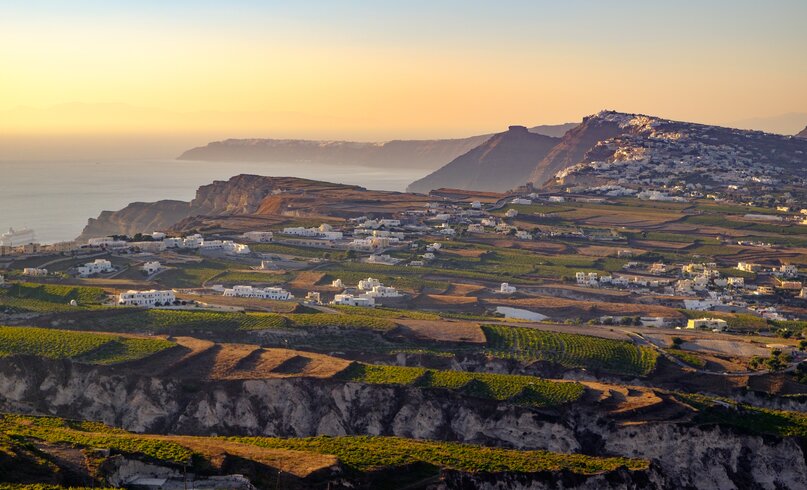 Eating and drinking in Santorini
As you would expect, restaurants in Thira and Oia make the most of the views at dizzying heights with a range of high-end restaurants and bars for foodies to snap their Instagram-worthy dinners. Alternatively, choose to dine in your private villa and enjoy the views at your own leisure. In addition to the usual Greek meat and fish dishes, Santorini is a vegetarian's paradise, famous for its fava beans, cherry tomatoes, aubergines and fresh goat's cheese. Greek salads here are perfection, scattered with only the freshest olives, while Gyros eaten street-side are great for on the go dining!
As mentioned earlier, Santorini is also one of the best-known wine-producers in Greece, so try local wines with your food or pick some up to sip on in your rented villa.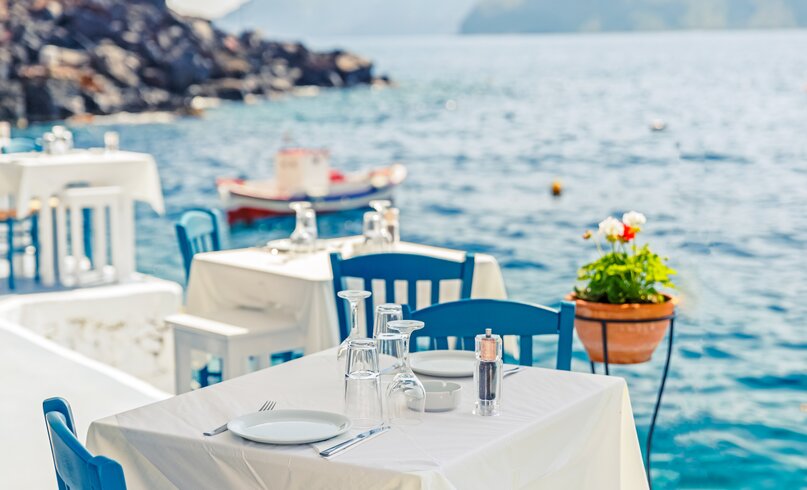 When to go to santorini
Peak season for a Santorini villa holiday is during the summer months, so July and August see the most visitors and average daily temperatures of 30° Celsius. Beach holidays can be enjoyed anytime between June and September, while April, May and October are ideal months for sightseeing and winery tours.
INSPIRATION FOR YOUR GREECE VILLA HOLIDAY