Meganissi villa Holiday Guide
A luxury villa holiday in Meganissi is the epitome of Greek island living. Find the perfect property with the help of our villa specialists then divide your time on holiday between relaxing by the pool or at one of the many beautiful beaches on the island. If you can bear to leave the comfort of your luxury villa, then your trip will not be complete without at least a day on the water exploring hidden coves for swimming. Watersports such as snorkelling and paddle boarding are popular during the summer months, while a day trip to the picturesque peninsula that is Lefkada takes just 30 minutes.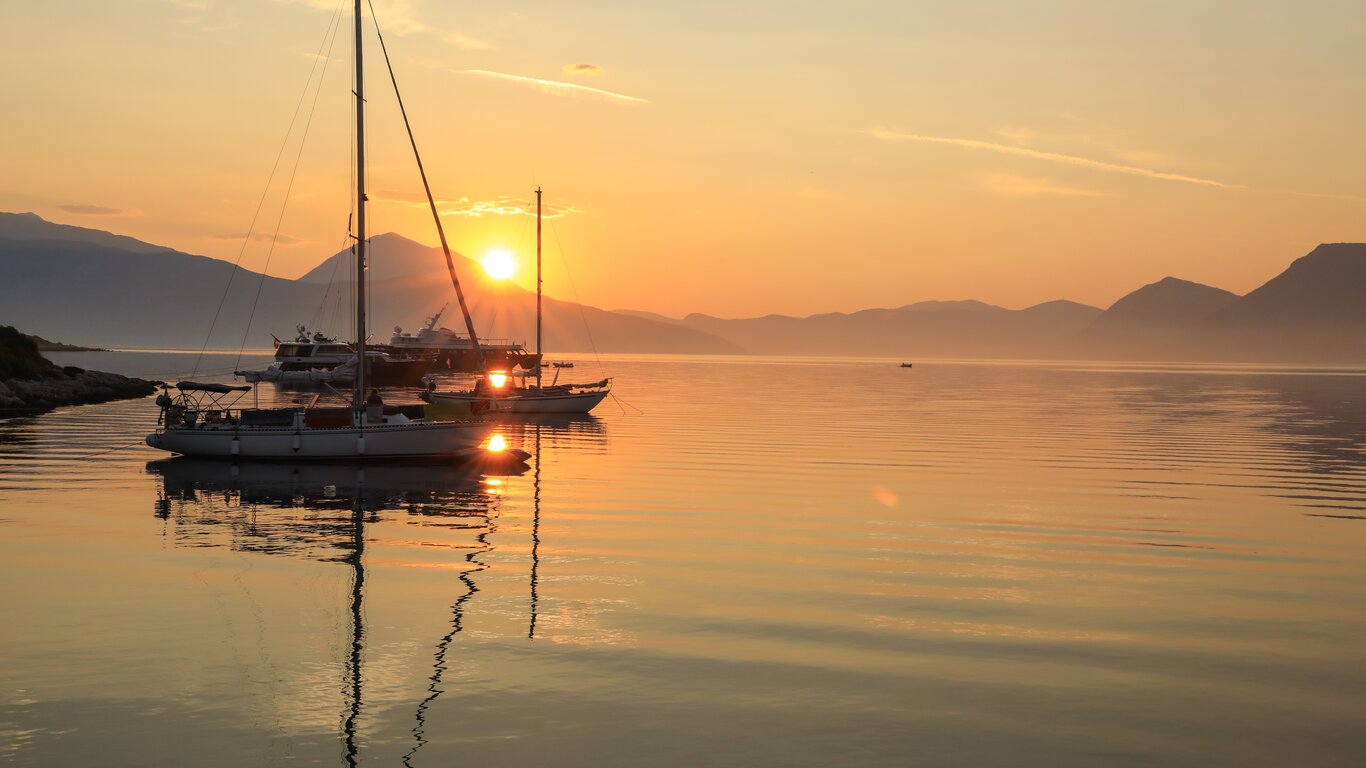 Things to do in Meganissi
Activities  
The clear blue seas surrounding the island are superb for snorkelling, so if you plan to spend an afternoon away from your villa then this is a wonderful way to explore the coast, along with paddle boarding and canoeing. 
Split your holiday between two islands or visit Lefkada just for the day and you'll discover there is a huge variety of activities also available here including kayaking, paragliding, windsurfing, kite-surfing and water-skiing to name a few! Visit Nidri for an excellent range of bars and tavernas, and be sure to take a walk to Nidri waterfalls. If you decide you'd like to split your villa holiday between these two Ionian islands, you can browse our range of luxury villas in Lefkada.
Hiring a boat for the day (or the week!) is very easy on Meganissi and a highly recommended villa holiday experience. Explore quiet coves for secret swimming and make sure to stop off at one of the many pretty tavernas for an al fresco lunch. Sail to Papanikolis, one of the largest sea caves in Greece, which is rumoured to have been used as a hiding place for a Greek submarine during World War 2. 
At only 20 square kilometres, the island is the perfect size for walking holidays. After breakfast on your villa's terrace, explore the unspoiled countryside and traditional villages on foot; stop for Greek coffee with the locals or handmade ice cream along the way. Visit shops selling handcrafted embroidery for special holiday souvenirs, while couples will enjoy a romantic walk from Spartochori down to Spilia harbour. 
A villa holiday in Meganissi is not complete without experiencing a traditional Greek night. Lakis taverna in Spartochori is famous for these, where a traditional Greek dinner is served alongside a generous helping of Greek dancing.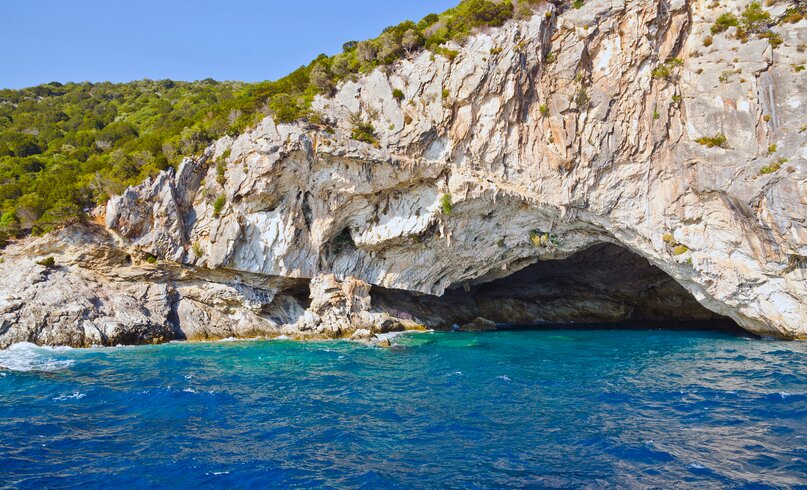 Beaches
Considering the size of the island, Meganissi has a wonderful selection of beaches to explore, with bright white pebbles and crystal clear blue waters. Agios Ioannis beach is on the west coast and named after a small chapel nearby, while Fanari is a mix of sand and pebbles in the north east, with sun loungers, umbrellas and beautiful views. Spilia beach is another of our favourites, surrounded by pines and cypress trees with a charming taverna on the water. This villa has direct access to a pretty shingle beach just 40m away.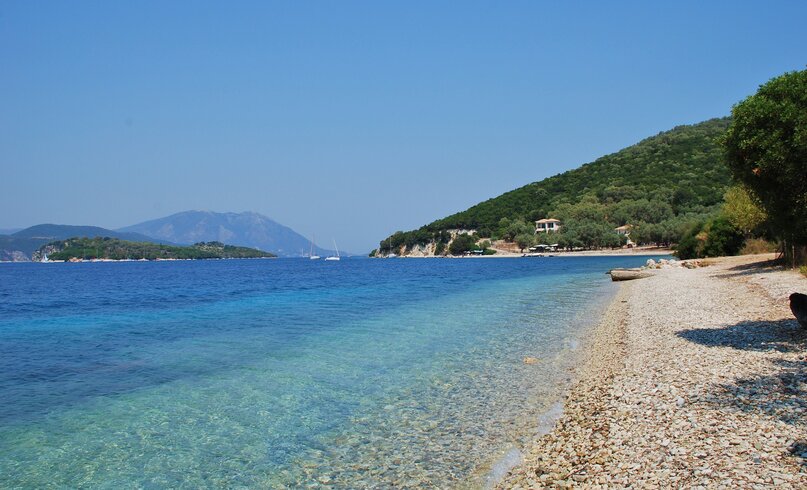 Eating and Drinking in Meganissi
What first springs to mind when thinking of a Greek villa holiday? For us its long lazy lunches and al fresco dinners enjoyed either out on the villas terrace or in nearby local tavenas. In the Ionian Islands this works particularly well as meze is the popular way to eat - think lots of small tasting plates shared amongst family and friends on holiday. Traditional dishes include dips such as tzatziki and melitzanosalata (aubergine dip), cheese saganaki and plenty of Greek salad.
As you would expect from a small Greek island, fish and seafood are everywhere and tavernas are supplied directly with fresh fish from the local fishermen: expect plentiful calamari, prawns, sardines and octopus. There is a good choice of excellent restaurants and tavernas within easy reach of our villa in Meganissi; Vathi and Spilia are best for seafront dining, while the traditional villages of Katomeri and Spartochoi are best for traditional tavernas.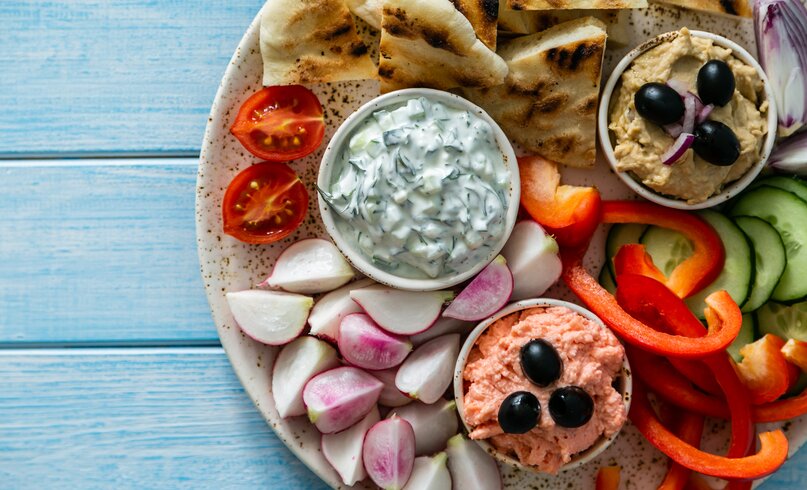 when to go to meganissi
Similar to its Ionian neighbours, the weather in Meganissi is warmest between June and September with highs of 31°c in July and August. The best time to visit for a beach villa holiday is from June to August for long sunny days and warm seas for swimming, while mid-September is lovely if you're not tied to travelling in the school holidays.
INSPIRATION FOR YOUR GREECE VILLA HOLIDAY