Sorrento holiday guide
Perched on a plateau above the Mediterranean sea, Sorrento offers a charming escape with unmatched views over the Bay of Naples, the island of Capri and towards Mount Vesuvius. Sorrento has something for all holidaymakers, from rural walks through lemon groves to Roman ruins, bustling harbours and sun-soaked island boat tours. Quaint tourist boutiques, seafood restaurants and limoncello tastings make this Italian town the perfect place for pottering around, whilst enchanting coves, boardwalks and pebble beaches are ideal for visitors looking for an escape by the sea. This historic seaside town is deemed a perfect holiday destination for English-speaking travellers, whilst retaining its authentic Italian charm.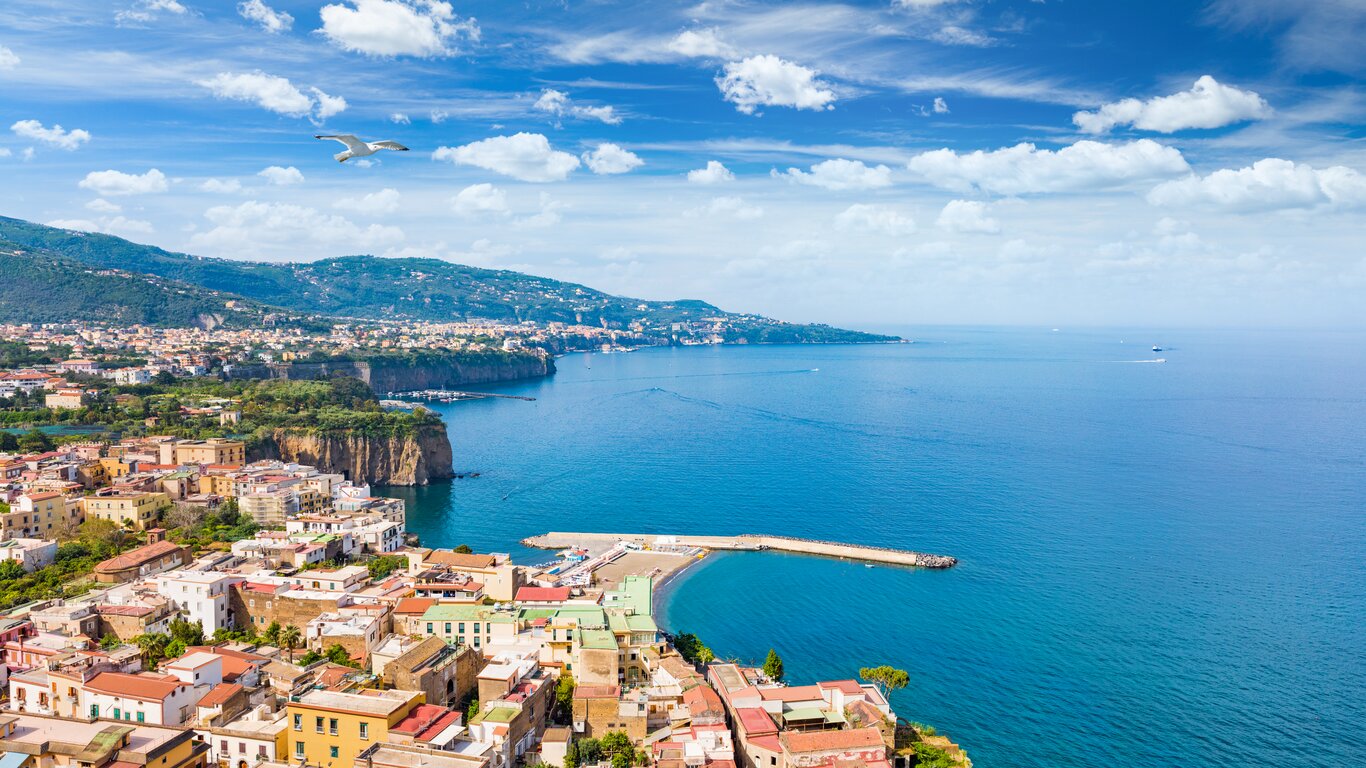 Things to do in Sorrento
EXPLORE BY BOAT
Sorrento's prime location in the heart of the Bay of Naples makes it the perfect place to begin exploring. Catch a ferry from Sorrento to Amalfi or Positano for incredible views, sandy beaches and trendy Italian towns. You can also take a boat trip across the bay to visit the stunning islands of Capri, Ischia and Procida. If you'd rather stay a little closer to your villa, charter a boat from Sorrento and head off along the coastline to explore the coves tucked away beneath the plunging cliffs.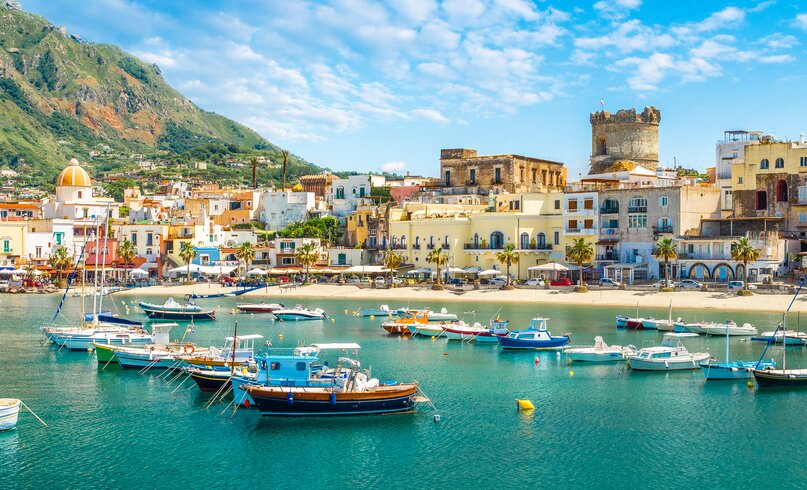 ENJOY SPECTACULAR VIEWS
Sorrento's cliffside setting is its greatest charm, and Villa Comunale Park is the most popular spot to enjoy seascapes and sunsets. It is here that visitors daily line the railings for the grandest views of Mount Vesuvius. Adventurous travellers will also enjoy climbing up to the crater of the volcano itself. Another must-see location is the Valle dei Mulini (Valley of the Mills), a unique array of thirteenth-century stone mills nestled at the bottom of a thirty-foot valley. Once used to grind wheat into flour, the mills have since become overgrown with lush greenery and inhabited by wildlife.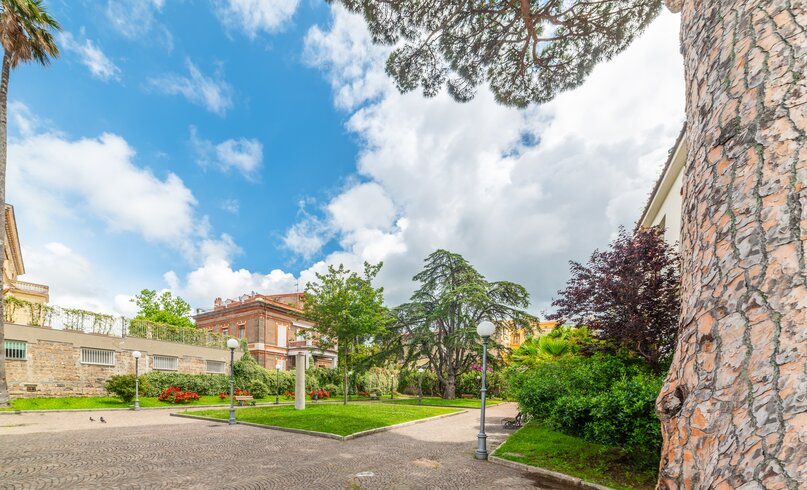 IMMERSE YOURSELF IN THE OLD TOWN
The historic centre of Sorrento is a labyrinth of thin and winding mediaeval streets lined with restaurants, bars and shops. Spend a sunny afternoon soaking up the sights and see what treasures you can find, whether it's an ancient church, secret garden or ornate terrace. There are plenty of brilliant places to buy souvenirs in the old town, such as local lemon products, Italian lace, shoes and leather bags. You'll also find quaint craft workshops that specialise in traditional 'intarsia', the art of wood inlay.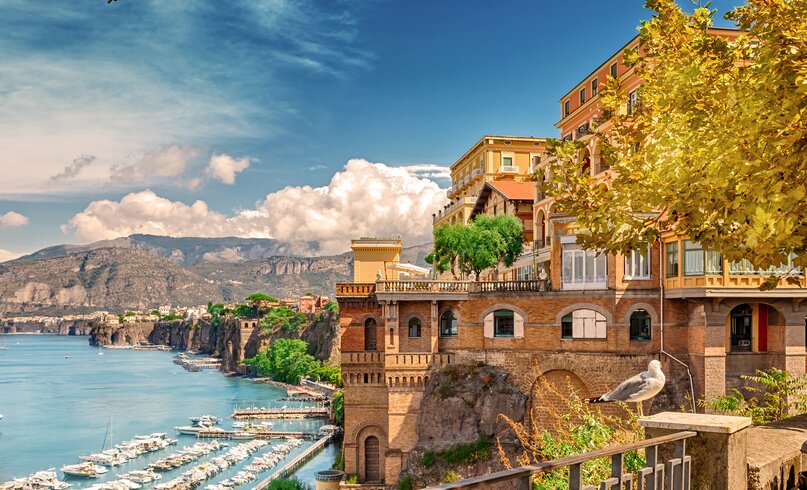 EATING AND DRINKING IN SORRENTO
While Sorrento is best known for its lemon production, its terraced farms are also home to an abundance of oranges, olives and grapes, which are regularly integrated into local cuisine. As well as Sorrento's famous limoncello, the lemons can be found in desserts like sorbetto, gelato, cakes and crostata. Being located right on the coastline, the local eateries in Sorrento serve a brilliant selection of fresh seafood. Baked gnocchi and Naples-style pizza are also common delicacies. The fertile volcanic soil in this part of southern Italy generates delicious produce like tomatoes and cherries; the street market on Via San Renato is perhaps the best place to pick up some of the freshest ingredients.
The streets and squares of this popular coastal town are lined with bars and cafes, the most popular of which are located in Piazza Tasso. This is definitely the spot for a drink with a view. The aperitivo, a cocktail hour from late afternoon until dinner, is popular among Sorrento's inhabitants and usually consists of a light cocktail served with local treats.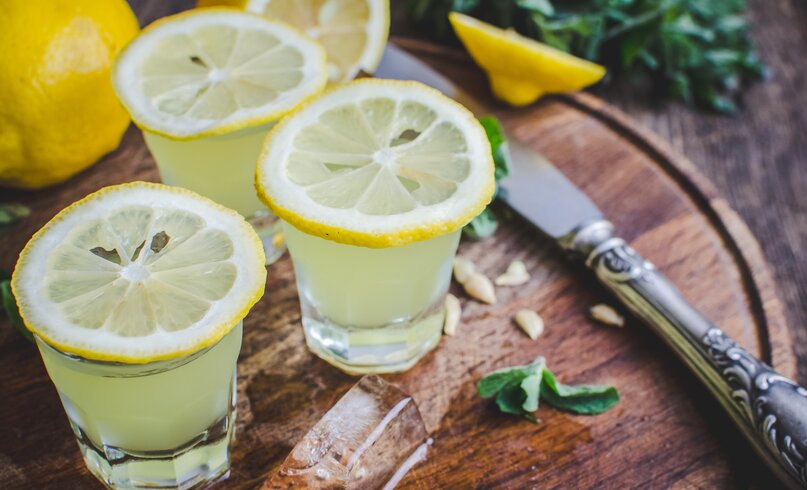 When to go to Sorrento
Italy's glamorous Riviera is a definite season-changer, but is generally a good year round villa destination. The winter is quiet but much more dramatic – restaurants and shops can shut up for the low season, and rougher weather can cause rougher seas, so be flexible in case of any ferry or boat cancellations. Spring and autumn here are much more pleasant – coming out of their winter hibernation, the beaches start to open and the temperatures begin cranking up. It's during the scorching summer rush when the towns are buzzing with constant activity, whether that's the people-packed beaches, crowded viewing spots or the busy winding roads which can start to get quite hot to handle. This is perfect sunbathing weather, but it does come with the effort of navigating the off-school crowds and the area's small pebbly beaches.