Positano holiday guide
From dazzling crystalline waters and dramatic rocky cliffs to authentic twisting lanes and spectacular architecture, Positano is a stunning cliffside village on the south coast of Italy. Abounding in unique and timeless charms, this seaside resort boasts pure Italian splendour, whether it be the relaxed atmosphere, quaint cafes, beautiful beaches or deluxe cosmopolitan boutiques. Picturesque scenery and interesting architecture can be found at every turn, with plenty of fine activities to enjoy during your villa holiday, whether you're spending a day indulging in retail therapy or embarking on a hike with extraordinary sea views. Along the seafront, visitors will find plenty of upmarket and trendy restaurants offering deliciously authentic cuisine.
Things to do in Positano
EXPLORE THE COASTLINE
Seaside holiday enthusiasts must visit parasol-dotted Spiaggia Grande, a beautiful beach located at the base of the village's tumbling terraces. From here you can hire kayaks, take a boat trip, or find a sandy spot to sunbathe and relax. The island of Capri is not far from Positano, and it takes under an hour to reach by boat. During the summer months, there is a ferry running between the two destinations in addition to several boat tours. Fornillo is the second largest beach in Positano, and can be found just a short coastal walk away. This beach is perfect for sun worshippers, and is even home to the fascinating Fish Festival that annually draws the summer to a close.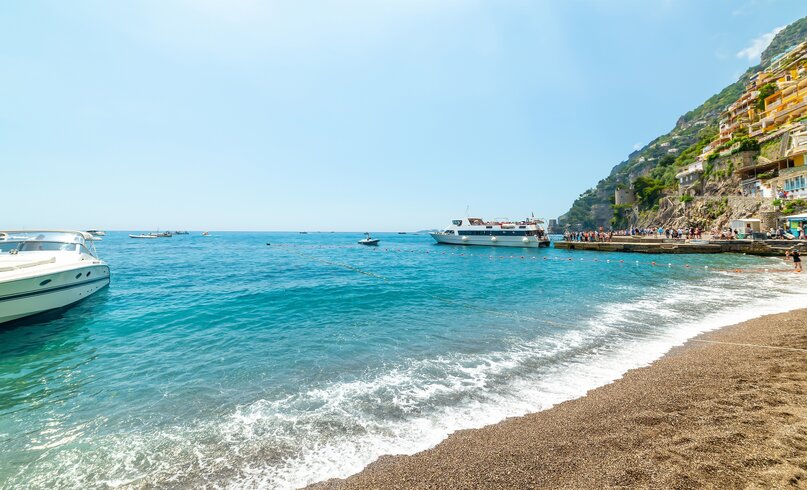 EXTRAORDINARY HIKES
When you don't fancy lazing about your villa, do make the most of the incredible views along the coast and overlooking Capri island. Il Sentiero degli Dei, or 'the Path of the Gods' is a stunning hiking route running from Bomerano to Nocelle. This 6.5km hike is tied to tales of ancient gods and mythical creatures, boasting a diverse landscape that ranges from hills and caves to clifftops and beaches. La Baia di Ieranto is another beautiful walk by the sea, set amidst waves of rock, yellow broom and olive trees. The route is 6km long and ends at a lovely little beach opposite the Faraglioni of Capri.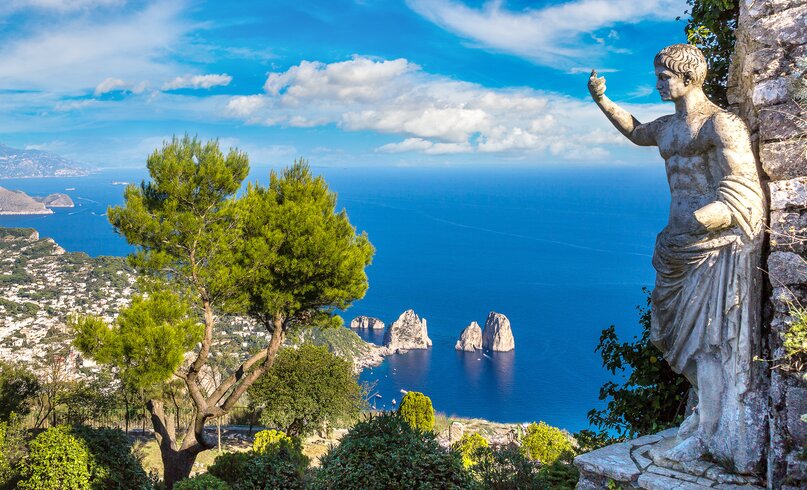 UNRAVEL ANCIENT HISTORY
One of the jewels of the Amalfi Coast, Positano is best known for its fabulous art, fashion and entertainment scene. Positano is also home to a number of fascinating historical sites, including the Church of Saint Mary of the Assumption, characterised by a vibrantly tiled dome which can be spotted from almost anywhere in the village. During your Italian escape you'll also notice the remains of a Roman villa near the thirteenth-century church of Santa Maria Assunta. Our villas in Positano are located within close proximity to plenty of other well-known places of interest, including Naples, an ideal spot for keen gastronomes, and the fascinating yet haunting ruins of Pompeii.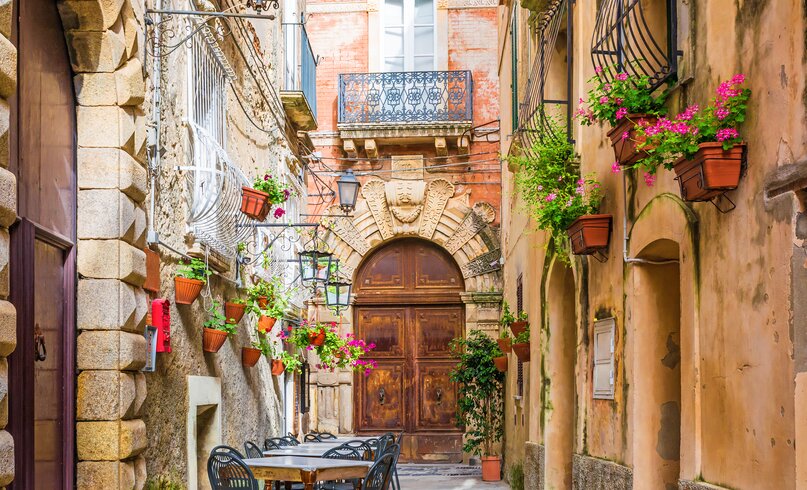 EATING AND DRINKING IN POSITANO
Plenty of lovely restaurants line Positano's beachfront, where holidaymakers can enjoy a sumptuous seafood lunch or return in the evening for a charming and relaxed atmosphere. You can't go wrong at Saraceno d'oro; at this eatery you can indulge in simple artisan ingredients and Italian dishes such as prosciutto ham and pizza, washed down with a shot of classic limoncello. Activities near Positano include a hands-on limoncello workshop on Capri island, just a short boat trip away. Here you will learn how to make this classic Italian liquor, starting by picking your own lemons right through to the tasting and even taking a bottle home as a souvenir.
Evenings in Positano are best spent on the seafront with an aperitivo in hand, especially after a day lounging in the sun or exploring quaint shops. Nightlife in Positano ranges from homely espresso bars to beachfront clubs like Music on the Rocks, a vibey discoteca carved out of the rocks that fringe the eastern part of Spiaggia Grande beach. This dramatic club is considered one of the best on the Italian coast and is perfect for young adults on group holidays.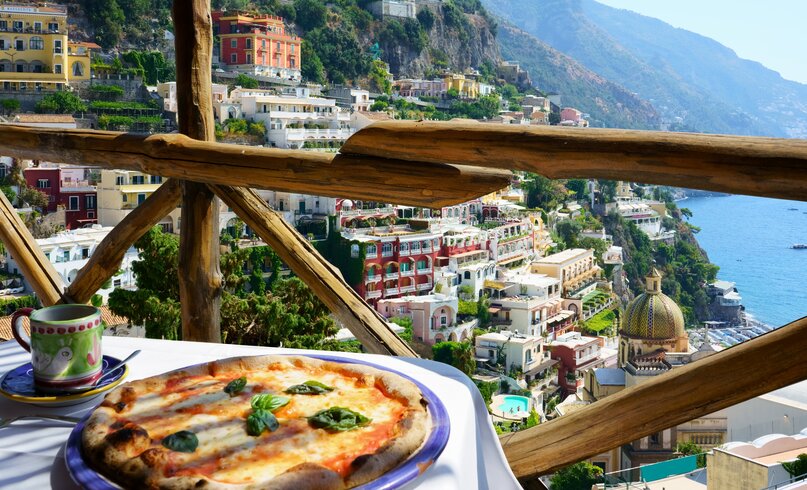 When to go to Positano
Italy's glamorous Riviera is a definite season-changer, but is generally a good year round villa destination. The winter is quiet but much more dramatic – restaurants and shops can shut up for the low season, and rougher weather can cause rougher seas, so be flexible in case of any ferry or boat cancellations. Spring and autumn here are much more pleasant – coming out of their winter hibernation, the beaches start to open and the temperatures begin cranking up. It's during the scorching summer rush when the towns are buzzing with constant activity, whether that's the people-packed beaches, crowded viewing spots or the busy winding roads which can start to get quite hot to handle. This is perfect sunbathing weather, but it does come with the effort of navigating the off-school crowds and the area's small pebbly beaches.