Biarritz Villa holiday guide
Sandwiched between the sea and the mountains, cosmopolitan Biarritz has been a seaside holiday resort since Empress Eugenie fell in love with the Pays Basque and built a palace on the seafront—today's Hôtel du Palais. Old-school Biarritz charms with Empire-era villas overlooking sandy beaches where surfers ride the Atlantic waves. Though French, a Spanish influence reigns, with restaurant menus overflowing with tapas - a delicious addition to Biarritz holidays. Rich in cafes and historic architecture, take in the sea air at St.-Jean-de-Luz and walk flower-scented hills around St. Palais.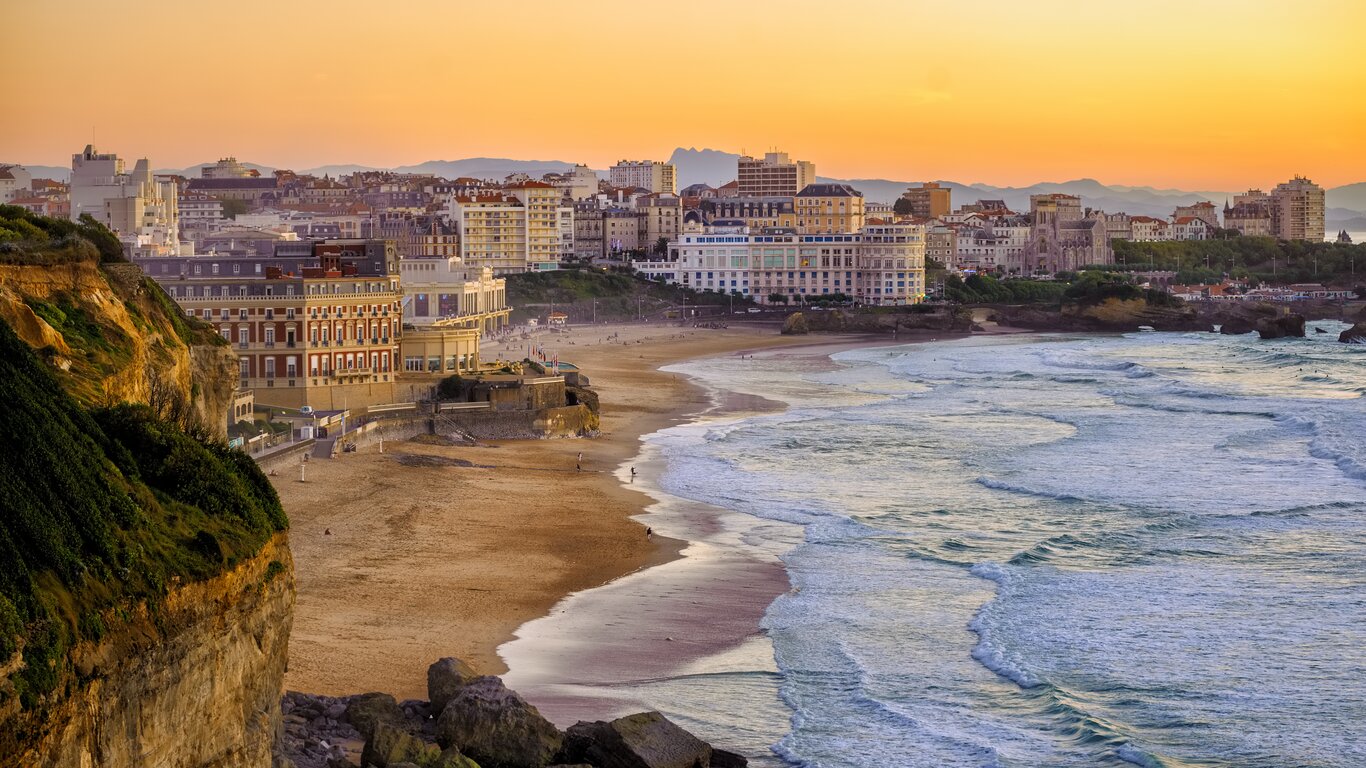 Things to do in Biarritz
Beaches in Biarritz
The golden sands and surf appeal of the French Atlantic coast are at the heart of Biarritz's appeal as a villa holiday destination. Surfers bob in the water like seals around Grande Plage beach while bathers—cooled by the Atlantic breeze—soak up the sun on golden sands. You will not have to fight for space in St.Jean-de-Luz's quiet bay, where red-and-white beach villas built in the early 1900s add turn-of-the-century class.  At low tide, twenty five kilometres of sea views await between Bidart and Hendeye. Park your car at Erretegia beach and follow the paths over the grassy cliffs for panoramas as far as the jagged Labourd mountains. Further north, Côte des Basques beach is a surfer's paradise, set against a backdrop of cliffs with views of the Pyrénées mountains and of the Spanish coast. Surfing started here back in 1957 and since then it's become legendary for competitions and locals alike; there are also plenty of good surf schools for beginners to test the waters.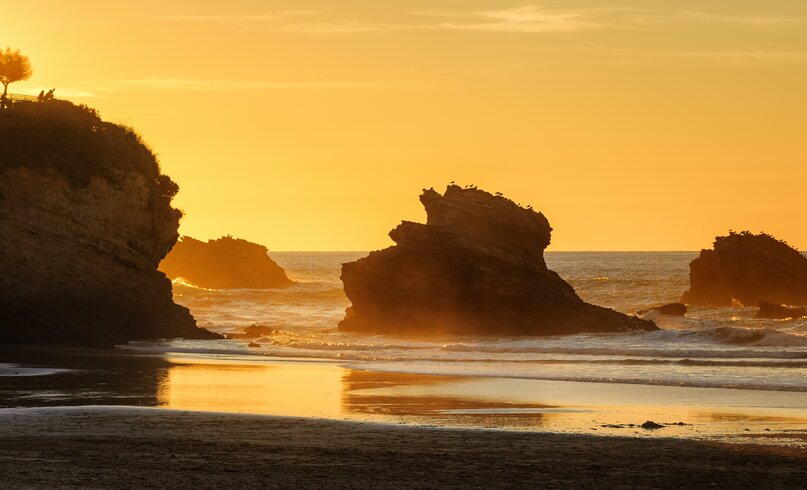 Activities in Biarritz
Even if surfing is not your style, sunset at the Grande Plage is showstopping and one of the most impressive views you will see on your Biarritz holiday. Try for a hole-in-one at Biarritz's 18-hole golf course, which has views over the Bay of Biscay on one side and the town's terracotta rooftops on the other. Thrill seekers should head to the Pyrenees for white-water rafting in mountain torrents, or to the coast for adrenaline-pumping surfing in the powerful Atlantic waves. To shake fins with the fishes, Ciboure-Socoa offers diving excursions in the shadow of a 17th-century fort, built by Vauban, Louis XIV's military wiz; above water enjoy an afternoon at the Sea Museum. If you decide to hire a car, the remarkable Spanish city of San Sebastian is only 50km away - so a day trip is really a no brainer for golden beaches, grand architecture and world class dining.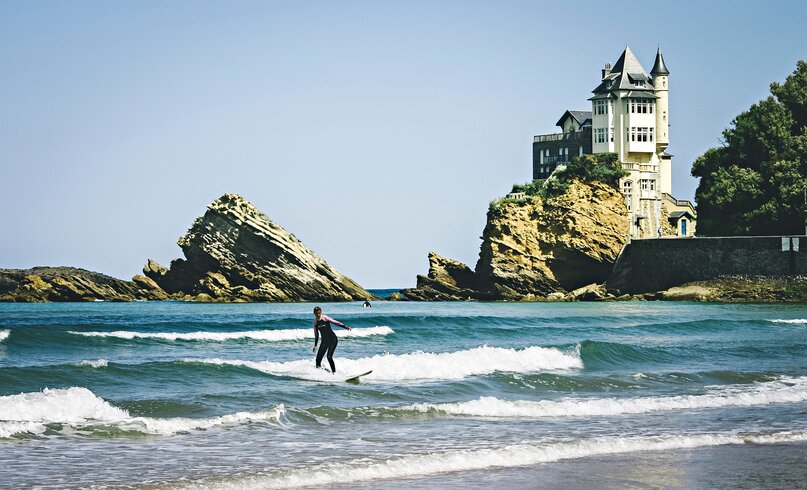 Eating and Drinking in Biarritz
From stuffed chipiron (squid) in Biarritz to tapas of jambon (ham) from Bayonne, Spanish-influenced basquaise cuisine mixes the best of the surf and turf away from your villa. In St.Jean-de-Luz you can devour barbecue-roasted sea bass in tangy, tomato and pepper donostia sauce, or mop up the tomato sauce from cod pimentos del piquillos (stuffed, roasted peppers) with your baguette. Bread accompanies smoky idiazabal sheep's cheese in most inland restaurants. Foodies should visit chocolate-box Espelette, home to the spicy chilli pepper of the same name, around a 30 minute drive from the city centre. Dry, white Txakoli wine goes well with everything, or sip cool Basque apple cider on village squares alongside locals clad in red Basque berets. Fine dining can also be enjoyed from the comfort of your villa - add cook service for an extra level of luxury or visit the local market for fresh fruit and vegetables (plus regional cheeses, wonderfully flaky pastries and oysters!) and make use of your holiday kitchen, either dining out on the villa's terrace for dinner with a view or pack a picnic and head to the beach. 
.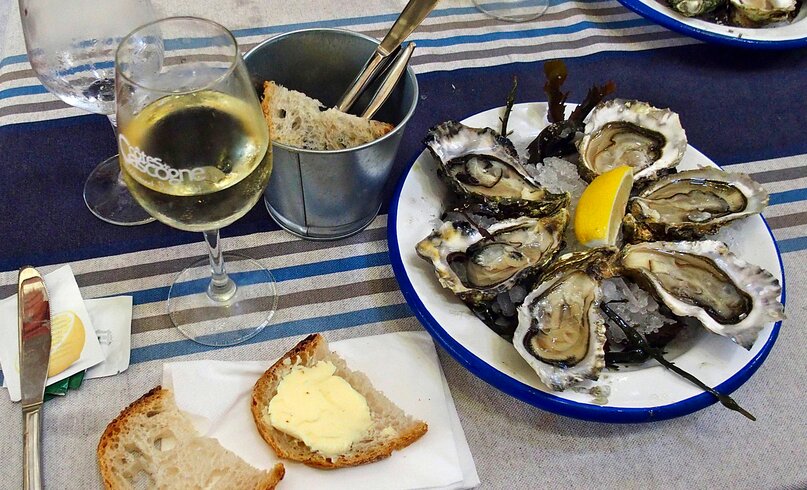 inspiration for your france villa holiday
when to go to biarritz
Due to its mild climate, Biarritz is a year round destination. The summer months of July and August are understandably the most popular, when the weather is at its very warmest, yet a villa holiday can be enjoyed anytime between March and October. June and September offer the best of both worlds with bright sunshine, smaller crowds and the sea is warm enough for swimming; spring is mild and much quieter, ideal for seaside strolling and discovering the city's architecture.