Campania villa holiday guide
From the epic views over the Bay of Salerno to the fishing towns turned resorts that hang in tiny clusters from the cliffs – Italy's southern Riviera looks exactly as you'd hoped. Campania really is as seductive, dramatic and cinematic as it gets. There's glamorous Positano, clifftop Ravello and the sun-kissed shoreline of lemon-loving Sorrento, alongside the idyllic islands of Capri and Ischia, just offshore. A villa holiday on the Amalfi Coast is sleepy yet stylish – the urban kick comes courtesy of Naples, an unexpectedly elegant and expressive cultural centre of ancient art, historic masterpieces and extraordinary pizza.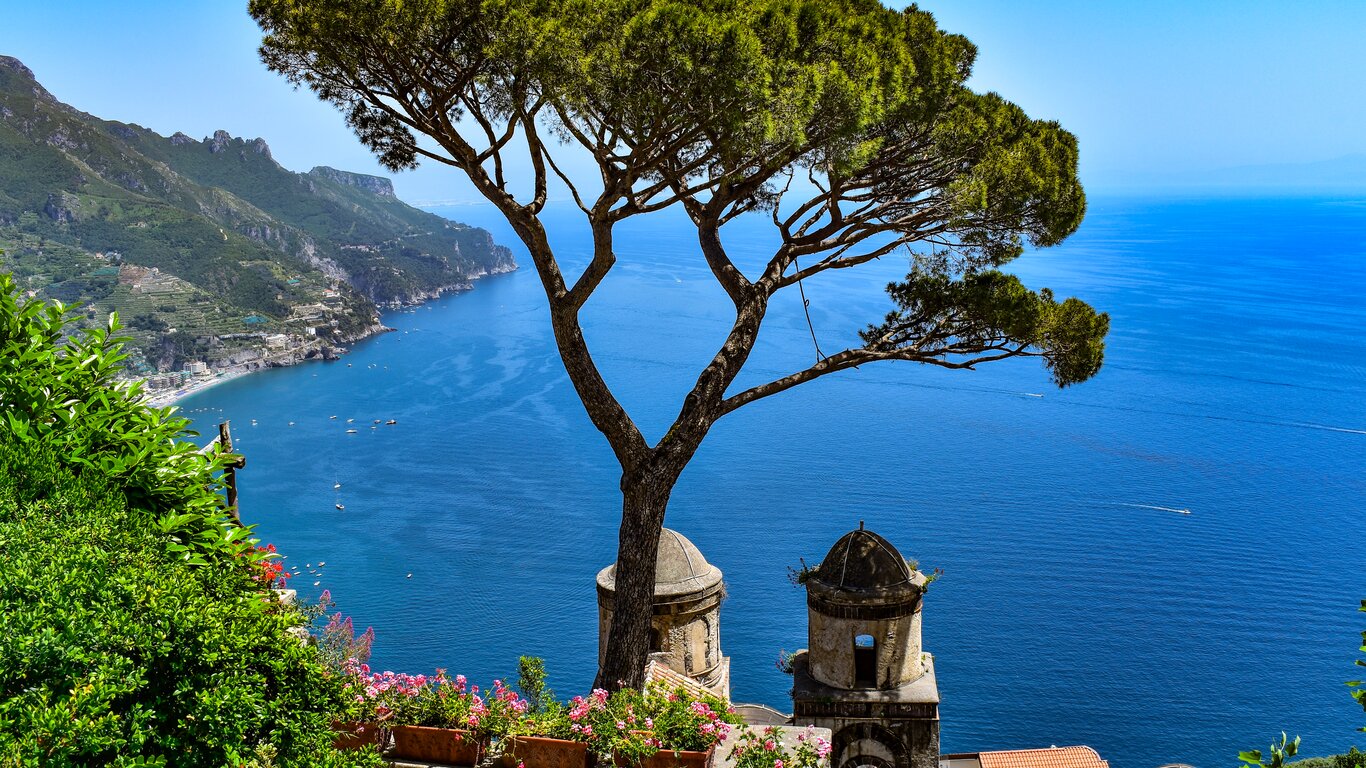 Things to do in Campania
TUMBLING TOWNS
Cascading houses perched impossibly on plunging cliffs has made southern Italy's famous coastline into a bit of a celebrity. UNESCO has labelled the Amalfi Coast an 'outstanding area of physical beauty' – and we couldn't disagree. Dizzyingly high stretches of coastal road join precariously perched pastel towns that hug the steep slopes. Then there's the cinematic central squares, the terraces of lemon trees, and the exquisite views that just get better the further on you go. Swap your villa setting for a road trip, hopping from one cliff-clinging town to the next. Positano is the jet-setters haunt, and is the most iconic of the towns. Stop for snaps taking in all the different shades of pink and terracotta, and explore the chic boutiques and trendy streets that draw in those elite crowds. The town of Amalfi is found further east, and is best known for its sun-filled piazzas and oversized 9th Century cathedral.  It's pretty but petite – though there's a small beach, it's genuinely walkable in about 20 minutes. Glamorous Ravello is built higher up on the hills. It ticks off the cultured villas and has a lovely main piazza, with lots of little cafés for al fresco dining. It's also got some of the most beautiful gardens on the coastline. Villa Rufolo is the setting of the town's famous summer music festival, while Villa Cimbrone's tiered garden is best known for its sculptures and gorgeous pergolas. The Instagram-worthy highlight here is the Terrace of Infinity – an iconic photo spot that offers views which sweep out over the sea. The perfect end to your town-hopping day out is Sorrento, the Amalfi Coast's handsome gateway. It's a town of lemons and panoramic views and has a romantic historic centre, with a host of gourmet restaurants and aperitif-drinking, sunset-spotting perches for your final stop.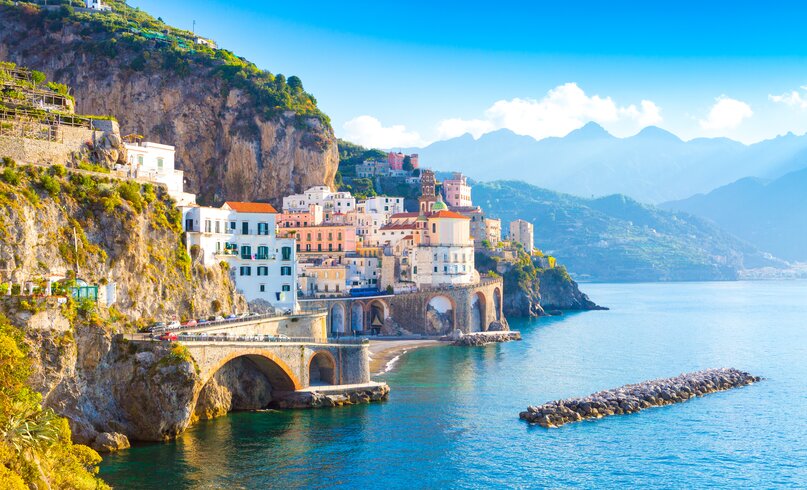 ANCIENT RUINS
Campania is a region with a soul-stirring heritage, so a villa holiday here shouldn't miss out on exploring its cultural treasures. Our villas on the Amalfi Coast are all within easy reach of Naples, so can easily include a visit to the famous ruins of the city's nearby archaeological sites. The sprawling town of ancient Pompeii is just over a half hour's drive from Naples. Known for its ghostly present and compellingly haunting past, it's at least a half day's tour to see the best-preserved remnants of this city's ancient Roman life. Or, you could stay slightly closer to Naples and see the smaller (and less daunting) ruins of Herculaneum. This fossilised fishing town was submerged in the same catastrophic eruption in 79 AD and has mosaics, carbonised furniture and ash-engulfed ruins all on display for you to see.
AMALFI ACTIVITIES
There's plenty of adventure in Campania that goes way beyond your villa's private pool. The views of the Amalfi Coast don't get much better than the pristine panoramas from the Path of the Gods. Set high above the popular hotspots, this rustic walk takes you from Bomerano to Nocelle, near Positano. It's a trek that suits a whole morning out of the villa, and gives you lemon groves and ancient routes, as well as lots of fantastic photo stops. If you're feeling more of a day trip, the glamorous island of Capri is one of the easiest to reach from this Riviera. Book a boat trip or hop on a ferry from Amalfi or Positano. This island is beautiful, and has plenty to see and do in a day – spot the famous Faraglioni Rocks, have coffee on the piazzetta of Capri Town or take the chairlift up to Monte Solara for the best bird's eye view of the island. A proper film-worthy moment is taking a boat tour from the Marina Grande to see the island's famous sea grotto that glows eerily in electric blue.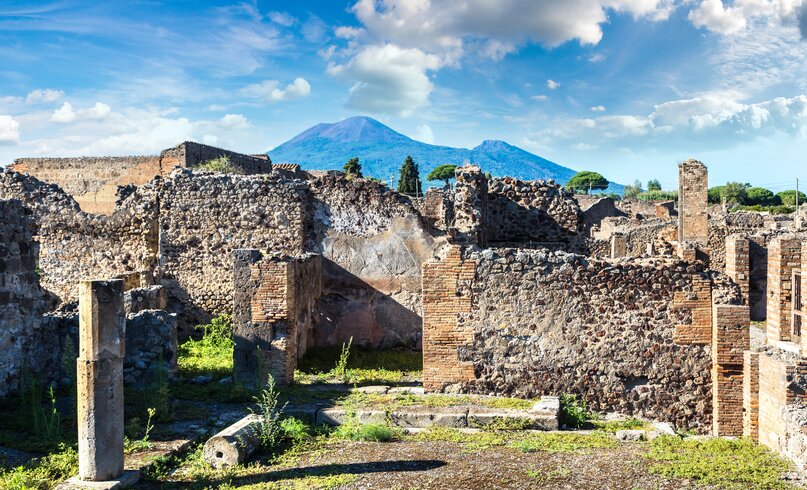 Eating and drinking in Campania
There's a refreshingly no nonsense attitude when it comes to Campania's food. Feasts here are long and lunches leisurely, and the food is about as simple and as local as you can get. Recipes are generational, with classic flavours and delicious home-grown fare, while flavours are intense  – the tomatoes here are sweeter, the mozzarella creamier, and there's an awful lot of olive and lemon trees that grow beautifully in the coastal climate.
Naples is Campania's culinary powerhouse – pizza and pasta are the mainstays of the Neapolitan diet, with the city's wood-fired ovens often said to serve up the world's best. A day trip here should tick off the main culinary classics; a quick-shot espresso, a thick-based Pizza Napoletana and the signature Spaghetti alla Puttanesca should all be added to your Naples bucket list. Our Campania villas are located in some of the best foodie spots on the Amalfi Coast. These sleepy towns are blessed with the fruits of a bountiful sea, so you can expect to see plenty of fish on most menus – Spaghetti alle Vongole is a signature Amalfi staple. Home-grown ingredients are very accessible here, so cooking up a storm in your villa couldn't be easier. We have houses that offer cook service to make your stay that extra bit more indulgent – or many in walking distance to nearby shops and restaurants. Look out for the limoncello produced in sunny Sorrento, and head into Positano for the more upmarket restaurants in the area – daytrippers should head out further to Capri for the trendy eateries that serve the best Caprese salads in the region.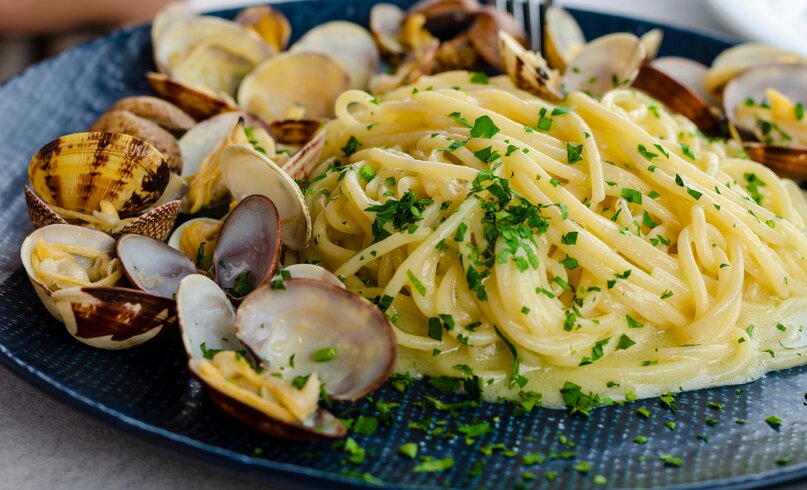 when to go to campania & the amalfi coast
Italy's glamorous Riviera is a definite season-changer, but is generally a good year round villa destination. The winter is quiet but much more dramatic – restaurants and shops can shut up for the low season, and rougher weather can cause rougher seas, so be flexible in case of any ferry or boat cancellations. Spring and autumn here are much more pleasant – coming out of their winter hibernation, the beaches start to open and the temperatures begin cranking up. It's during the scorching summer rush when the towns are buzzing with constant activity, whether that's the people-packed beaches, crowded viewing spots or the busy winding roads which can start to get quite hot to handle. This is perfect sunbathing weather, but it does come with the effort of navigating the off-school crowds and the area's small pebbly beaches.
INSPIRATION FOR YOUR Italy VILLA HOLIDAY