Lake Como Villa holiday guide
The very name conjures up images of glamour and glitz, Hollywood A-listers and the impossibly well-heeled attired in dark glasses and haute couture, but Lake Como may well surprise as a superb destination for families - or small groups of friends - with a liking for the finer things in life but without breaking the bank. Set in a majestic position at the foothills of the Rhaetian Alps in northern Italy, Como spans the gamut from rose-laden belvederes to olive groves and vineyards, architecture of castles, classical villas and medieval remnants, and superb food to mountaineering, hiking, horse riding and golf. A holiday at Lake Como will charm and delight.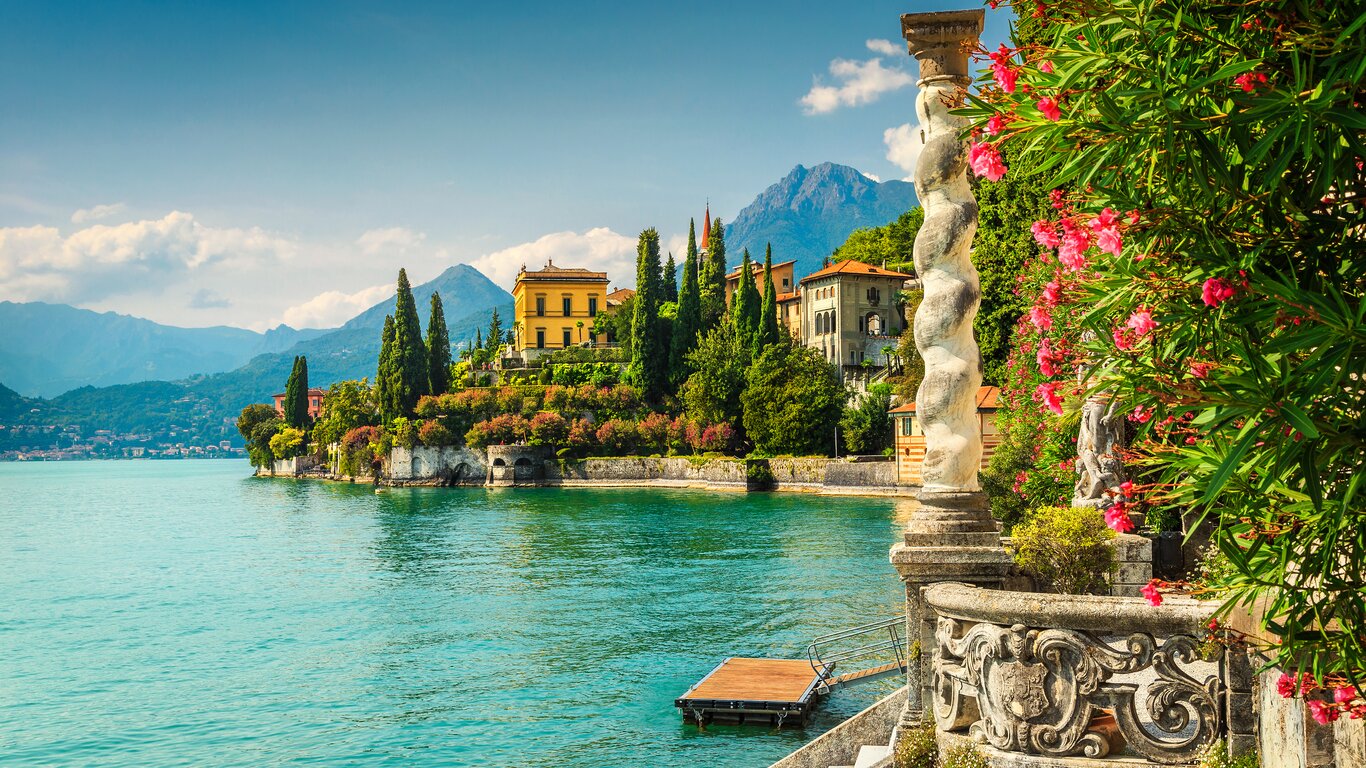 Explore Lake Como
Como's appeal is steeped in timeless tradition and effortless style and you'll find that in spades in the towns scattered splendidly around the lake. Bellagio is romance and beauty wrapped-up in enticing stone lanes and cobbled alleys, buildings from the pages of history and panoramic views, while the medieval appeal of Menaggio is as enticing as its elegance and promenade draped in bougainvillea. Aside from being a great starting point, the village of Tremezzo has many of the hallmark qualities of a lakeside town together with some of the area's best food, and Varenna – on the eastern shore – offers visitors stately villas and gardens to explore and a lovely waterfront in which to pull-up a chair and grab an espresso or gelato. For those wanting city elegance and sophistication in abundance, Milan is less than two hours away.
Lake Como countryside
The countryside around Como is typified by hillside villages, charming towns – and much, much more. In fact, you could spend months discovering its network of nooks and crannies but even a little exploring will allow you to really soak up the rural life of northern Italy. Footpaths will take you to stunning panoramic views where the beauty of the lake and majesty of Alpine mountains come together. Sprawling, often jaw-dropping views are dotted with towering, verdant green vegetation, waterfalls, meandering rivers, secluded foot paths and cycling routes that really do allow you to shed the shackles of modern day stress and spend time at one with some of the most stunning nature and scenery in Europe.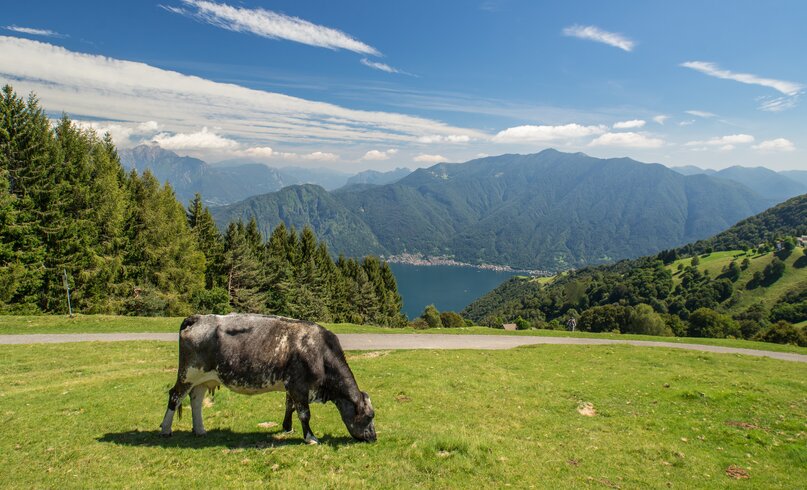 Explore Lake Como's history 
The history of Lake Como can be traced back two thousand years when it was – understandably - something of a favourite with the Ancient Greeks and, until the late 19th century, the area was subject to the attentions of various invading armies. Como was under the control of the Austrians for a time before, in 1859, becoming part of what was then the kingdom of Italy. Its stunning natural beauty unsurprisingly also attracted those with a more creative disposition – Franz Liszt came here to compose and Bellini wrote his opera Norma while a resident. One of the area's less appealing claims to fame was the murder of Benito Mussolini and his mistress Clara Petacci in April 1945 near the village of Dongo on the lake's north western shore.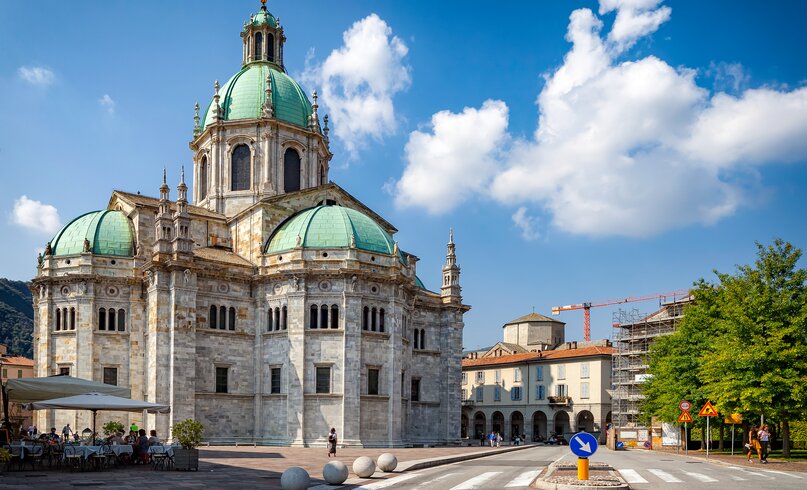 By the Lake
The shores of Como are peppered with beaches – some are natural sand while others are grass, pebble or stone but what they nearly all have in common are high standards of facilities, safety and cleanliness. Some are nicely tucked away providing quiet and cosy havens while others are buzzing with both locals and tourists. Beach clubs are a major part of lake side life where you can rent sun beds and umbrellas and make use of everything from bars and restaurants to wellness areas, tennis courts, soccer fields and activities such as kite surfing, wind surfing, sailing and kayaking. There is also a significant emphasis on a family friendly atmosphere, with many beach areas superbly equipped for all ages with swimming pools for children and associated activities to keep little ones entertained.
Eating and drinking in Lake Como
If you're thinking of holidaying in Italy there's a fair chance you'll appreciate fine food is one of life's great joys. Holidaying in Lake Como, you won't be disappointed, for here, Michelin starred-restaurants meet family-run bistros and rustic eateries nestle on promenade and cobbled alleys alongside stylish bars and, of course, some of the best coffee shops you'll find anywhere. As one of the world's great cuisines you don't need us to give you a list of trademark dishes but - by way of whetting the appetite – you could settle down to veal cooked in a ragout sauce washed down by a rich, deep Barolo; a velvet risotto of chicken, saffron and butter complemented by the citrus tones of a chilled Trebbiani, or fresh fish, simply cooked as only the finest ingredients can. And, it goes without saying, the very best in pizza and pasta.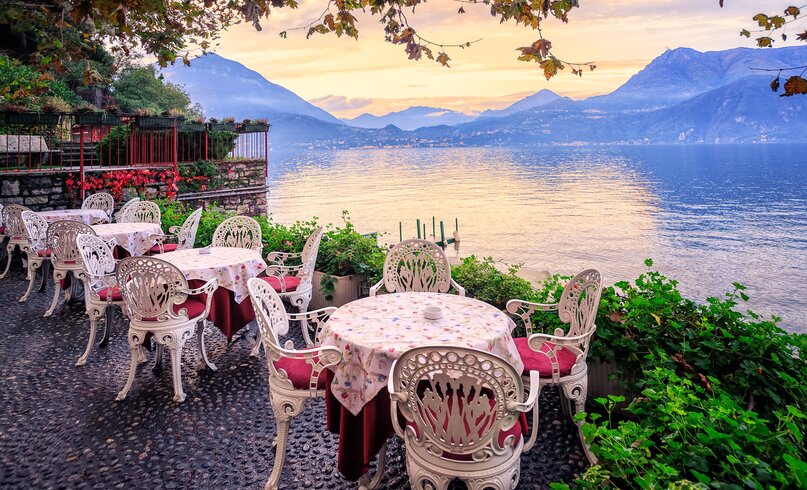 Shopping in Lake Como
From wineries to leather goods and cigars, new season olive oil to coffee pots, and street markets to designer goods and fashion outlets, shopping around Lake Como and the wider region is a perfect blend of quality and style. This has been one of Europe's foremost silk manufacturing centres since the 14th century and olive oil has been produced around here since 1850 - the Vanini brand is said to number Jamie Oliver among its fans, while wine from small vineyards is not only excellent value, it plays an important role in supporting local communities. The shops dotted along the steep alleyways of Bellagio are especially noted for everything from shoes and jewellery to designer label clothes and lacework while, elsewhere, markets burst with superb meats and cheeses and excellent kitchen wear will allow you to take a touch of Italian elegance back home.
Discover Lake Como's Art and culture
Topped with a baroque dome and boasting a mix of architectural influences, The Duomo is one of Como's "must see" spots but there's plenty more to keep you entertained such as a tour of some of the lake's historic mansions including Villa del Balbianello and Villa Carlotta; a stop for coffee at Piazza Cavour, one of Como's bustling public squares, and the opulent 17th century Villa Olmo. You will, of course, want to take to the lake itself to visit the network of villages up and down its length – and don't forget the charming little yellow funicular train linking the town's villas and gardens. And if you like a little culture on your travels, how about some opera or Shakespeare at the amphitheatre, an annual jazz festival or concerts staged in the park of Villa Olmo?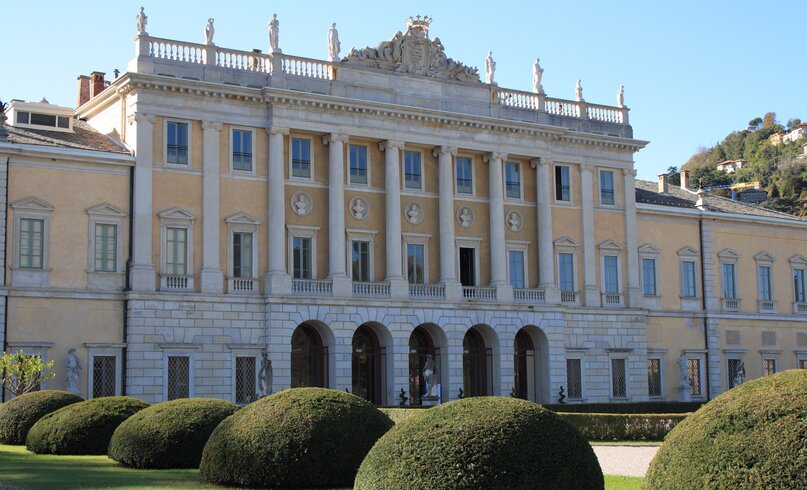 Lake Como's nightlife and entertainment
Nightlife around Como tends to be of the more relaxed variety but that's not to say choice isn't plentiful, whether its informal drinks against a backdrop of understated elegance or some serious sophistication. The area's restaurants provide some of the best spots and, unlike many at home, there's no nudging you towards the door once service is complete – this is when many really come alive with a blend of moonlit lakeside allure and charming company. The area's hotels also tend to be where "it's at" after dark and many are well worth sampling such as the stunning Grand Hotel Tremezzo, while casinos are popular (Casino Royale was filmed around here). A smattering of nightclubs and bars spanning romantic, candle-lit corners to those with resident DJs attract the younger crowd.